The One Reason Why Peter Won't Win 'The Bachelorette'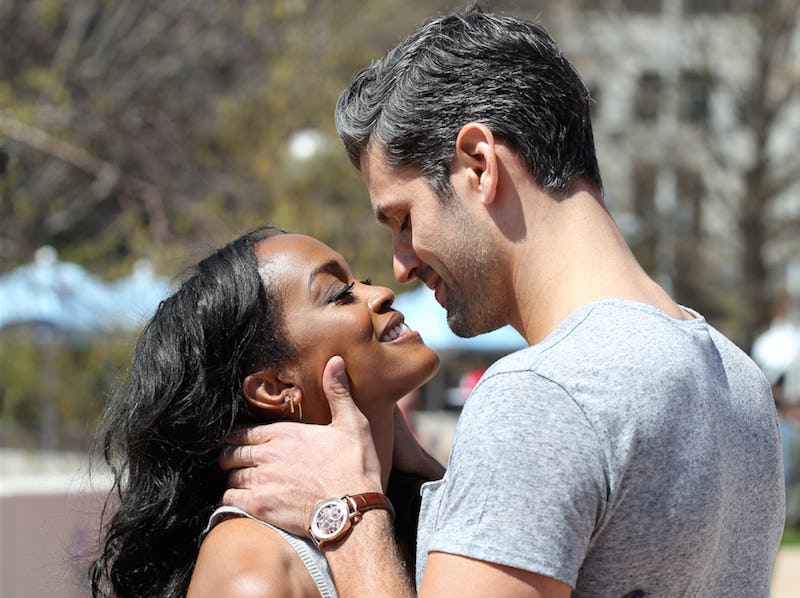 George Burns/ABC
For Rachel Lindsay, being The Bachelorette has one main goal at the end — marriage. And, with three bachelors left to choose from, it is becoming clear to viewers that Peter may not win The Bachelorette for one pretty big reason. Not all frontrunners are created equal it seems.
To Rachel, the purpose of her time on the show is to end Season 13 with an engagement. She's been clear that she doesn't want a boyfriend out of this, she wants a fiancé. Unfortunately, it seems that Peter cannot give Rachel the happy ending she wants. He simply can't move fast enough for her, and is pretty doubtful that he'll be ready to propose after a matter of weeks. On the other hand, Rachel feels very differently. In an interview with People she said, "I'm at a stage in my life where I'm ready for a family, I'm ready to get married. I want a guy who is not afraid of that."
While Peter isn't necessarily afraid of marriage, he has expressed some hesitation about moving too quickly. This was confirmed during the July 17 episode featuring the hometown dates. While Peter and Rachel seemed to enjoy their time together, it was Peter's mother who verbalized Peter's hesitation and told Rachel that he was ready to commit but "not necessarily" ready for marriage.
It's a complicated scenario where both Rachel and Peter are valid in their feelings. Rachel has been upfront about her desire for marriage, and Peter has been upfront with his desire to commit to her, but not to marry right now. However, now that Rachel is down to the final three, these two different sets of feelings may begin to clash, and could cost Peter his chance of ending up with Rachel.
To appear on The Bachelorette is to recognize that the endgame is marriage. Sometimes former couples have long engagements like Kaitlin Bristowe and Shawn Booth, or they get married pretty quickly like Trista Rehn and Ryan Sutter. However, the promise of staying together usually comes with a ring, and Peter's struggle to give Rachel what she wants to hear may affect the rest of their time together.
In May, Rachel confirmed with People that she is engaged now that the show is over. The name of her fiancé still has to be revealed to viewers, but there is a good chance that Peter may not be in the running. With a decision as big as marriage, their chemistry may not be enough to see them through this logistics problem.
As fans know, anything can happen on The Bachelorette. Still, Rachel has been very clear this season about why she's here. If Peter is unable to give her that coveted proposal, he may have to leave the game for good.