'More Life' Memes That Capture Your Drake Frustration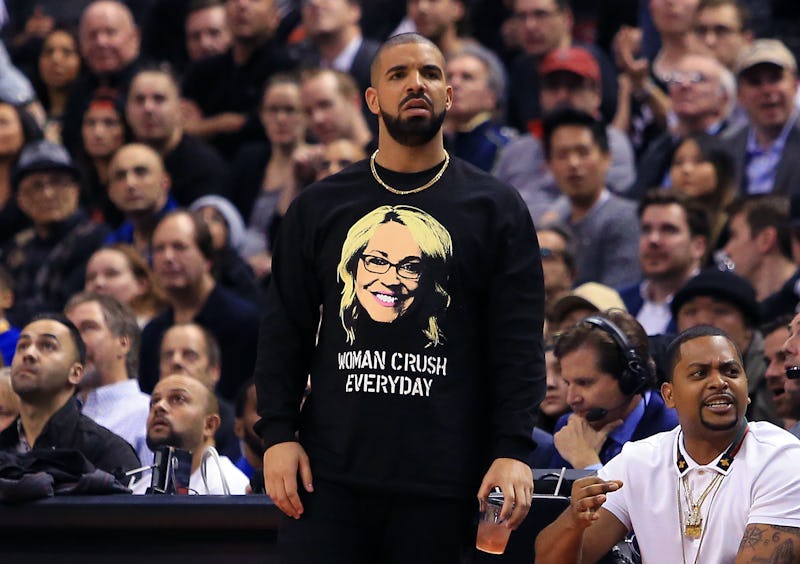 Vaughn Ridley/Getty Images Sport/Getty Images
If you woke up with excitement on Saturday morning, eager to listen to Drake's new playlist, More Life, then you're likely feeling the same hot pangs of frustration that I am. The damn thing isn't out yet, you guys, and I'm not OK with that fact. But thankfully, I'm not alone in my upset over why the release of More Life hasn't happened yet. No, ma'am. It appears as though the whole internet is currently losing its collective mind over having to wait for Drake's new playlist to be released. So if you're feeling sore about this entire thing, there's thankfully plenty of memes about Drake's More Life that should help to console and soothe your fury about it all.
But, before we get into that, it's worth discussing exactly when Drake's More Life is being released. Because, Drizzy didn't lie to us — the playlist is reportedly still being released on Saturday, March 18, as promised, but there's a specific time that he's dropping it. On Friday night, while most of us were enjoying a post-work wine, Drake hinted on Instagram that More Life will premiere on OVO Sound Radio at 6 p.m. EST. So, hey, at least that's your Saturday night sorted.
While the more attentive Drake fans among us likely spotted this post and adjusted their expectations accordingly (I envy you), the rest of us have our crushing disappointment to deal with while we wait for More Life to actually drop.
But thankfully, as I said, the More Life memes and jokes that have come out of this scenario have almost made the frustrating wait more than worth it — almost. Here are some of the best.
1. The One That Perfectly Captured Your Feelings This Morning
Me: This is the most bitter coffee I've ever tasted, Drizzy. Thanks, bruh.
2. The Next Stage Of Your Coping Process
Yeah, I'm still living this one, to be honest.
3. The One That Totally Understands Your Inner Sorrow
I'm not crying, you're crying. We're both crying? OK. We're both crying.
4. I Like To Call This One, "Stage 4: Acceptance"
Well, my main plan of listening to More Life on repeat all damn day has monumentally failed. Might as well just think up some other things to do with the rest of these sad, hollow hours while I wait.
5. Totally Feeling Those Drake Tears
All of the Drake tears.
6. The One That Understands How Specific Your More Life Plans Were
I wrote it in my calendar, Drake. I'm basically sitting on my front porch, staring at my watch, and waiting for your car that I'm now about a zillion hours too early for.
7. The One That Feels Our Entitled Pain
So accurate. But also, so true.
8. Because Judge Judy Is Perfect For Every Occasion: Part 1
Judy has an infinite number of the greatest facial expressions possible for defining all of our inner turmoil over More Life.
9. Because Judge Judy Is Perfect For Every Occasion: Part 2
See? She gets it.
10. The Telepathic One
This one was posted 10 days before More Life was due to be released. And yet, it's still relevant. It's like they knew this was coming.
11. My Personal Favorite
You couldn't hear me (thankfully), but this was exactly what my neighbors heard at approximately 8:02 a.m. when I realized that More Life wasn't online yet.
Alright, so More Life may be making us all feel less life right now, but let's all be chill and rational about this. When it does finally get released, I have a feeling that More Life will be more than worthy of the wait. So, better start frosting a few bottles of something sweet and fizzy, and charge up all of your favorite music streaming appliances for its release, eh?