Why Drake & Frank Ocean Comparisons Don't Add Up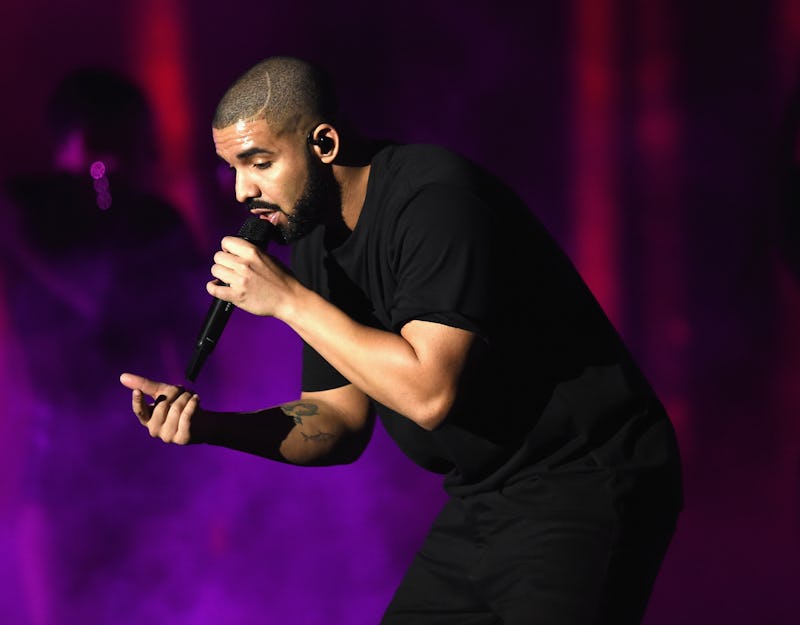 Kevin Winter/Getty Images Entertainment/Getty Images
OK, so by this point, you've probably exhausted yourself by screeching, "When is Drake's More Life playlist being released?" at just about every internet-enabled device you own. Waking up Saturday morning to find that Drake's latest project hasn't been released yet was beyond frustrating. Having already waited what feels like forever, it's understandable that fans are now jokingly drawing comparisons between Drake and Frank Ocean, due to their proclivity for highly anticipated and seemingly forever-delayed releases. And it's easy to see why.
To his credit, however, Drake did share an Instagram on Friday night, hinting that More Life will premiere on OVO Radio at 6 p.m. EST on Saturday, March 18. So, I guess that those of us who don't obsessively check his social media feeds only have ourselves to blame. But regardless, the comparisons between Ocean and Drake make sense, though there is a notable difference worth talking about.
But first, some background: Because, fans waited four long years for Ocean's Blonde (originally titled, Boy's Don't Cry) to be released in 2016, and the anticipation and frustration accompanying that wait was truly palpable online. Ocean teased the release of Blonde as happening on several different dates across a couple of years, without those release dates ever coming to fruition.
In April of that year, Drake released his fourth full-length studio album Views, and just six months later in October, Drake announced his new playlist, More Life, making a vague promise that it would be released in December. However, December came and went without any playlist. And now here we are, on the date that Drake promised to release More Life, and we're still waiting for its arrival. So sure, I get the comparisons.
But there's a notable difference between Drake and Ocean, and the manner in which these delayed releases have been orchestrated. In Ocean's case, the delay that came with the release of Blonde, though frustrating, felt like something worthwhile. Though Ocean may have teased different release dates for the album, only to disappoint fans time and again, his reveal of these dates never felt cynically minded or done for the sake of hype.
Instead, when those dates came and went without the arrival of a new album, there was a sense that it was only because Ocean was tinkering away in the background and making Blonde as perfect as possible. When Endless, Ocean's mesmerizing visual album was released a week before Blonde, it felt like a stunning thank you note to fans who had patiently waited for new material.
It showed the singer building a spiral staircase from scratch, and the time and hardship that was required to do that were evident within it. When Blonde came out, the meaning of Ocean's Endless became clear: Everything worthwhile takes time. The wait was a necessity, but Ocean was building something terrific. And Blonde was exactly that — and more.
While I have no doubts that Drake's latest playlist will also be well worth the wait, I can't help but feel that his habit for false flag release dates and last-minute delays have been taken from Ocean's playbook — while completely missing the point. Drake's delay of More Life feels a little disingenuous and more like a frustrating grab for attention and hype, rather than something that needs to happen to make the music the best it possibly can be.
After all, Drake announced the release date of More Life only six days prior to that actual date, which felt a little last-minute, but sure, whatever. To then announce, the day before said release, a specific and later time frame for the playlist's premiere feels calculated and cruel to fans who have been patiently looking forward to it. Notably, it feels like a cynical and well-calculated marketing tactic to keep hype high online and ensure that Drake and More Life remain trending topics on social media. And I don't know how other fans feel about that, but I feel utterly played. Not cool, Drizzy.
Because honestly, fans deserve better. What Ocean did in delaying Blonde felt like a genuine struggle on his behalf to balance demand for the album with his own perfectionism in completing it. And it is not, by any means, something that other artists should be duplicating for their own marketing efforts. So while comparisons between Drake and Ocean online might be easy, they aren't entirely accurate. And I can only hope that More Life manages to live up to the hype that Drake has constructed when it finally gets released.