The 'One Tree Hill' Cast Is Working Together To Support A Truly Vital Cause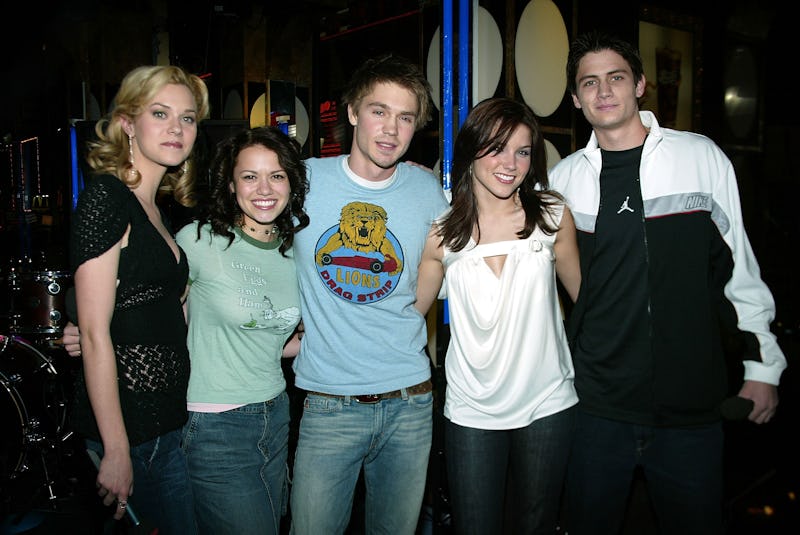 Frank Micelotta/Getty Images Entertainment/Getty Images
The country's most recent natural disaster, Hurricane Florence, caused 43 fatalities, nearly $22 billion in damages, and sweeping devastation from Bermuda through the south east, as reported by News Observer. There were reportedly 35 deaths from Hurricane Florence in North Carolina alone, where the fan favorite teen series One Tree Hill was shot. In light of the tragic events, the One Tree Hill cast is coming together for the #CapeFearlessChallenge to raise money for North Carolina. What better way to celebrate the show's 15 year anniversary and pay respect to its hometown?
The cast has taken to their respective social media accounts to spread awareness and get fans who fell in love with Wilmington on the hit series to help rebuild the community. The CrowdRise campaign is called #CapeFearlessChallenge, and it has raised nearly $50,000 so far. The women of One Tree Hill, including Sophia Bush and Hilarie Burton, put together a video to explain the campaign and talk about what North Carolina means to them.
Further, the cast is selling t-shirts on Stands called "Love NC Tees" that go for $25.99. The shirts, for both men and women, feature an outline of the state of North Carolina with the word "love" at the top of the state border. Burton even posted a photo of herself wearing one.
Burton posted on Instagram, writing, "To NC with Love!!! Want this rad shirt? Want to help those affected by Hurricane Florence? Want to be the coolest kid in school??? You can do ALL of the above! All of the money goes to @randomactsorg and will be put in the hands of the people who really need it. Be a hero AND super stylish!" Her former co-star James Lafferty also promoted the shirts on his social media.
Bush also posted a heartfelt message on Instagram, writing, "If One Tree Hill felt like home to you too, please consider supporting the Carolinas alongside us with our #CapeFearlessChallenge to raise funds for #Florence recovery."
This is truly an epic One Tree Hill cast reunion, and it's one that really counts. Tons of additional cast members have posted about helping and giving information on how fans can donate or volunteer.
James Lafferty wrote a lengthy Instagram post with a shot of the infamous riverside court, writing,
"Looking back today, I remember so much of what I loved about the show was where it was shot: Wilmington, North Carolina. This is a truly special place with a heart and soul all it's own and at the moment, the people of Wilmington are still hurting in the wake of Hurricane Florence... You can visit the good people at redcross.org by calling 1-800-RED-CROSS or texting FLORENCE to 90999 to make a donation."
Before the hurricane struck, Chad Michael Murray posted a series of Wilmington shots, some from the show, with a special message of his own. "I called this place home for years and it always will be in some capacity. It carries the finest ppl you'll meet and the little city has captured the heart of Millions," he wrote. "Please evacuate if you're in Florence's path. And please pray for 'the spirit' that Wilmington is and always will be... we are praying for you."
Another cast member, Antwon Tanner posted a text from co-star Lee Norris about the urgency of Florence, and a few other cast members have reposted it. Tanner captioned the post, "From our #oth family. We are sending prayers for all of our families and friends that are in Wilmington to please evacuate and stay safe. We love u." Daphne Zuniga, who played Brooke's mother Victoria, also posted the message and wrote, "The town we filmed One Tree Hill in Wilmington NC is in hurricane's path. Our strong family of cast and fans are asking everyone in the area to evacuate if mandatory and to STAY SAFE!"
Kate Voegele posted about #CapeFearlessChallenge as well, writing, "Over the years, so many of you have shown so much love for this place that means the world to me and my friends. Please join me and the women of #OneTreeHill and help the people of North Carolina recover #capefearlesschallenge." And before the storm, Stephen Colletti posted his well wishes to the areas being effected, saying, "Thinking about all the Carolina folk as they board & bag up and retreat to safety. Wrightsville Beach and Wilmington especially. Be safe. Once it passes, here to help."
After all this time, it's great to see so many cast members reunite for such an important initiative. And in the process, they've proven that the One Tree Hill family is still going strong.