The Original 'Bug Juice' Showed A Generation Of Kids How Real Reality TV Could Be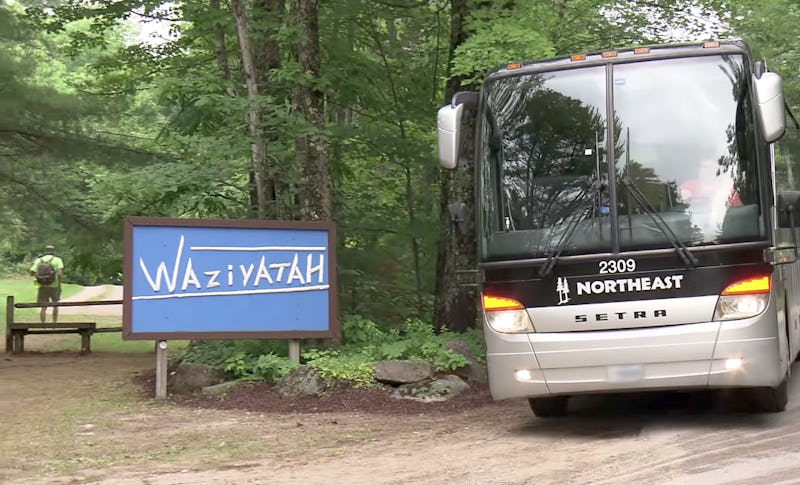 Disney Channel
Long before MTV had Laguna Beach: The Real Orange County, the Disney Channel had the kid-friendly reality TV series Bug Juice. The reboot, Bug Juice: My Adventures At Camp, premieres on July 16, and the return of the docuseries will have '90s kids remembering why the original Bug Juice was so great. Reality TV is omnipresent now and it often feels more manufactured than natural. But the campers and counselors on the original Bug Juice in the late 1990s and early 2000s provided a real glimpse into what it was like for a kid between the ages of 10 and 12 to spend time at a summer camp. And there was something so purely entertaining about watching kids simply be themselves in a new situation that transfixed viewers of the same age.
I never went to summer camp. Instead, I spent my summers at a campground at the Jersey Shore (no, not that Jersey Shore) with my parents and two older siblings. While I was more than content to hang out with my family, Bug Juice showed me what it would have been like to go to summer camp and make new friends. And since the cable package at my campground amazingly contained the Disney Channel unlike my TV at home, I spent summer nights watching the kids on Bug Juice live out their camp lives. Like them, I'd spend my days doing fun, outdoor activities and then at night, I'd have my own campfire with my family. But while my summers were relatively drama-free, I could tune into the camp romances and bunk disputes of Bug Juice, which were equal parts infuriating and thrilling for this 12-year-old viewer.
Although Bug Juice was certainly down to earth — especially by today's reality TV standards — there was still plenty of drama thanks to the fact that it followed actual preteens. When Bug Juice premiered on Disney in 1998, the word "tween" didn't even exist. But preteendom back then was still just as confusing. You're not a kid anymore, but you're not a teenager. And as you deal with the frustrating way people treat you, you're also navigating your elevated hormones that are leading to body changes and acne. While I felt misunderstood in my family as my siblings were already in high school and college, the real-life kids of Bug Juice were there for me — going through the same preteen horrors of frizzy hair, braces, and cute boys.
Many reality TV series have followed since Bug Juice, but the drama depicted on shows like Laguna Beach, Keeping Up With The Kardashians, The Real Housewives, or Jersey Shore was never as relatable as what the low-key Bug Juice depicted. Bug Juice wasn't about appearances or wealth. Instead, the Disney Channel show simply did a good job of capturing the (for lack of a better word) reality of what a group of preteens living together and trying out new experiences was like. Just like all reality TV, there were people you wanted to be friends with and people you couldn't stand and people who definitely seemed to act a different way for the cameras. But there was an innocence to it. The campers and counselors knew they'd be on TV, but they couldn't even have fathomed a world where people would become as famous as Lauren Conrad, Nicole "Snooki" Polizzi, or Kim freakin' Kardashian from reality TV.
For the reboot, it appears that the Disney Channel is going to keep the spirit of the original Bug Juice intact — after all, it does cater to a young viewing audience. The series is even returning to the camp from Season 1, Camp Waziyatah in Maine. But sadly, as the above video shows, the theme song has changed. The original focused on the sugary, mystery drink that was poured from a big cooler after a day of running around in the sun that was the show's namesake. And the lyrics, "Bug juice, it doesn't come in a jar. Bug juice comes from who you are" have stuck with me far more than any of the names of the campers or counselors ever did.
The 20- and 30-somethings who watched the original probably won't be watching Bug Juice: My Adventures At Camp since we're all grown up and our preteen summer camp days are far behind us. And with the TV market saturated with reality TV, perhaps the new Bug Juice won't have the same lightning bug in a bottle magic as the original. But the Bug Juice revival will provide a new generation of kids with reality TV as it should be — an honest approach that highlights how real people react to life's highs and lows. So even if a kid who watches Bug Juice: My Adventures At Camp has never been to summer camp and never will, they will be able to vicariously live their summer camp dreams through a realistic reality TV show. And they can get the experience from the comfort of their couch — no mosquito bites or bunk beds required.