The 'She's Gotta Have It' Cameo You Might Have Missed Is So Meaningful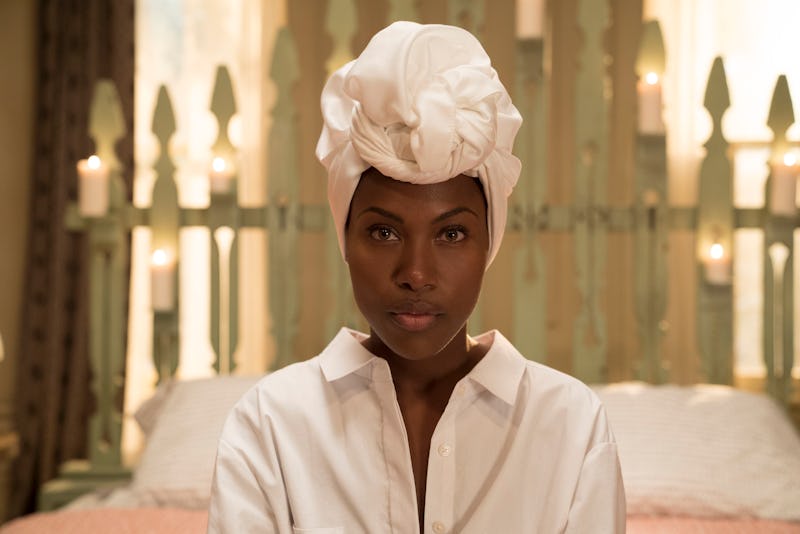 David Lee/Netflix
A little over 30 years ago, a young filmmaker name Spike Lee captivated audiences with his groundbreaking portrayal of a self-proclaimed "sex-positive, polyamorous pansexual," named Nola Darling in She's Gotta Have It. Actor Tracy Camilla Johns made her feature film debut as the carefree painter juggling three beaus: the mature Jamie Overstreet, the conceited Greer Childs and the eccentric Mars Blackmon. The movie has resonated with plenty of women because of its overall feminist tone and has since become a cult classic. On Nov. 23, Netflix will debut the She's Gotta Have It TV series, which introduces the sexually liberated Nola to the millennial generation. And weaved in between gentrification subplots and a killer soundtrack is a surprise cameo from the original Nola Darling, which is a baton-passing as much as it is an Easter Egg.
Johns is an icon for playing this groundbreaking role. Nola DeWanda Wise, who plays Nola in the TV series — has had a breakout year of her own with roles in Underground and Shots Fired. Reboots and remakes can sometimes rub fans — as well as the original actors — the wrong way, but in this series the encounter between the women resembles something of a right of passage. In their brief scene, one Nola Darling gives her approval to the next. This moment meant a lot to Wise, who according to Spike Lee's Instagram post, teared up after meeting Johns on the show.
Wise further elaborated on what the role and the movie meant to her at a recent press screening for the series, which Bustle attended. "I was a freshman at NYU when I first watched She's Gotta Have It," Wise said. "I was dating some dude who was like 'you remind me of Nola Darling.' So I watched it and I was like 'okay, this situationship is over [laughs], but this movie is amazing.'"
According to Wise, the film and its honest portrayal of a black woman living her best life gave her permission "to explore herself and to move more fully" into the woman that she was to become. After landing the lead part, Wise says she was extremely excited because she thought of Nola as a role model and a role she desired to play ever since she began acting. "There are moments in culture that you can look back on and point to and say that 'Oh wow that had a legit impact'," Wise said. "That is Nola."
In the episode where Johns appears, Nola anxiously stumbles through an art gallery and can't help but feel a little out of place as she admires an interesting sculpture made out of hot combs. But her mood quickly shifts as soon as Johns, playing an admiring fan, makes her way over to Nola. After a quick hello and plenty of smiles as Nola says, "you look familiar," to Johns' character. If fans of the original film didn't already recognize Johns, they definitely should after hearing that comment. The two share a warm embrace and Johns exits the scene leaving Nola in awe.
This small cameo marks the first time Johns has been on screen since 2012, after another cameo role as "Mother Darling" in Spike Lee's Red Hook Summer. Before that it had been a long 21 years since viewers had seen the actor, who also played the very scandalous Uniqua in the '90s crime drama New Jack City and a club-goer in Mo' Better Blues. So, who knows? Maybe this latest cameo will mark a return to acting for Johns. But even if it doesn't, this small, but meaningful moment helps to prove that She's Gotta Have It is a true continuation of an impactful story.