How 'The Parent Trap' Star Elaine Hendrix REALLY Feels About Your Meredith Blake Hate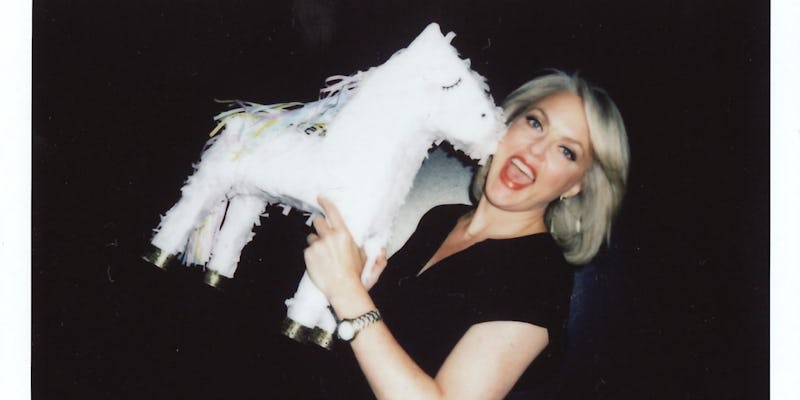 When celebrities hang out with Bustle editors, we want to give them the chance to leave their mark. Literally. So we hand them a pen, a piece of paper, a few questions, and ask them to get creative. The rest is up to them. This time, The Parent Trap star Elaine Hendrix is leaving her mark in the Bustle Booth.
When most people think of Elaine Hendrix, they think of one line: "The day we get married is the day I ship those brats off to Switzerland, get the picture?" After all, the quote — said by Hendrix's villainous character Meredith Blake in 1998's The Parent Trap — is one of the most memorable lines uttered in one of the '90s most iconic movies. Yet despite the film being 20 years old (aka, people have been coming up to Hendrix quoting that line or dissing Meredith for two decades), the actor doesn't mind. In fact, she kind of loves it.
"There was a while there when I got frustrated that it followed me. But then I made peace with it, and now I've so embraced it, because it's just so fun," says Hendrix when she stops by Bustle's New York office one July afternoon. "Especially now after playing all different types of characters, it's like, being the villain really is the most fun to do."
Like all of us, Hendrix has watched as The Parent Trap re-surged in popularity over the last several years, with nostalgic fans and newcomers alike watching the film on repeat and sharing hilarious memes about its plot. One such meme, featuring a collage of Meredith Blake photos with the words, "kids today will NEVER know how much we HATED this woman", was widely shared on social media in June — but it was nothing compared to the amount of likes and re-tweets given to Hendrix's pitch-perfect reaction to the post: "I will ship every one of you brats off to Switzerland."
"Hundreds of thousands, almost a million likes," Hendrix recalls now, with a laugh. "I'm like, 'see, being bad is more fun.'"
Yet while Hendrix might have no problem with her permanent association with Meredith Blake (and, subsequently, the character's villainy), she's spent the last two decades in a series of very different roles. She's appeared on shows like Joan of Arcadia and 90210 and in many movies, and in mid-July, it was announced that she'll in a new USA show, Erase. It's an exciting time for Hendrix, and in her Bustle Booth below, she shares what else is on her mind these days — including, yes, people's permanent obsession with Meredith Blake.