This 'Parent Trap' Trivia That You Never Knew Makes The Whole Movie Even Cuter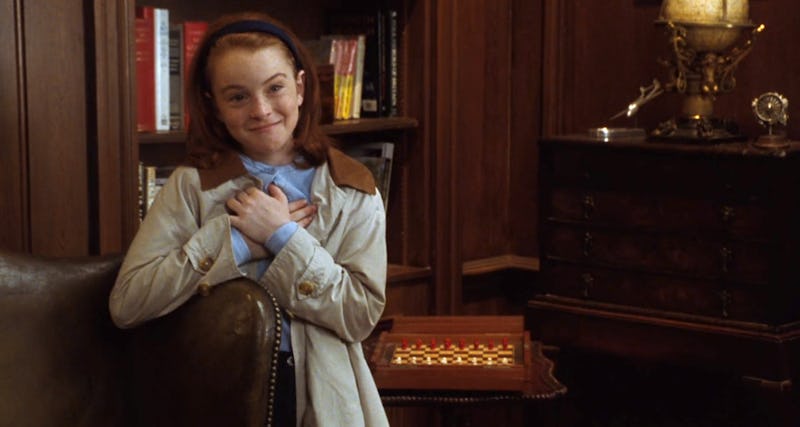 Walt Disney Pictures
It's a well-known fact that 1998's The Parent Trap (director: Nancy Meyers) is a classic movie for kids who grew up in the '90s. It had everything: Lindsay Lohan, peanut butter-covered Oreos, too-cool-for-school handshakes, and a completely ridiculous plot. But there's one detail about the movie — and specifically, its soundtrack — that you might not remember from your childhood viewings. This trivia fact about The Parent Trap's opening and closing songs makes the movie that much sweeter.
The beloved '90s classic is — spoiler alert — about two parents who rekindle their romance after their estranged twin daughters meet at summer camp and set them up. But what you might not realize is that the soundtrack perfectly mirrors the full-circle nature of Liz and Nick's relationship, from their wedding to their divorce to their eventual remarriage.
At the beginning of the movie, we see Liz and Nick's '80s wedding, which took place aboard the Queen Elizabeth 2 ship. As the love-filled festivities play out on screen, we hear Nat King Cole's "L-O-V-E" during the montage. It's the perfect song to capture the happiness of the couple's wedding day: We see the exchanging of rings, the signing of the marriage license, Liz and Nick's entry into their wedding reception, and their first dance together as a married couple. There's also a sweet moment where the couple dances together on the ship, away from the crowd, as fireworks erupt in the background.
Unfortunately, as the story goes, Nick and Liz eventually go their separate ways. But instead of devising a joint custody agreement for their twin daughters, Hallie and Annie, each parent takes one daughter to live with them. Hallie and Annie eventually find their way to each other at Camp Walden, though, and the 11-year-olds hatch a plan to get their parents back together. They switch places so that they can meet their other parent — and eventually set them up. Hallie disguises herself as Annie and returns to her mom's London home, while Annie pretends to be Hallie to meet their father in California. And who can forget that iconic ear-piercing scene? After all, the plan would be over if Hallie showed up at her dad's without earrings.
It's a farfetched plan, but it's not really any stranger than not telling their daughters they have a twin. Hallie and Annie realize that when their parents inevitably figure out they have the wrong twin, they'll have to meet up to switch the girls back — the perfect opportunity for them to fall in love.
And, as you'd probably expect from a Disney movie, the plan does work, though not without a few hiccups along the way. Sure enough, Liz and Nick are kissing each other by the end of the movie, and we get to see a new wedding montage. The couple is back on the Queen Elizabeth 2, this time with Hallie and Annie by their sides at the ceremony. And as we get to flip through the new wedding scrapbook, Natalie Cole's "This Will Be (An Everlasting Love)" plays in the background.
It's not a coincidence that this is the song The Parent Trap ends with. Natalie Cole is Nat King Cole's daughter; the soundtrack, like Liz and Nick's relationship, has truly come full circle. Plus, it's super sweet for the movie to feature a father-daughter song duo, since so much of the movie is about the twins' relationship with their parents.
The Parent Trap was already pretty perfect, but this detail makes it even better. Liz and Nick were totally meant to be together — it just took some coaxing for them to remember why they fell in love.