A Penn State Frat Brother Was Just Sentenced For The 2017 Hazing Death Of A Pledge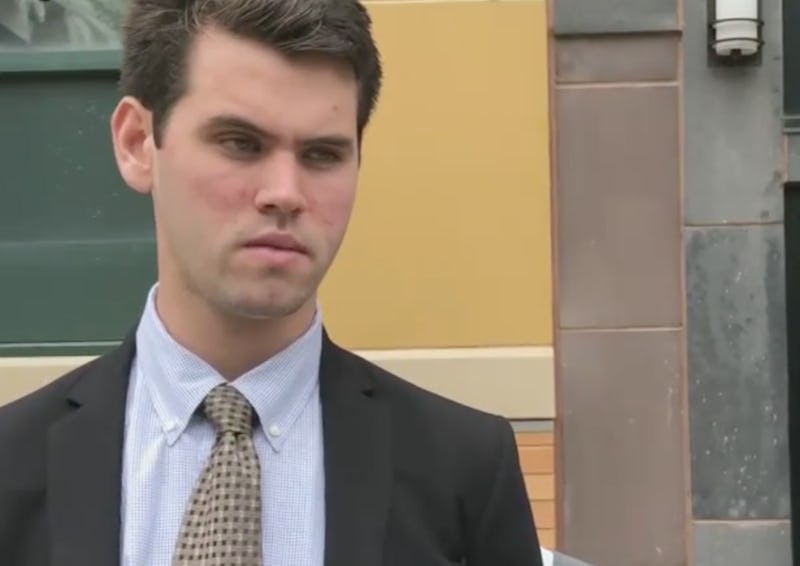 Photo Courtesy of ABC News
A former Penn State University fraternity member is being punished after a frat party that took a fatal turn over a year ago. In February of 2017, Ryan Burke's frat brother, Timothy Piazza, died after a hazing ritual involving alcohol, and on Tuesday, July 31, Burke was sentenced in the Penn State fraternity hazing death case after pleading guilty in June, according to The New York Times.
Burke was the first member of his now-banned fraternity, Beta Theta Pi, to plead guilty to charges including four counts of hazing and five counts related to "unlawful acts involving liquor," according to CNN, and he is the first to be sentenced in the case. But Burke won't see the inside of a jail cell — his sentencing included three months of house arrest, 27 months of probation, 100 hours of community service, and a fine.
Burke's sentencing comes after his involvement in a hazing ritual that left his former frat brother dead at the age of 19. The Centre Daily Times reported that Piazza consumed 18 drinks in 82 minutes before falling down the stairs of the frat house's basement steps. Other fraternity members had reportedly forced him to drink and complete an obstacle course called "the gauntlet," according to The Atlantic.
After he fell down the stairs, Piazza — who was unconscious — was carried back upstairs by Burke — who served as the frat's "rush chair" — and three other frat brothers, according to The Times. The brothers placed Piazza on a sofa and didn't seek immediate medical attention for him. According to a sentencing memo obtained by The Times, Burke could be seen "playfully hoisting a girl over his shoulders" and jumping on the sofa next to Piazza that night.
The frat brothers didn't call an ambulance for 12 hours. Piazza died two days after his fall, after incurring brain injuries and rupturing his spleen, The Times reported.
Video footage from the night shows Burke giving Piazza vodka, according to CNN, and according to prosecutors, Burke admitted to encouraging drinking games with Piazza and other pledges.
Tom Kline, Piazza's parents' lawyer, said that Burke's sentence was "an important step on the long road to justice for the Piazza family," according to The Centre Daily. The newspaper reported that Piazza's father, Jim Piazza, said in a victim impact statement:
"Tim died in the early morning of Feb. 4 with my wife, my older son, Tim's girlfriend, and I at his side. Our world changed forever at that moment. All he was trying to do was join an organization and make new friends."
25 other defendants had entered "not guilty" pleas, according to Kline, so Burke's legal decision to plead guilty was unique.
When Burke plead guilty in June, The Associated Press reported that Burke's lawyer, Philip Masorti, put his hand on Burke's shoulder outside the courthouse and said that Burke understood how large the loss was, adding that the young man wanted to take responsibility for his actions.
"There are too few words to describe a loss so great. This young man understands that," Masorti said, according to The AP. "This is a tragedy, and he is anxious to make amends."
Now, Burke will have three months on house arrest, while the legal fate of the other 25 defendants in the case is still to be determined.