These Photos Show Two Very Different Inaugurations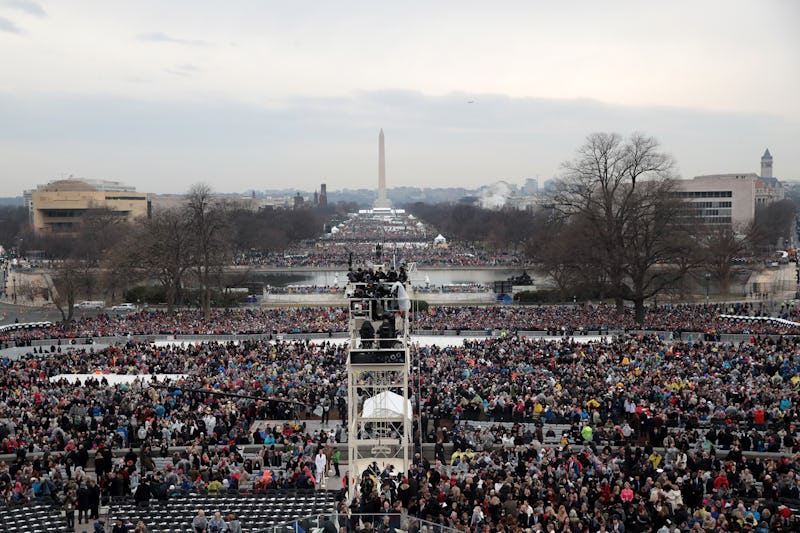 Scott Olson/Getty Images News/Getty Images
Despite the incoming president's promise of "an unbelievable, perhaps record-setting turnout" at his inauguration, aerial photos of Donald Trump's inauguration show a much thinner crowd than was seen at President Barack Obama's 2009 inauguration. While Trump might have hoped to top the record his predecessor set eight years ago for most well-attended inauguration, a comparison of photos from Trump and Obama's inauguration ceremonies show the crowd gathered at the U.S. Capitol for the incoming president doesn't quite stack up.
An estimated 1.8 million people gathered on the National Mall to see Obama sworn into office during his first inauguration in 2009. The D.C. Department of Homeland Security and Emergency Management told NBC they were expecting a crowd of no more than 900,000 people to attend Trump's official swearing-in ceremony at the Capitol. The U.S. Armed Forces Joint Task Force-National Capital Region said it was estimating 800,000 people to attend while the Joint Congressional Committee on Inaugural Activities said it expected a crowd of 700,000 to 750,000 people.
Aerial photos of the crowd gathered on the National Mall on Friday to see Trump take his oath of office showed quite a bit of open space less than an hour before his swearing in. In comparison, a similar aerial photo taken during Obama's first inauguration showed a packed crowd that appears to stretch down the entire length of the National Mall.
Providing crowd estimates can be difficult, even for supposed crowd estimate experts, who warn that numbers will never be 100 percent accurate. According to NBC News, estimating the size of a crowd begins by determining the total square feet of the area in question followed by the approximate "density factor" of the crowd or how much space each individual occupies. The "density factor" of a loose crowd is higher than that of a crowd standing shoulder to shoulder.
Perhaps a better question is, does size matter? While the size of the crowd at Trump's inauguration won't be a concern for many folks, others will undoubtedly attempt to politicize the turnout number. Trump's team will likely tout its crowd size estimate as evidence of Trump's supposed popularity while critics of the incoming president use their own estimate to hammer home arguments of his unpopularity.
However, because crowd sizes are always estimates and never 100 percent accurate, they are impossible to fact-check.
Conflicting crowd size estimates are often troubling enough for those seeking to gain an accurate view of historic moments. However, in an era where "fake news" is not only a real problem but also one of the incoming president's favored strategies to delegitimize critics, conflicting crowd sizes will prove even more troublesome as there's little more than photographs to counter Trump's potential claims of a "yuge" turnout.