The "Pick Up" Pool Is The Ultimate Summer Hack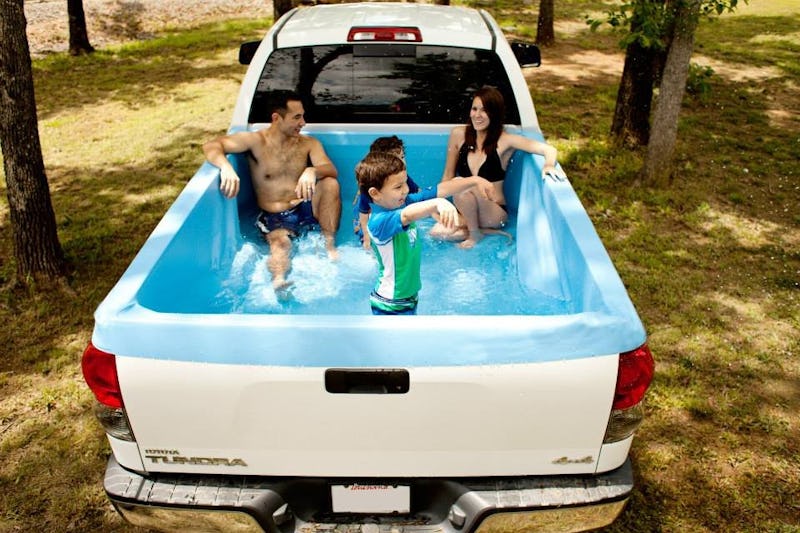 Pick-up Pools
Growing up I wanted a pool more than anything. I was incredibly jealous of any of my friends who did. Being that this was upstate New York, my parents didn't want to deal with the cost or upkeep of a pool when we could only use it three months of the year. A very understandable reason. Well, Pick-up Pools is here to please any kid who, like me, always wanted a pool, for a lot less money and space. The only catch — you need a flat bed truck.
Pick-up Pools has designed a 30 millimeter thick, vinyl liner that extends around the entirety of the flat bed. Made in the United States, the liner is thicker than most of the ones built for conventional pools. Once it's filled with water, your truck becomes a kid-friendly pool that the whole family can enjoy. The company suggests using the pool while camping, at tailgate parties, and while relaxing at home. When you're done a drain valve located on the tailgate side of the pool will release the water.
So how do you buy a Pick-up Pool? The liner comes in two sizes: 5.5 feet for $250 and 6.5 feet for $270. You can determine which one is right for you by measuring the distance between the bulkhead to the tailgate inside the bed. Make sure you check how much weight your truck can hold before use. Currently both sizes are sold out, but more will be in stock next month.
If you're looking for a safe and easy way to keep kids — or yourself — entertained this summer, Pick-up Pools might be it. Growing up I hid in the air conditioning on the hottest of days. This way you can enjoy more of the sun while keeping cool. For safety, only use the Pick-up Pool when your car is parked. As amusing as it would be to see a family cruising in it down the street, it would also be very dangerous.
While stationary you can have loads of fun in your new pool. You never know, this strange invention might end up being your go to.