The Picture On The Back Of Joe Biden's Memoir Has A Heartbreaking Story Behind It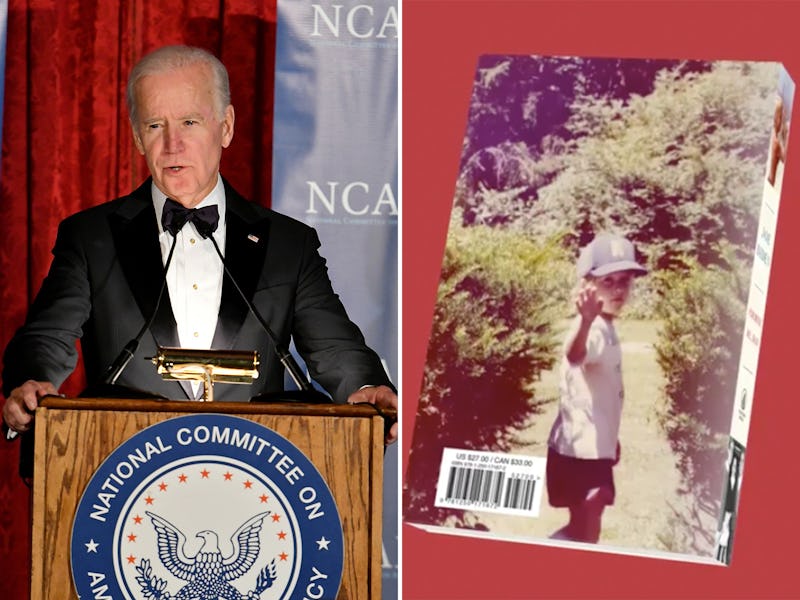 Mike Coppola/Getty Images Entertainment/Getty Images; Joe Biden/Twitter
If you're like me, whenever you see a book you're interested in reading, you flip it over to see what the back cover has to say about it. But if you turn over Joe Biden's new memoir, Promise Me, Dad, you won't find any blurbs or publisher's copy, just an aged photograph of a little boy in shorts and a baseball cap. The picture on the back of Joe Biden's memoir has a heartbreaking story behind it, so get your tissues ready.
On Dec. 18, 1972, Joe Biden's first wife, Neilia, and their three children were involved in a fatal car accident. Recently elected as a U.S. Senator for Delaware, Biden had already moved to Washington in anticipation of his swearing-in. As Neilia and her children — Beau, Hunter, and Naomi — were returning home with a freshly picked Christmas tree, a tractor-trailer struck their station wagon. Neilia and 13-month-old Naomi were killed, and Beau and Hunt were injured. According to the Daily News, Biden "took the Senate oath of office at [his sons'] hospital bedsides in 1973."
In January 2016, Biden spoke to Popular Mechanics about how much of an impact his sons — who were only toddlers when Neilia and Naomi died — had, not only on his recovery from the death of his wife and daughter, but also on his continued health through the years:
[W]e've always taken care of each other. What the boys have done for me from the time of the accident on, it's always been, You okay, Dad? Come here, Dad. Dad, you're not getting enough sleep… Every time I'd wanna just pack it in, all of a sudden I'd feel one of them climbing in bed—I mean even when they were fifteen years old. Hey Dad, come on, you okay?
Promise Me, Dad by Joe Biden, $16.20, Amazon
Biden writes further on the impact of Beau's absence in Promise Me, Dad. Upon returning home after Beau's death in May 2015, "Jill wanted to go to our dock as soon as [possible]," according to Biden's memoir, because "it made her feel more connected to Beau [to be] at a place he loved so deeply." While there, the Bidens saw a white egret on the other side of the lake, and Jill confessed that she had told their son, during his final hours: "Go to a happy place, Beau. Go to the dock, with Hunter." The egret remained near them for several minutes before flying away, at which point Jill called the bird "a sign from God . . . Beau being at the lake one last time, and heading for heaven."
After the incident at the dock, Biden could not sleep, and so he began putting away some things that had been moved during a recent renovation.
From the memoir:
The last box I grabbed held some pages from scrapbooks and some old family photos. The photograph on top of the pile fluttered out, so I bent down to pick it up; it was a four-by-six color photo of Beau. He was probably eight or nine, in sneakers and shorts, wearing a baseball cap and a jacket, walking through the hedgerows at the Station, the house I bought soon after Neilia died. The boys and Ashley had grown up there. In the photo, Beau was walking away from me, looking over his shoulder, smiling and waving. I was suddenly overwhelmed. I had not seen that photo in at least three decades, but it was the age I always pictured him in my mind. Always smiling at me, with that look of reassurance.
My God, it struck me in that moment, I miss him so terribly — already. Beau could always chase my fears away. He saved my life, along with Hunter, forty years ago, after Neilia and Naomi died in the car accident, and now what was I supposed to do? I had looked to Beau, as I looked to Hunt, from the time he was a child, as a source of confidence and courage. "It's going to be okay, Daddy," he would say. "I'm not going away." How foolish it sounds, I thought, that a grown man, an accomplished man, who spent his whole life trying to communicate courage and fortitude, had to look to his own sons to buck him up.
Joe Biden's new memoir, Promise Me, Dad, is available Tuesday wherever books are sold. The audiobook version is narrated by the author, and is available exclusively on Audible.
Promise Me, Dad by Joe Biden, $16.20, Amazon