The Pixar Dumpling Short Actually Has A Super Feminist Message, According To Its Director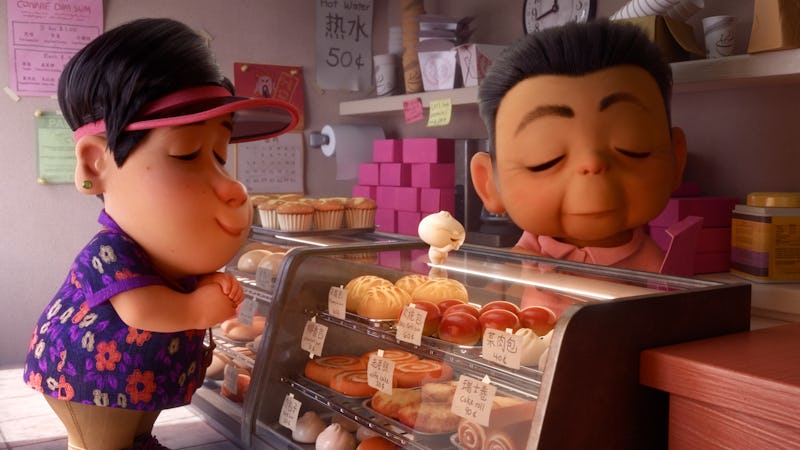 Pixar
When the first images and clips from Pixar's new short about a dumpling, Bao, were released, the general reaction was a giant awww. The studio is known for telling stories from the points of view of adorable inanimate objects, and Bao, about a lonely Chinese-Canadian woman's years-long bond with a dumpling that comes alive, really is as heartwarming as it gets. Yet while the sweetness of the short film is certainly reason to love it, what makes Bao so special is the feminist message behind it — and the group of talented women who spent years bringing it to life.
"It's kind of awesome that I was able to direct this short that was predominantly led by women," says Domee Shi, a former Pixar storyboard artist who wrote and directed Bao — making her the first woman to ever direct a Pixar short — when we chat at the company's studio in April. "Hopefully this is the beginning of a trend."
In past years, the animation world was "totally male-dominated," Shi says, explaining, "All of Disney was old men, and the women were just the ink and paint girls." Now, though, there's a "shift naturally happening," and while "it's gonna take a little while for the industry to reflect that," Bao is a huge step in the right direction.
The short, which will play before The Incredibles 2 when the movie opens on June 15, has a distinct female focus. It tells the story of an older woman who, depressed and alone, is delighted to discover that one of her dumplings has come alive. "The idea spawned from me wanting to do a Chinese version of the Little Gingerbread Man, just this modern day fairy tale with a twist," explains Shi, referring to the classic story of a baked good come alive. Bao does have that fairy tale feel, chronicling the tight-knit bond between the mom and her dumpling "son" with pure joy and excitement. For anyone who has a close connection with their parents or has even ever experienced a bout of homesickness, Bao will feel right on the nose; as Neiman says, "It's culturally specific, but the themes are so universal."
Shi spent four years creating Bao, and, as she says, her collaborators were primarily women; there was a female producer, production designer, editor, and sound designer, to name a few. For Shi, being the leader on set meant that she had plenty of control over the hiring process, a fact she did not take for granted. "It felt really, really awesome to be given this opportunity and to give this opportunity to lots of women," she recalls. "We picked them because they were super talented, but it's like a double extra cherry on top that we're all women."
Producer Becky Neiman sums up their hiring technique as this: "If you have the opportunity to lead or to participate in a project and you see that there's another woman in the room who's trying to participate, call on her and encourage her and support one another... be each other's advocates."
And the fact that the short's lead character is a Chinese-born immigrant (the film is set in Canada) makes it resonate even more. Although Shi came up with the idea for Bao back in 2014, it feels especially poignant today considering the current political debates over immigration and assimilation. "Who could've anticipated years ago where we'd be now?" Shi says with a laugh, adding, "I'm an immigrant of this country… so that [idea] has always just been present in my life. But I hope this is a good pro-immigrant short."
So yeah, Bao is probably going to make you cry, whether the thing that gets you is its adorable dumpling star, its relevance to 2018's most personal and political issues, or its feminist message and the largely female team behind it. "Hopefully," says Neiman about the number of women behind the scenes, "[Bao] can be an example to girls to say, 'I can do that.'" A Pixar short that moves viewers to tears and inspires them to create feminist content in a male-dominated world? That's the best kind of moviegoing experience a person could have.