Protesters Swarm Trump Tower To Give The President Anything But A Warm Welcoming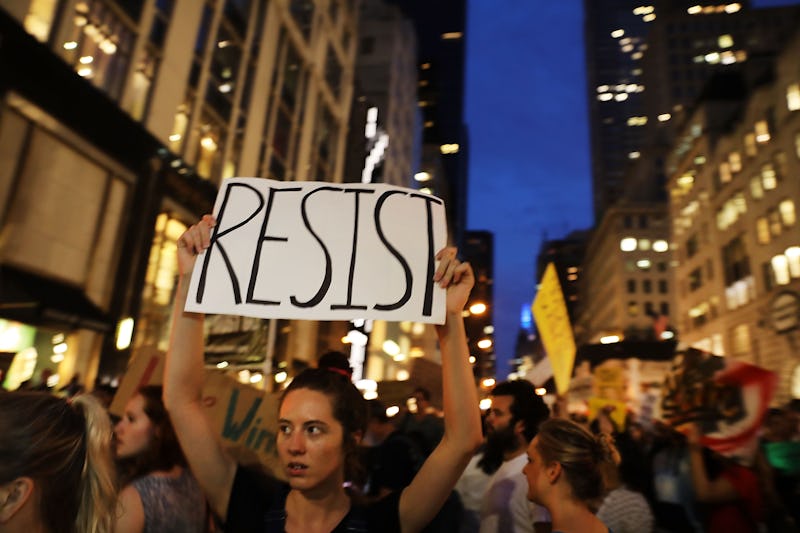 Spencer Platt/Getty Images News/Getty Images
For the first time since his inauguration (and the various protests that followed), President Donald Trump returned home to Trump Tower in New York City on Monday. Flanked by protesters, the president's welcome was less-than-warm with more than a thousand people reportedly outside the building in midtown Manhattan when Trump arrived around 9 p.m. EST that night. As The Guardian reported, the president was met with boos and chanting of "shame" from the crowds along with an inflatable rat designed in his likeness.
As the New York Daily News reported, the crowds gathered to protest the violence in Charlottesville, Virginia from over the weekend — along with the president's failure to immediately condemn white supremacists who were allegedly responsible for Saturday's violence that left dozens injured and at least one person dead. Several of the Trump Tower protesters used signs and chants to take aim at Trump's comments from earlier in the weekend that condemned the incidents as an "egregious display of hatred, bigotry and violence on many sides" but failed to acknowledge the roles of racism and white supremacy. On Monday, however, he did acknowledge both white supremacists and neo-Nazis.
The New York Daily News also reported that there was a smaller group— around 16 people — there in support of Trump, supposedly shouting "Make America white again" at the demonstrators.
Trump had just had another go at giving a statement to respond to the incidents earlier on Monday. In it, he stated that the Department of Justice opened a civil rights investigation into the car attack and finally addressed the "racist violence."
He said in a televised statement:
To anyone who acted criminally in this weekend's racist violence, you will be held fully accountable. Justice will be delivered. As I said on Saturday, we condemn in the strongest possible terms this egregious display of hatred, bigotry, and violence. It has no place in America. And as I have said many times before, no matter the color of our skin, we all live under the same laws. We all salute the same great flag, and we are all made by the same almighty god.
He went on to make even more explicit comments that named several known hate-groups involved in the violence, stating:
Racism is evil, and those who cause violence in its name are criminals and thugs, including the KKK, neo-nazis, white supremacists, and other hate groups that are repugnant to everything we hold dear as Americans.
Though his welcome back to NYC wasn't necessarily a warm one, Trump will reportedly spend two nights at his apartment in Trump Tower during his so-called "working vacation."