Your Favorite Characters Are Back In These Behind-The-Scenes 'PLL' Spinoff Photos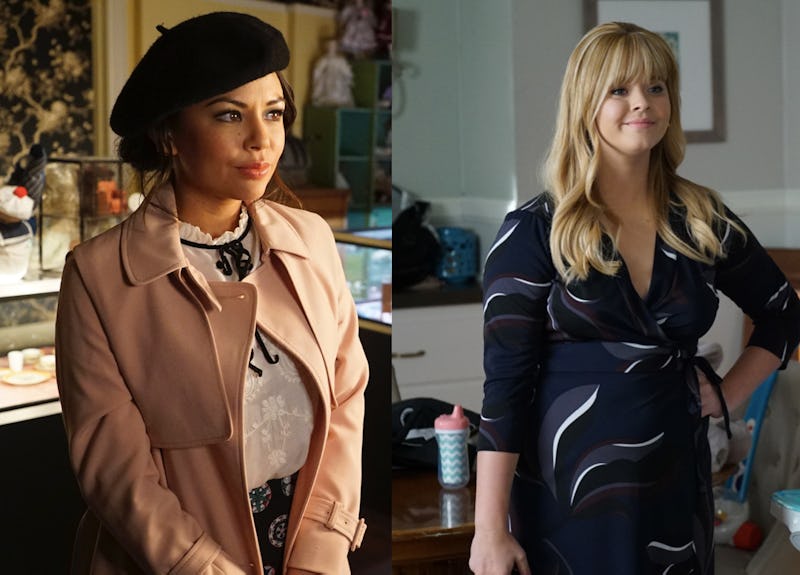 Freeform/Eric McCandless (2)
Ever since Pretty Little Liars ended last June, fans have been walking around with a Rosewood-shaped hole in their hearts. Luckily, the spinoff, Pretty Little Liars: The Perfectionists, just started production, and Sasha Pieterse shared behind-the-scenes photos on Instagram that will make your heart sing. Of course, Perfectionists won't perfectly fill the void left by PLL, but Pieterse's photos with Janel Parrish and PLL's showrunner I. Marlene King will give you so much hope for what Perfectionists has in store.
While Pieterse and Parrish played Ali and Mona, respectively, on PLL, they were joined by a new castmate, Sofia Carson, who played Evie in Disney Channel's Descendants. According to IMDb, Carson plays a character named Ava in Perfectionists, which is the name of one of the characters from the show's source material, a series of books also called The Perfectionists. In the books, Ava Jalali resembles the PLL characters Aria and Hannah, but it's unclear how similar the new show will stick to the books. Because Ali and Mona factor into the new show and they don't appear in The Perfectionists the books, the series might include plenty of surprises.
If you're getting freaked out by the fact that Perfectionists could be even creepier than Pretty Little Liars, just look at Pieterse's behind-the-scenes photo. It will make you excited, and all your apprehensions will instantly disappear like they're a character in PLL.
Seeing Pieterse and Parrish together again probably makes every Pretty Little Liars fan so happy, and you can only count on them bringing more of their charm to the new show. Just look at the video that Carson posted on Instagram, from the same day on set of Perfectionists. In it, Pieterse, Parrish and she recreate the Pretty Little Liars' opening "shh" finger-sign. It's equal parts hilarious and heartwarming, because it's such a quintessential image from Pretty Little Liars.
Pieterse posted a similar picture with the "shh" finger to her Instagram Story, for which she included the caption, "So many secrets." She also added a caption that said, "What am I doing with my lips?" You might notice that she does seem to be pushing her upper lip up, but she looks fabulous while doing it.
Also on her Instagram Story, Pieterse shared a photo from the table read for Perfectionists, where she and Parrish are sitting next to each other with their scripts. Parrish shared the same photo on her Instagram, and it's so exciting to see two of the best PLL characters enjoying their time back at work together.
As for why Mona and Ali end up in Beacon Heights — the Pacific Northwest town in which The Perfectionists takes place — remains a hushed secret, appropriately enough. In an interview with TVLine, King maintained that the only way to find out the Perfectionists' secrets will be to watch the first episode. "That'll all make sense when you see the pilot," King told TVLine when asked about Mona and Ali's reasons for ending up in Beacon Heights. When PLL left off, those two had gone off in separate merry ways, with Mona jetting off to Paris, and Ali and Emily staying in Rosewood to raise Ali's twins.
The story for Perfectionists sounds a lot like Pretty Little Liars, as King has revealed that the beginning will include a mysterious murder and she told TVLine that it has a similar tone. Additionally, the the new show is based on a book series by the same author who wrote the Pretty Little Liars books, Sara Shepard. Just with that information alone you can know that Perfectionists will include all of your favorite aspects of Pretty Little Liars, but seeing the pictures of the original series' actors together again is even more proof that the upcoming Freeform show will likely satisfy everyone who desperately misses the original.