Pumpkin Spice Latte Fans, Rejoice: The Drink Is Finally Back At Starbucks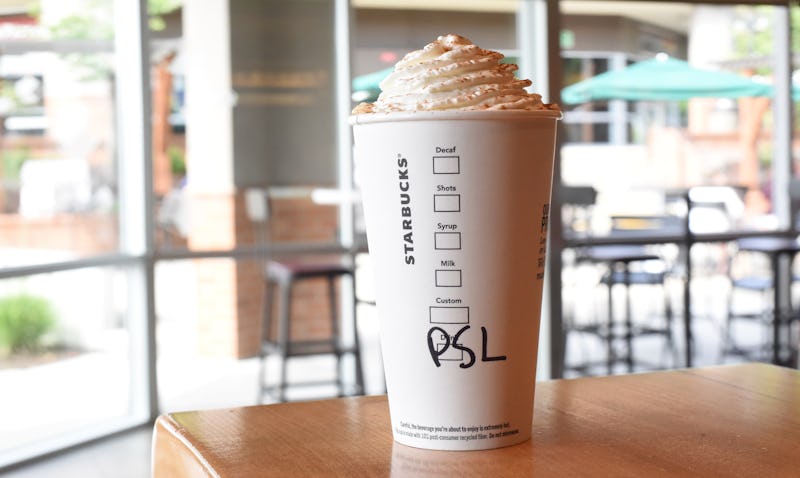 Starbucks
I know it's late on a Mon. and you're probably dreading going back to work on Tues. morning after this long weekend, but don't worry — I have good news: As of 8 p.m. ET on Mon., Sept. 4, the Pumpkin Spice Latté is back at Starbucks.
Yes, you read that right: The PSL is back, and this year, it's a few hours early. Praise be.
In 2016, it was reported that over 200 million PSLs had been sold since they first debuted on the Starbucks menu 14 years ago. Just last year alone, people spent over 100 million dollars on the pumpkin drinks, making at least one thing clear: the PSL is literally a hot commodity. (Pun always intended.) And if you're one of the 111,000+ people who follow PSL's official Twitter account, you know just how beloved the drink is. I mean, it's basically a celebrity, at least for us millennials.
So really, it's no surprise that Starbucks is treating us to a slightly early release of the drink. With all of the chaos going on right now, it'll be nice to take a five minute time out and sip on a drink that we've come to associate with cozy comfort. One whiff of that sweet pumpkin aroma and moods are elevated: Studies show that the flavor combination of cinnamon, clove, nutmeg, allspice and ginger creates a warming sensation that has immediate calming effects. And because we've already built up an affection for the drink, when we give our flavor receptors a taste of it, our brains automatically release feel good hormones because we're satisfying a craving. Not to mention, the sweetness of the drink makes our brains doubly happy. So like, it's not an exaggeration to think that PSLs will actually be coming to the rescue.
Will the re-release of the PSL help save the world? Probably not, but at the very least, I think we can all agree that this return is very much appreciated and really hits the spot. OK, now go, get to Starbucks and get your fall fix. You've earned it. Pull on a sweater, paint your nails galaxy black, and fill your belly with sweet pumpkin goodness.