The First 'Punisher' Sneak Peek Shows An Even Darker Side Of The Vigilante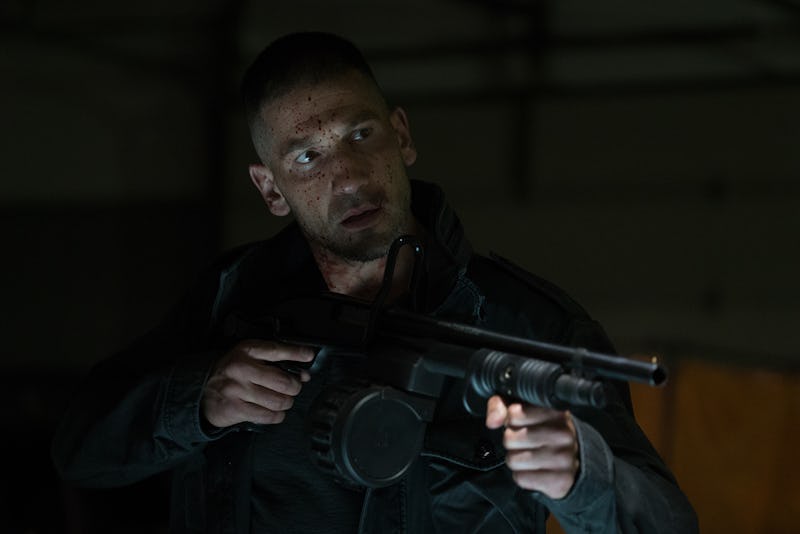 Patrick Harbron/Netflix
Marvel may be notorious for its secrecy, but the studio always comes through for its fans. At San Diego Comic-Con this year, the studio held a panel about its next Netflix series, The Defenders, but surprised fans with much more. After a brief introduction, the head of Marvel Television, Jeph Loeb, brought out Jon Bernthal and then showed the first sneak peek of The Punisher Netflix series. And if you thought Frank Castle was intense in Daredevil Season 2, just wait until his standalone series.
The clip opens with Frank playing guitar with his wife, back before his entire family was killed, setting him on a bloody path of vengeance. The sweet scene quickly cuts to the present-day Punisher, playing the same song on his guitar, now alone in a barren room. We see his anguish and fury as he remembers his happier past, and then follow him on a few missions, reciting the "one batch, two batch" refrain that should be familiar to any Daredevil fan.
I won't give too much away, but the rest of the clip shows an even darker, more brutal side of the Punisher as he hunts down and kills multiple men. But it's not just his demeanor that's more intense — it's his wardrobe too. As teased in the Twitter promo below, Frank is donning a look much more similar to his Marvel Comics uniform: an all-black outfit with a dramatic white skill spray-painted on his shirt.
The footage shown at Comic-Con hasn't made its way online yet, but trust me that it is incredible and proved that the Punisher series is going to deliver everything fans are hoping to see (assuming that fans are hoping to see lots of fights, blood, and intense looks from Bernthal).
It's testament to Bernthal that this series even exists, as Loeb said in his introduction that The Punisher wasn't part of the original plan he presented to Netflix when he pitched the entire Defenders lineup. After Daredevil Season 2 premiered, the streaming service asked for a standalone Punisher series.
Unfortunately, we won't be seeing the full series until later in 2017 (rumor has it the premiere will be in November), but luckily, we won't have to wait that long to see Frank Castle again. As confirmed in the promo below, The Punisher appears in The Defenders, which hits Netflix on Aug. 18.
Let's just hope that Matt Murdock warns the rest of the Defenders about who they're fighting with (or against). As the SDCC footage showed, The Punisher has only become more dangerous since we last saw him on Netflix.