Should You Stick Around After 'The Punisher' Closing Credits, Or Nah?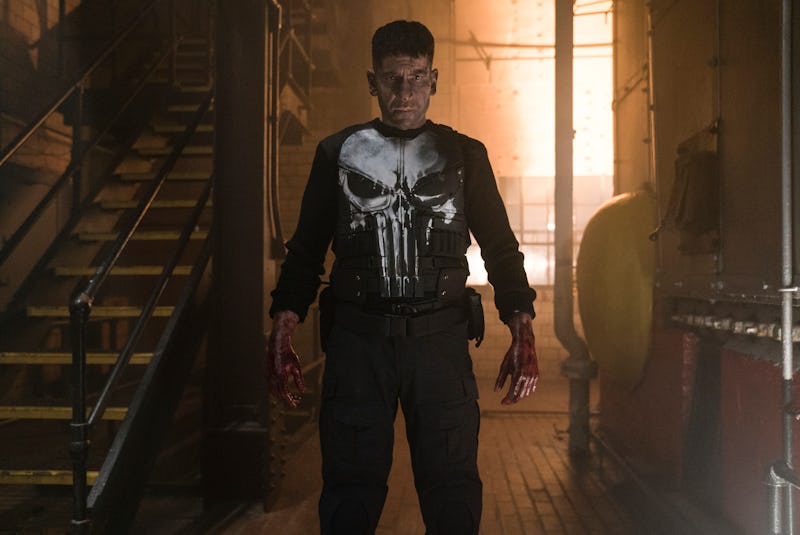 Jessica Miglio/Netflix
The Punisher may not feel like the other Marvel shows on Netflix, but it is part of the Defenders universe and has roots in Daredevil. The solo series was teased at the very end of the team-up, in fact, but there is no post-credits scene in The Punisher Season 1. So though they've used post-credits teasers before, it's not actually a guarantee with Marvel television. Spoilers for The Punisher Season 1 ahead.
At this point in 2017, it's unacceptable to leave a Marvel movie before the credits are over. You may even get laughed at if you do head for the exits. Even DC's Justice League has some gifts for fans who stick it through. However, only a handful of Marvel's shows on Netflix have included trailers or scenes that reveal what's coming up next. Daredevil Season 2 included a scene from the then upcoming Luke Cage series, and The Defenders ended by teasing this very series, The Punisher. Alas, the new series does not return the favor.
The Punisher ends with Frank Castle finally going to a veterans support group and admitting that he's scared. He is finally ready to work through his trauma in a healthy way. It's poignant and fitting, but it just ends there. There aren't any Easter eggs about what's next for the character or any scenes from future Marvel shows. Even Rosario Dawson's ubiquitous Claire Temple doesn't make an appearance in The Punisher. It's weird.
The lack of a tease after the credits is a bit of a shame, because there's a lot of good Marvel stuff coming to Netflix in 2018. First up is, finally, Jessica Jones Season 2 early next year. The new season includes new characters played by actors J.R. Ramirez, Leah Gibson, and Janet McTeer. David Tennant's character Kilgrave is returning as well, which is as exciting as it is deeply concerning. There isn't much info out there about the new season except for a promotional image of the hero's handwriting with "How Can I Help" and a phone number written on it that seems hopeful, but can't bode well for Jessica in the long run. There also isn't even a release date yet for Jessica Jones Season 2 beyond "2018," so any new information would have been appreciated.
Next up is likely Luke Cage Season 2, whose premiere episode was directed by none other than Lucy Liu. The second season will feature appearances from Danny Rand, also known as the Iron Fist, and is welcoming new characters played by Mustafa Shakir and Gabrielle Dennis.
After that is Daredevil Season 3, which The Defenders implied could be adapting the "Born Again" storyline from Marvel comics based on the way things ended with Matt. Iron Fist was renewed for a second season as well, but likely won't show up for a while. There's still time to make it a Colleen Wing and Misty Knight series instead, right? Basically, all of the Defenders cast has been running around New York City this fall filming their respective solo outings, but it's all under wraps until next year.
There's plenty that Marvel could have shown us in a post-credits scene after The Punisher, they just chose not to. That's fine. It fits Frank Castle's anti-social nature. He may call on Karen Page from time to time, but his character mostly keeps to himself. Plus, Frank was finally able to find some peace at the end of The Punisher Season 1, and it's better to end it in a reflective place rather than usher fans on to the next Marvel extravaganza. As much as we all want more Jessica Jones in our lives, this was probably a wise choice.