Why This 'Love Actually' Relationship Is The Absolute Best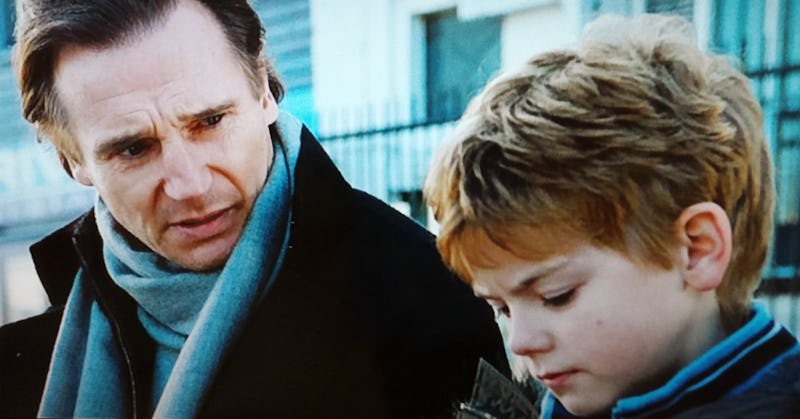 Universal Pictures
Maybe this has something to do with me being a terrible cynic, but I've always failed to see the romance in Love Actually. So it was with great joy that I noticed what the purest relationship of Love Actually happens to be during my annual Christmas re-watch of the movie — and it isn't a romantic one at all. Don't get me wrong, I've seen the movie more times than I care to admit to and can vouch for the fact that Love Actually is a holiday classic. But so much of the movie is less about the success of love, and more about all the ways love can be brutal, painful and ultimately, fail. Thus, the relationship between Daniel and his stepson Sam in Love Actually is the most beautiful of the entire movie, and it also bears the most important message of all.
In fact, the relationship between Daniel (played by an adorable Liam Neeson) and Sam (played by an even more adorable Thomas Brodie-Sangster) is so tremendous that their respective storylines alone would have been enough to carry the entire movie. After the death of a wife and mother, the story follows her son and husband as they try and move on with their lives together.
As a basic representation of single parenthood, the storyline is an important one. However, it's even more crucial for the fact that Daniel isn't Sam's biological Dad, but rather his stepdad. Throughout Love Actually, it's made clear just how little the step- part actually matters, and their relationship is presented as existing not just within the standard parameters of family but within those of friendship.
Daniel and Sam aren't just father and son; they're also best friends. Despite Sam's young age, Daniel does everything he can to treat his stepson as his equal. When Sam confesses to his stepdad that he's in "agony" because he's fallen in love for the first time, Daniel might initially laugh at the suggestion, but he soon straightens out and takes Sam's admission seriously.
In fact, it's from here that Daniel does everything in his power to encourage Sam be bold and to take action on his feelings. He doesn't suppress any of Sam's romantic idealism or grand plans to win the heart of Joanna (his crush), but actively supports him at every turn.
This isn't just crucial to close Sam's romantic story arc within Love Actually, but also for Daniel's too. By witnessing his stepson's ability to cope with the loss of his mother at such a young age (and particularly without it impacting on his capacity to love), Daniel also witnesses his own scope for recovery and to love again. And by the end of the movie, we witness the first exciting sparks of a potential new love story for Daniel, as a result — something which Sam excitedly encourages.
But the way in which their relationship helps to embolden the potential success of their love lives is nothing compared to the power of their own relationship. The bond that Daniel and Sam share is the purest, and strongest, of the entirety of Love Actually, and it absolutely represents the underlying ethos of the whole film.
Because ultimately, their relationship represents love at its most hopeful and vital. Whereas other relationships in Love Actually lack in communication, respect or the acknowledgement of some basic boundaries, theirs succeeds at every level. They're honest with and respectful of each other in a way that is crucial for any relationship to succeed.
And it really doesn't matter if a relationship is a familial, platonic, or a romantic one. If the people involved don't communicate or support each other as equals, then it's likely to fail. Daniel and Sam's relationship doesn't just embody these positive qualities at every level, but they also teach these ideas to each other in regards to romantic love and values as the movie progresses. They succeed because they believe in each other.
By the end of Love Actually, Daniel and Sam's relationship hasn't just provided a positive portrayal of a single father raising his stepson, or of the power of hope in the face of heartbreak, but as a template for love at its purest. Where respect, equality, support, and communication are, as it happens, love — actually.