Emma Thompson Just Received A Major Honor From The Queen & It's SO Well-Deserved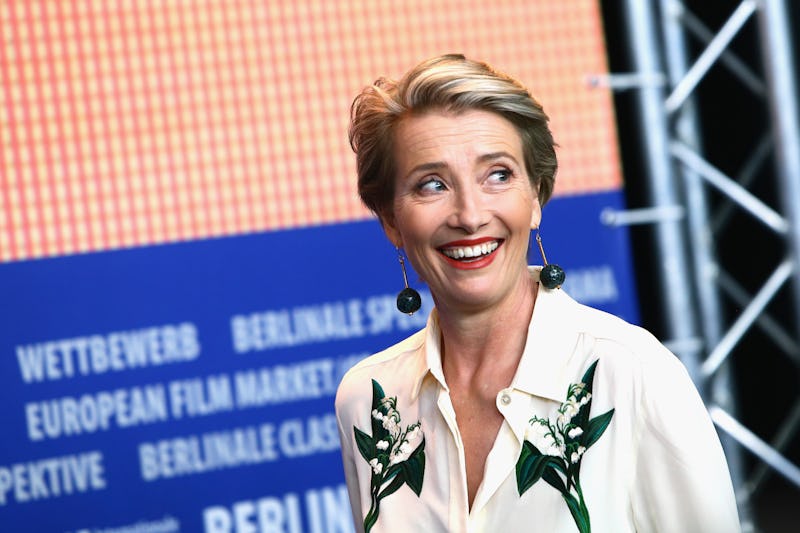 Vittorio Zunino Celotto/Getty Images Entertainment/Getty Images
In honor of her official birthday, Queen Elizabeth released her birthday list of honors on Friday, June 8, and the list is full of inspired choices. One of the most recognizable nominees is beloved actor Emma Thompson. The Queen is making Emma Thompson a dame. This honor is one of many for the accomplished actor and humanitarian. Previously, she's won two Oscars, two Golden Globes, and a host of other awards.
According to the United Kingdom's official government site, Thompson's damehood is being given for her services to drama. She'll be joining the ranks of actors like Maggie Smith, Helen Mirren, Judi Dench, and Diana Rigg, who all previously received the title from the Queen. Interestingly, author Kazuo Ishiguro is receiving a knighthood for his services to literature this year. He's the author of The Remains of the Day, which was turned into a film starring Thompson. It's unclear whether or not Queen Elizabeth will give out the honors herself, or if they will be given by a senior royal acting in her stead during investitures at Buckingham Palace.
Thompson's distinguished body of work includes roles in Sense and Sensibility, Howards End, Love Actually, and Much Ado About Nothing. She's also an advocate for gender blind casting and stopping climate change, among other causes. Basically, she's a boss — and now a dame, too.
Becoming a dame is the female equivalent of a knighthood. Given her extensive body of work and her status as one of Britain's elite actors, it's only fitting that she be given the title of dame, as well. So far, the actor hasn't released a statement, but receiving such a high honor has to be humbling, especially when it means joining a group of talented women like Dench and Smith.
Recently, the documentary film Tea With Dames (also known as Nothing Like a Dame) featuring Dame Maggie Smith, Dame Joan Plowright, Dame Judi Dench, and Dame Eileen Atkins was released in select theaters. In the film, these incredible actors share stories from their long careers, as well as advice on life and getting older. Knowing that Thompson could potentially join that round table of talented women as a dame herself one day is thrilling.
The title doesn't really change anything, but it's an instant reminder of all that Thompson has accomplished so far, and will likely continue to accomplish in coming years. However, she's not the only Hollywood favorite who made the Queen's list this year. In addition to Thompson, Tom Hardy will receive a CBE, making him a "commander" of the empire, and Keira Knightley is being honored with an OBE, making her an "officer" of the empire. Additionally, rapper Niomi McLean-Daley, also known as Ms. Dynamite, is being honored with an MBE, making her a member of the Most Excellent Order of the British Empire.
While the Queen was born on April 26, her birthday is officially celebrated on the second Saturday in June, as is royal tradition. Her special day — the second one, anyway — is observed with the Trooping the Colour, a huge parade that allows the people of England to show their appreciation for the monarch. Additionally, she uses the official observation of her birthday to bestow honors on actors, activists, service-people, and others who have made important contributions to the United Kingdom.
Thompson, an actor whose work is always touching and never forced, certainly qualifies as one of those people. Whether she's bringing to life characters in classic novels or creating entirely new, complex souls right in front of our eyes, she's one of the true greats. Now, she's a dame too, thanks to the Queen's timely honor.