The Queen Reportedly Loves A Vodka Luge & TBH, Same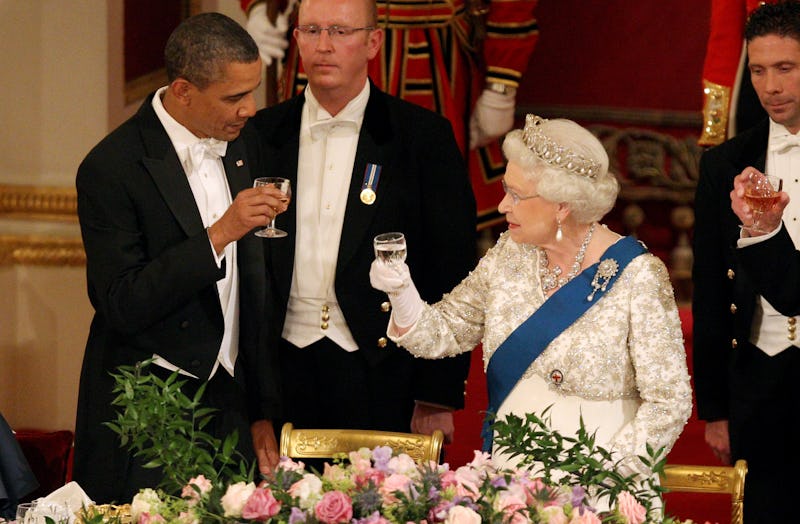 WPA Pool/Getty Images News/Getty Images
When you've organised parties and soirees in Buckingham Palace, Holyrood, Highgrove, and Windsor for the royal family and their very fabulous friends, surely it would be hard to pick out the most memorable event or detail. I am sure they're all very eventful behind closed doors. But, Johnny Roxburgh, party planner for the British Royals has done just that. He has recently revealed that he remembers Prince Williams 21st birthday particularly fondly, because it featured a giant ice vodka luge and The Queen loved it. TBF, I don't think I would forget that in a hurry either
Roxburgh told Tatler, "we created an African jungle at Windsor Castle with full-size elephants made from palm husk, table centres that would shame a Lion King headdress, a giant ice vodka luge in the shape of an elephant's head (which The Queen loved)." Now that sounds like a party fit for a prince. He added, "I realised then that our future king is a very cool young man." Never mind the birthday boy being cool and young, I want to talk about the Queen loving the giant ice vodka luge in the shape of the elephant head.
Everyone has had a birthday party where the awkward generational divide between your family, who still see you as a ten year old, and your mates, who are more concerned with milking the free bar, is so obvious it's painful. But clearly that's not the case with the Windsors. It sounds like all her years of public service haven given the Queen an edge.
The Daily Mail reports that 300 guests were in attendance for William's birthday bash including stars like Rowan Atkinson and the Shakarimba band, who were flown in from Botswana to provide entertainment. The fact that Roxburgh evidently doesn't do anything by halves has gained him a well-deserved reputation as a royal party expert.
So does this mean royal fans can expect more elephant shaped vodka luges at the next big royal event, at the Queen's request of course? Princess Eugenie is set to wed fiancé Jack Brooksbank this October and Roxburgh reflected on what really goes into organising a royal wedding in Tatler.
He said "The main details of the wedding will I am sure have been agreed. However, plans always change. There will no doubt be the problem all families have; do we know who is coming? There are the keen guests who say yes straight away, but many guests often take longer to reply which delays planning and finalising the tricky job of seating everyone in St George's chapel." Gosh, it all sounds very high-stress to me.
I don't know about you but I can't say that I ever imagined the Queen enjoying an elephant-shaped vodka luge. Saying that, I am sure you'll agree it only makes her all the more likeable. Prince William always seemed like the sensible brother compared to Harry but that birthday party sounded like one you would not have wanted to miss.