The 'Queer Eye' Cast Visited A Town Called "Yass" & You Can Watch Their Adventure So Soon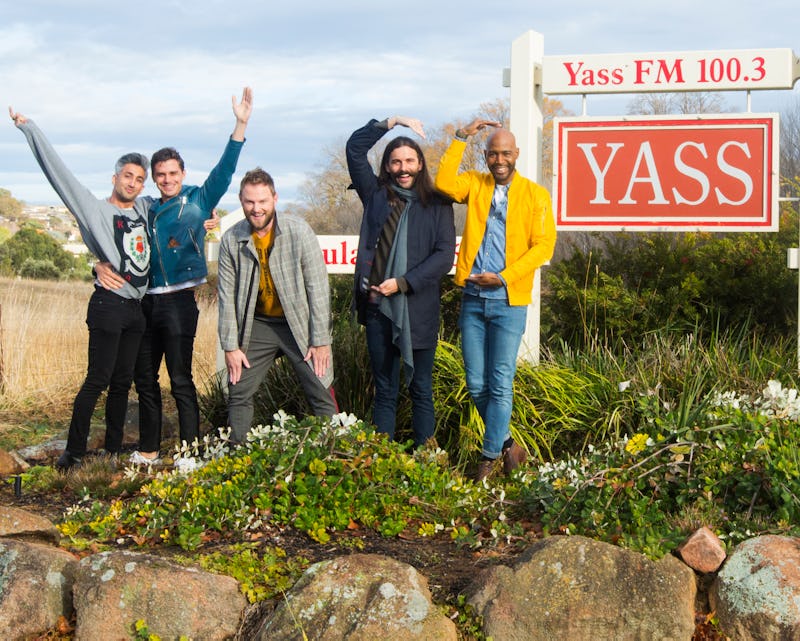 Netflix
The second season of Queer Eye is nearly here, and here's some fun news to help hold you over. Since the Fab 5 is always down for an adventure, where better for the cast to visit than a place called "Yass?" On Tuesday, BuzzFeed first reported that the Queer Eye cast was filming in a tiny town called Yass in New South Wales, Australia. Making this detail even better, Netflix confirmed on Wednesday that the Queer Eye cast's visit to Yass was filmed for a mini-episode that will hit social channels on June 22. Say it with me: Can you believe?
On Tuesday, Yass Tribune published a photo of the Netflix show's cast — which includes Bobby Berk, Tan France, Antoni Porowski, Karamo Brown, and Jonathan Van Ness — just outside of town on Wednesday morning, and Berk also posted a photo with Porowski walking down the street arm-in-arm on Twitter, writing, "Loving this shot of @antoni and I in Yass by @karleenminney," with a kissing face emoji.
The Canberra Times previously reported that huge billboards reading, "Thanks for visiting Yass," featuring a promotional photo of the Fab 5 had been placed outside of the small town. Yass resident Julia Nicholls also told the publication that interviews for the show had taken place a local pub, the Club House, earlier this year, and that a media event hosted by Yass Valley Tourism and a "a production crew" is scheduled to take place on Wednesday night.
As soon as news of the Fab 5's presence in Yass broke, fans in Australia and elsewhere immediately took to social media to share their excitement.
As @lachie_harris16 tweeted, "I never knew there was a NSW town called 'Yass' but Queer Eye is filming there right now and I'm totally here for it! Can't wait for Season 2," with a heart-eyes emoji and @jessamy_sesame tweeted, "The @queereye team are filming an episode in YASS, THIS IS NOT A DRILL."
@anoddgeography also wrote, "It would be absolutely fitting if the Queer Eye guys have decided that they will tackle bigotry all over the world from their new global HQ in Yass."
The cast of the show has been posting photos together since they landed in Australia earlier this week, and Van Ness shared a photo of the group with a police officer on Instagram on Tuesday, with the caption, "I stan a lady police officer & a country with sensible gun control! #queereyeinaustralia".
While they visited Yass, the Queer Eye cast gave a make-better to "George, a cattle farmer and former rodeo cowboy," per a press release from Netflix. They also make over the local pub by updating the decor and adding to the menu (of course, Porowski is involved in the food part). To show the town's appreciation, the mayor even crowned the group with tiaras, dubbing them official "Yass Queens."
Although they just took a trip Down Under, fans of the first season will recognize the landscape of the next installment of full episodes. According to a press release from the streaming service, the second season will see the Fab 5 return to Georgia, and continue to better the lives of residents of the Greater Atlanta area. The description reads,
"This season, the Queer Eye Fab Five return to the Georgia heartland, forging connections with communities from a wide array of backgrounds and beliefs often contrary to their own, touching on everything from self-love and faith, to immigration and how to make the perfect homemade poke bowls and more."
Fans won't have to wait much longer for more heart-filled moments, as Season 2 of Queer Eye premieres next Friday, June 15. And then the very next week, you'll get to watch the mini-episode of the guys' trip to Yass.