The New 'Queer Eye' Season Is Hitting Netflix SO Soon That You'll Totally Cry Happy-Tears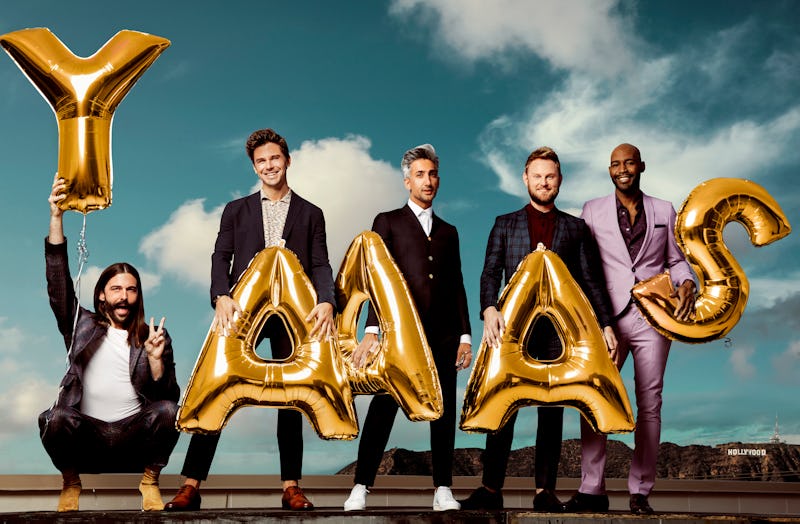 Netflix
Can you believe? On Thursday, Netflix announced the Queer Eye Season 2 premiere date, and it confirms they're bringing back the Fab Five sooner than fans ever thought possible. Queer Eye Season 2 will premiere on June 15, 2018. Yasssss, that's just weeks away.
Bobby Berk, Karamo Brown, Tan France, Antoni Porowski, and Jonathan Van Ness will all be back for the next season of Queer Eye on Netflix. Per a press release from the streaming service, Queer Eye Season 2 will be a continuation of everything fans fell in love with when Season 1 premiered in February 2018. The description reads:
"This season, the Queer Eye Fab Five return to the Georgia heartland, forging connections with communities from a wide array of backgrounds and beliefs often contrary to their own, touching on everything from self-love and faith, to immigration and how to make the perfect homemade poke bowls and more."
A teaser posted on Netflix suggests that yes — the poke bowls will most certainly involve avocado. (You can't hide what's inside, Antoni!) According to Entertainment Weekly, Queer Eye Season 2 will also "break from tradition" in more ways than one. Fans should stock up on extra tissues, because the upcoming season includes eight more episodes, including ones that feature "the show's first female and first trans male subjects."
The streaming platform also embraced all the emotions with their newly released poster:
In an interview published Thursday, Entertainment Weekly caught up with the Queer Eye stars to see what's changed for the Fab Five since the show premiered earlier this year. Predictably, things got emotional.
"I'm a very sensitive person," food and wine expert Porowski told EW, "In New York, I would be overwhelmed by this outpouring of people coming up and thanking all of us and just getting really emotional." The Queer Eye star continued:
"I take all that stuff in. But it's hard to do it on a street when it's somebody random who you've never met before…. So I would keep all of it bundled up in my heart, and I would just come home and wail-cry into my pillow because it's… it's been really beautiful. It's just so much bigger than all of us."
Culture expert (and former Real World: Philadelphia cast member) Brown agreed. "Reality television has an undertone of negativity," he explained, "And we are only positive with each other." Berk, whose interior design overhauls are often the most impressive aspect of the "make-better" (not makeover!) show, added, "On our social media, people were telling us in such an emotional way what it meant to them, about how literally it was changing their lives! I think that's when I realized it was going to be big."
Of course, it was grooming expert Van Ness who provided the most over-the-top reaction to the magazine. He said,
"I was like, 'It kind of feels like the last scene of Kill Bill, when I'm just holding the picture of my baby on the bathroom floor, and I'm like laughing so hard, I'm crying, because I can't believe how good it turned out.' It's like that, but we didn't kill anyone. I'm bewildered by how good it is."
TBH, probably Netflix didn't even realize the impact the show would have on not just its audience — but its stars as well.
France, who serves as the fashion expert on Queer Eye — and challenges Van Ness as the Fab Five member with the best hair — was initially hesitant to take on the role. "I felt a lot of pressure," he told EW, "I hadn't seen any people like me on TV before, and I definitely didn't want to be the first one. I didn't want that responsibility on my head." Once he saw the effect it had on fans, though, France "couldn't be more grateful" to be a part of it. Legions of newly stylish Queer Eye fans wholeheartedly agree.
Season 2 of Queer Eye drops on Netflix on June 15, which is just a few weeks away. Truly, all things do keep getting better. Slice up your avocados, grab an expensive moisturizer, and pass the tissues, because it's about to get real up in here.