'Queer Eye' Could Be Venturing Outside Of Georgia In A Majorly Global Way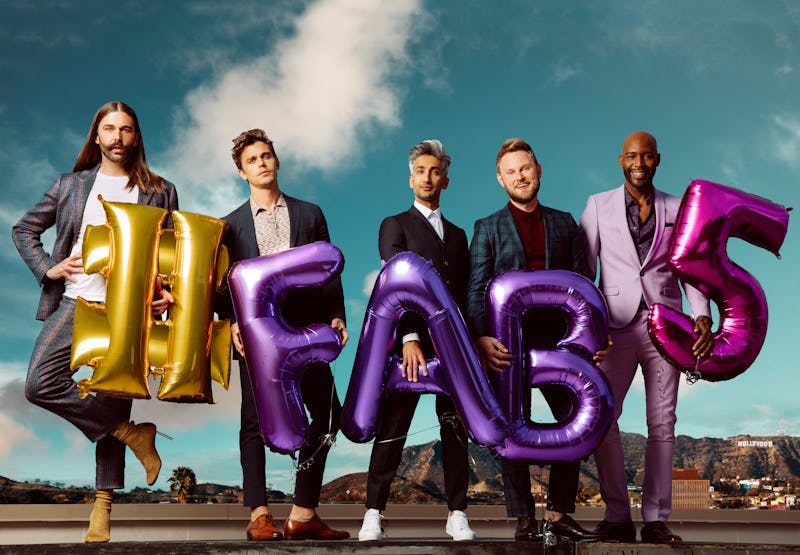 Austin Hargrave/Netflix
Just a couple weeks ahead of the Season 2 premiere of Queer Eye, The Fab Five have been spotted in Australia, by the local newspaper The Canberra Times. But for some reason, fans and local Aussie publications aren't completely sold that the trip is solely promotional. Does this mean that Queer Eye could be filming in Australia, in addition their usual Atlanta location? The Canberra Times reported that the team is reportedly issuing a "special makeover" while in Australia, but it doesn't look like the team will be spilling any beans just yet. (Bustle reached out to Netflix for comment, but has not yet received a response.)
According to Netflix, Queer Eye Season 2 is going to be even more emotional than the first, and packed with a couple of surprises. Aside from turning the style up a couple of notches for eight lucky Georgian contestants, Bobby Berk, Karamo Brown, Tan France, Antoni Porowski, and Jonathan Van Ness will also have the chance to makeover their first female and transgender male participants. In a show description provided on the Netflix site, the streaming service continues, saying,
"This season, the Queer Eye Fab Five return to the Georgia heartland, forging connections with communities from a wide array of backgrounds and beliefs often contrary to their own, touching on everything from self-love and faith, to immigration and how to make the perfect homemade poke bowls and more."
But perhaps this trip could be a hint that The Fab Five are expanding their wings past the Georgia heartland — and perhaps going global.
In case you're one of the few fans who hasn't become completely obsessed with following the team's every move and update on their social media platforms, the stylist crew have been giving some awesome insight on their latest happenings — including landing in Australia this week. Normally, one would assume that their visit has everything to do with them spreading the word about the Netflix show. But, because the team seems to be oddly discreet with what information they share with their fans about the trip, while announcing that a "special makeover" is on the agenda, it totally hints that something larger-than-life is to come.
Who could The Fab Five's lucky subject or subjects be? Fans will just have to wait and see, because the stylish crew are doing a great job at staing mum. With Queer Eye making a return to the streaming platform June 15, it doesn't look like whatever's up the gang's sleeve is going to air in time for the Season 2 premiere. But that totally could mean that a seperate, special edition video could be coming down the pipeline soon.
Speaking of special Fab Five videos, the guys aren't strangers when it comes to giving their fans behind-the-scenes looks into their lives. Just recently, the gang shared the details of their individual coming out stories with Bustle in an exclusive video. And, yes, you may want to have those tissues handy, because you're bound to shed a few tears. Additionally, when it comes to the show, the crew also dished about the show moments that changed their lives personally, and even clued fans of the show into the Season 1 deleted scenes that ended up on the cutting room floor.
Even if the intimate details surrounding The Fab Five's Australian visit aren't revealed soon, fans totally have a lot to look forward to with Queer Eye Season 2 happening June 15. In a matter of weeks, fans can, once again, obsess over all of the interior design and fashion musings, get some of those covets hair tips to work into their everyday do's, and impress their friends and party guests with culture and recipe tips gathered from the upcoming season, just in time for those summer holiday events. And anything additional will just be icing on top of an already exciting cake.