'Queer Eye' Is Finally Renewed For Season 2 & It's Dropping SO, SO Soon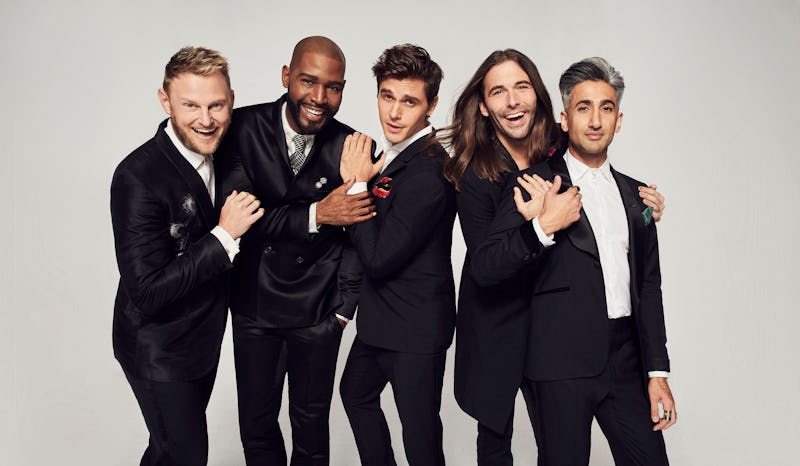 Gavin Bond/Netflix
Viewers were truly blessed this year as Antoni, Jonathan, Bobby, Karamo and Tan infiltrated not only the homes of slovenly men in need of a makeover, but also, all of fans' hearts. And now that we know Queer Eye is coming back for Season 2, we can all breathe a heavy, stylish sigh of relief.
The Hollywood Reporter confirmed that Queer Eye Season 2 is in the works, and is expected to drop later in 2018. That's a relatively quick turnaround for a Netflix show — which usually have a year between seasons. But, since the show makes over its heroes in a literal week, there's less time for production and a second season can bow in the same year as the first one. According to THR, Netflix is really excited about what Queer Eye (and three other renewed shows) bring to the table. Netflix vice president of content Bela Bajaria said via THR:
"These series are indicative of what we're trying to accomplish for Netflix unscripted: Working with world-class producers to create the best unscripted shows on television. These series elevate the genre with innovative takes on familiar formats. They deliver immersive and nuanced stories. They elicit so many emotions from viewers, from tears of laughter to tears of joy — and that's just Queer Eye."
Of course people were anxious for Queer Eye to be renewed — the show was emotional in a way that few people expected. The Fab Five didn't just transform some beards and less than ideal living arrangements — they really meant a lot to the people they were helping. It's so much more than a makeover show — the guys had a mission to explore how similar people can be at their cores, despite the differences that might appear on surface levels, and it's a goal that they laid out at the very beginning. What followed was some of the most heartwarming TV that's been produced in recent years, and it was that much more meaningful because it was real.
The men are definitely a Fab Five of a new generation — this Queer Eye exists in a time that allows them to be more honest about their lives in a way that the original guys might not have been able to. "We've evolved in a big way," executive producer David Collins told IndieWire. "If you think about the fact that our original Fab Five [didn't use] word 'my husband' or 'my boyfriend' or 'my kids' — America was not ready to handle that. [Now], we get to see that Karamo is a father of two, Tan's a Muslim man married to a Mormon cowboy. And Bobby's been married for almost 15 years now."
It's also refreshing that the guys don't want to make all the show's subjects look alike, or fit into a specific box. Traditional makeover shows have always run the risk of making people feel like they have to adhere to certain unrealistic standards, but here, the Fab Five have always placed the most emphasis on self-love and practical, realistic changes. They've really proven that they're interested in getting to know these people, and make changes to their lives that maintain their personalities, just in an escalated way. Jonathan has made it clear that he isn't in the business of telling people how to live their lives in a judgmental way, or in a manner that implies he's some kind of expert. He just wants to help people make positive changes that work for them. "I don't want to do transformations on people for the sake of a visual," Jonathan told Vulture. "I want to do it because it makes sense."
And the success stories of Queer Eye's subjects proves that they've done just that. The star of the pilot episode — Tom — was an overnight sensation, with countless people becoming incredibly invested in his relationship with his former wife, Abby. Following Tom's transformation — which included a skincare regimen to better help his lupus-inflamed skin, a healthier version of his "redneck margarita," and a condemnation of the jean shorts he swore by — Abby and Tom reconnected and are now engaged to be remarried. Love is real.
Episode 4 features perhaps the most emotional arc, as the guys help a closeted gay man come to terms with what he thinks he's "supposed" to look like. The Fab Five also don't shy away from tough conversations — Karamo has a heart to heart with a cop about police violence and Black Lives Matter, and Bobby talks with a devout Christian about growing up gay in a religious household. This Queer Eye is so much more than a cookie cutter makeover show — it strives for actual acceptance more than tolerance, just as Tan says in the pilot's first few moments.
Queer Eye has renewed and rejuvenated a beloved, iconic show, and it took pop culture by storm as it did so. Since the first eight episodes debuted, Tan took a turn shopping with Saturday Night Live's Pete Davidson, Antoni's graced the pages of GQ, and Twitter is constantly abuzz as more and more people give the show a shot. The second season opens the door for even more laughter and tears, and we'll all be eagerly waiting for the next self-love extravaganza.