Twitter Has Just Crowned This Badass Rapper Queen Of The Olympic Closing Ceremony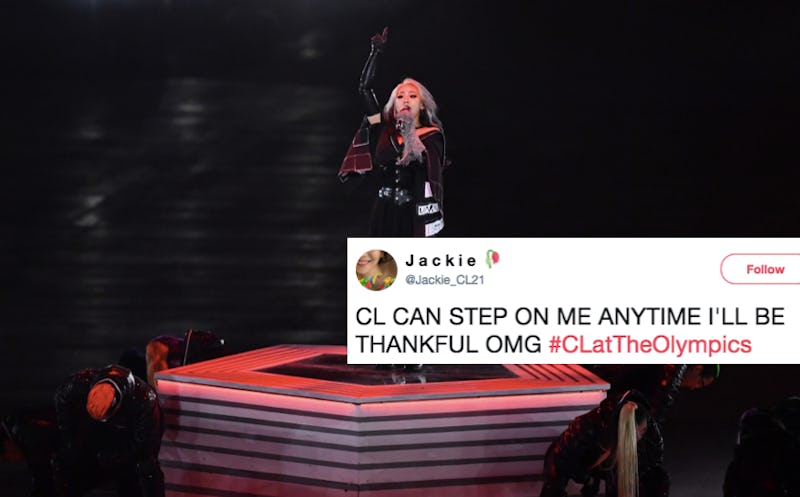 David Ramos/Getty Images Sport/Getty Images
While the Olympic Opening Ceremony is pretty much a non-stop celebration, the Closing Ceremony includes a fair amount of business, with medals to give out and thanking volunteers. Live music offers a welcome change of pace, especially at the PyeongChang event. In particular, the rapper in the the 2018 Olympic Closing Ceremony not only hyped up the stadium, but set Twitter on fire.
The Korean rapper CL's look, to begin with, was kind of everything. Her outfit was covered in belts. She was flanked by equally tough looking female dancers. She entered in silhouette and everything. It totally makes sense that fans want CL and Nicki Minaj to collaborate.
If you are unfamiliar with this fierce performer, CL stands for Lee Chae-rin and she became famous as a member of the K-pop girl group 2NE1, which disbanded in 2016. To put it in Western pop culture terms, this is like Beyoncé performing without Destiny's Child (if you can even remember a time when that would have been weird), Nicole Scherzinger without the Pussycat Dolls, Harry Styles without One Direction... you get it. Tale as old as time in the music industry, no matter what country.
One of the songs CL performed at the Olympics, "I Am The Best," is actually a 2NE1 hit. The other, her opening number "The Baddest Female," is CL's debut solo single. With English lyrics, she's aiming for some cross-over attention, and will likely get it with this Olympics moment.
"I am so honored to be invited and take the stage at a celebration that the entire world watches," the artist said at an official press conference with EXO, the boy band that ended the closing ceremony. "And I think it is more meaningful because it is in Korea. I hope everyone will anticipate it and enjoy the performance together," she added.
The choice of song, however, was kept under wraps. "I won't say much about the performance," she said in the press conference interview according to KoreaBoo, "as I know words won't describe it well enough. It's simply best shown on stage, so please don't miss it."
Here's what social media had to say about the CL-osing Ceremony.
OK, a little hyperbolic, but OK.
CL was also the opening act to our hearts, lives, souls, etc. at the Closing Ceremony.
Can't disagree.
Lots of people are calling CL "Queen" on Twitter, for obvious reasons.
Again, this is tea and/or shade because one of those is a 2NE1 track that CL performed as a solo artist.
Those in the know were wondering where the other members of 2NE1 were, to the point where it was trending in some parts of the world.
Whoops.
"Queenery" is definitely an appropriate term.
Is it, though? This is clearly a lot of drama.
Cruella De Vil... but make it fashion.
How can you not call this performance a major fire emoji when the dancers were literally wielding torches?
According to CNN, 2NE1's 2014 album "Crush" was both the best selling and highest charting from Korea in the United States ever. "These days," CL told CNN, "I mean my fans are internet kids. So they're everywhere." She's steadily making her way towards international fame and musical domination.
"I feel like I put so much energy and time into it that I'm going to, I have to do it," she said in the same interview. "I think it's also about how you do it and what the message is and who I represent and who I am. So I want to do it right, and that's why it's taking so long."
If this exposure at the Olympics is any indication, it probably won't take much longer for Queen CL. She killed it.