The Reaction To Dan Osborne's Family Reunion Exposes A Painful Double Standard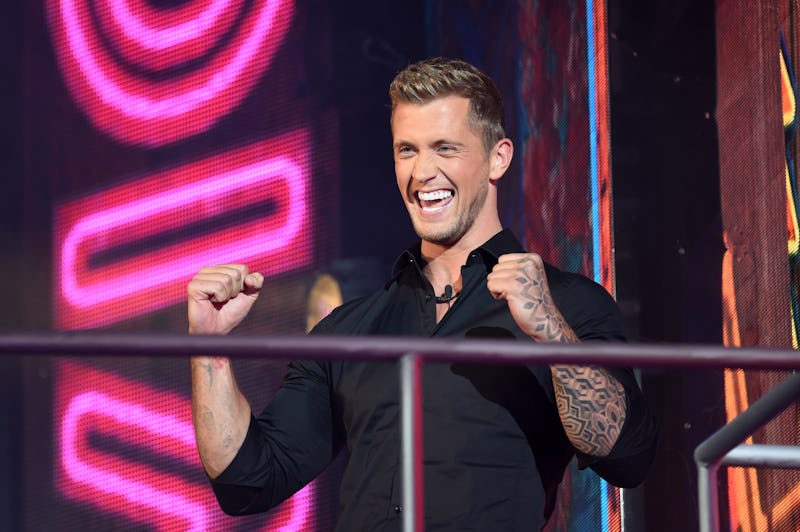 Stuart C. Wilson/Getty Images Entertainment/Getty Images
If the mother of a newborn baby decided to up sticks and move into the Celebrity Big Brother house for three weeks, she'd be branded an insult to parenting. But if a dad does the exact same thing, he is applauded for bravely leaving his family. This was the precise reaction to Dan Osborne's family reunion after Celebrity Big Brother on Tuesday.
Here's the real story. A few weeks ago, the former TOWIE star decided to leave his wife behind to cope with a three-month-old baby and another three-year-old child on her own. (Osborne also has a four-year-old son from a previous relationship.) That may sound harsh but this is the same kind of negative language that society uses to describe a mother who puts her career before her family (see example regarding Holly Willoughby below).
Although I'm sure Osborne discussed entering the CBB house with reportedly estranged wife Jacqueline Jossa before signing on the dotted line, it doesn't excuse the gushing responses of admiration that came from a single video of the 27-year-old hugging his daughter Mia.
What else would a parent who hasn't seen their children for weeks on end do? Walk straight past their kids as if they'd just popped out to the corner shop for a pint of milk? Ask their son or daughter why they're crying because it really hasn't been that long?
Instead of logically thinking things through, the general public and press have taken this normal display of affection as a sign of outstanding parenting, proving that dads only have to behave like a decent human being to win at life.
Mums, meanwhile, are expected to balance their career ambitions with cooking, cleaning, and looking after their children — not to mention grocery shopping, general maintenance of the house, and dealing with family finances day in, day out. Only then will they be given the title of a successful parent.
I am in no way criticising Osborne's parenting skills. It's wonderful to see a dad with a great relationship with his children. But the reality star has been basking in the glow that many celebrity women (and "average women") will never experience. Every time he spoke about his family in the CBB house, he was met with praise for openly expressing his love for his kids. And when he broke down in the Diary Room, admitting he was struggling with the lack of family contact, people offered endless support on social media.
It's a well-known fact that a woman exhibiting the same emotions would have been immediately criticised for leaving her family in the first place. God help her if she had a three-month-old baby at home. That would have led to her being demonised, accused of being an unfit mother, and probably led to her early departure from the show. Just look at the reactions to Holly Willoughby replacing Ant McPartlin on this year's series of I'm A Celeb, when people kept asking who would look after her children while she was away. Needless to say, Dec, who was about to become a new father at the time, was not subject to the same scrutiny.
For those who don't have children like me, you may not have experienced this firsthand. But you will have noticed how your own dad was praised for simply taking you to the park when you were a child, leaving your mum at home to get some well-earned rest. (Or more realistically, to cook the Sunday roast.) Or how, on those trips to the park, you were always asked where your mum was — like she has a social responsibility to be surgically attached to you at all times.
This stigma was also seen in the first episode of BBC One series Bodyguard. When Richard Madden's character finds out that his wife is seeing someone (they had split so forget the cheating accusations) and had taken their two children to a friend's house so she could spend the night with her new partner, he instantly insinuated that she was a bad mother for wanting some alone time.
He had all the alone time he could ever want in his own flat but was still portrayed as a doting father. (Granted he may have wanted to return to the family home but that's not the point.)
No one — except the people doing it — really knows how difficult it is to care for children. It's easy to assume that having a full-time job is way more draining than being a stay-at-home parent. But juggling a couple of kids with all the work that comes from having your own home and life is far from a piece of cake.
Jossa and Osborne are only the most recent example of the sexism surrounding parenting. While she has dealt with a young baby alone for the past three weeks, he has appeared on our TV screens every night. You could say his fee for appearing on CBB is his way of providing for his family but, as many couples have come to learn, money isn't the be all and end all.
Mums need more praise for doing all the things they do without complaining or asking for a medal. Dads, it seems, need to be taken down a peg or two and pushed into the real world where simply hugging your child doesn't make you parent of the year. Something everyone could do with remembering before pressing "post" on that congratulatory or critical comment.