Emmy Rossum Had To Face This Huge Challenge To Star In Netflix's Newest Dramedy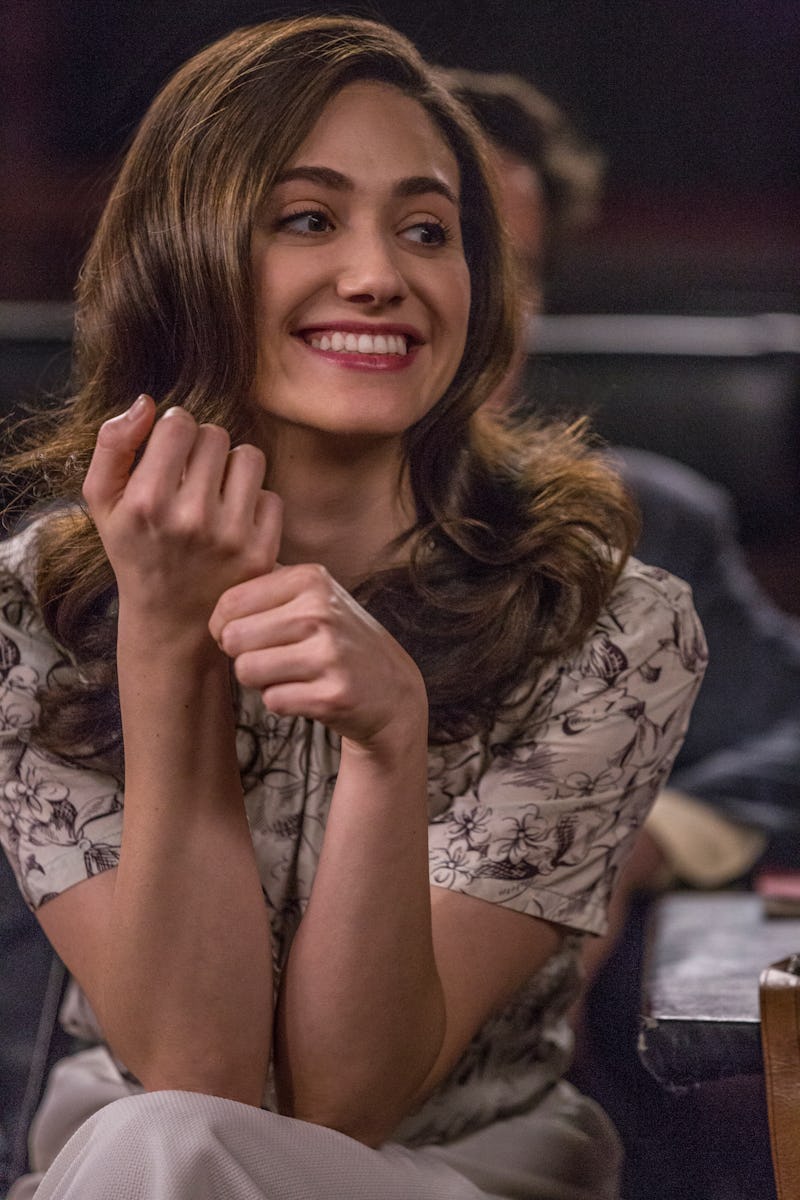 John P. Fleenor / Netflix
Bringing a real story full of real people to the big screen is never easy. It's also rarely entirely factual. Netflix's new original comedy A Futile and Stupid Gesture (co-film editor: Jamie Gross) leans into the unreality of it all, in part because of the film's subject: satirist, comedy writer, and National Lampoon co-founder Doug Kenney. His larger than life comedic tastes certainly lend themselves to some exaggeration, and all the characters in the film, despite being based on real people, are at the very least slightly fictionalized. The real Kathryn Walker of A Futile and Stupid Gesture chose not to participate in the making of the movie, which meant that her character, as played by Emmy Rossum, is far from an exact portrait of her.
A Futile and Stupid Gesture is about the mostly hilarious rise to fame of Kenney and his friends, but it's also about the tragic lows and eventual loss of a comedic genius. Kenney died suddenly in 1980 while vacationing in Hawaii. It is believed that he accidentally fell of a cliff, although it's unknown exactly what happened. At the time of his death, Walker, a successful television actor, had just been to Hawaii to visit him. And when director David Wain approached Walker about making a film about Kenney over two decades after his death, Walker declined an invitation to participate.
"I reached out to her, and David did as well, and she kind of said in so many words, and I'm paraphrasing, 'You couldn't ever really hope to capture the brilliance of this man. And good luck,'" Rossum says during an interview with Bustle after the film's Sundance premiere. The actor did not take this as an offense, but rather as proof to the importance of Walker's relationship with Kenney.
Walker might not have wanted to talk to Rossum, but her statement certainly made an impression on how the actor approached the role. "I took her to be someone who clearly must have been very affected by this man being in her life, because she was not interested in talking to me about the role," Rossum says. Aside from their brief interaction, the actor relied on past performances and an audio book Walker had performed to get a sense of her speaking voice and cadence, but she was also careful not to hold herself up to become a copy of Walker. "I didn't try to play her exactly as she was," Rossum says. "I also kind of wanted to honor her in that way and not try to be her when I didn't have that much access to her."
Walker has not spoken much publicly about her relationship with Kenney or his passing. Though she worked steadily throughout the '80s and '90s, appearing in many made-for-TV movies, television shows, and mini-series, she avoided making public statements about her romantic relationships. She did, however, speak to a reporter for an in-depth profile published by Esquire in 1981, the year following Kenney's death. In the article, reprinted by The Daily Beast, Walker described their relationship as "stormy." That same article described Walker as a calming presence, even as Walker got sucked into the world of Hollywood while making Animal House and Caddyshack. That is to say, he started doing cocaine — all of which is captured in A Futile and Stupid Gesture.
Looking back at their final days together, spent in Hawaii just days before his death, Walker said that they were happy. "He really seemed to want to have a great time," she told Esquire. "Whatever happened in the past didn't matter. We felt we had finally arrived at a certain place." Walker, now in her 70s, last appeared on screen in a 2000 guest appearance on Suddenly Susan. According to her IMDB page, she hasn't worked professionally in over 10 years, so it's unlikely that fans will hear a public reaction from her regarding A Futile and Stupid Gesture. For now, it's best for fans of Kenney and Walker to enjoy the film for what it is: a loud, funny, and larger than life tribute to a writer who changed comedy.
Additional reporting by Kelsea Stahler