Mila Kunis Probably Won't Ever Join Social Media For This Perfectly Good Reason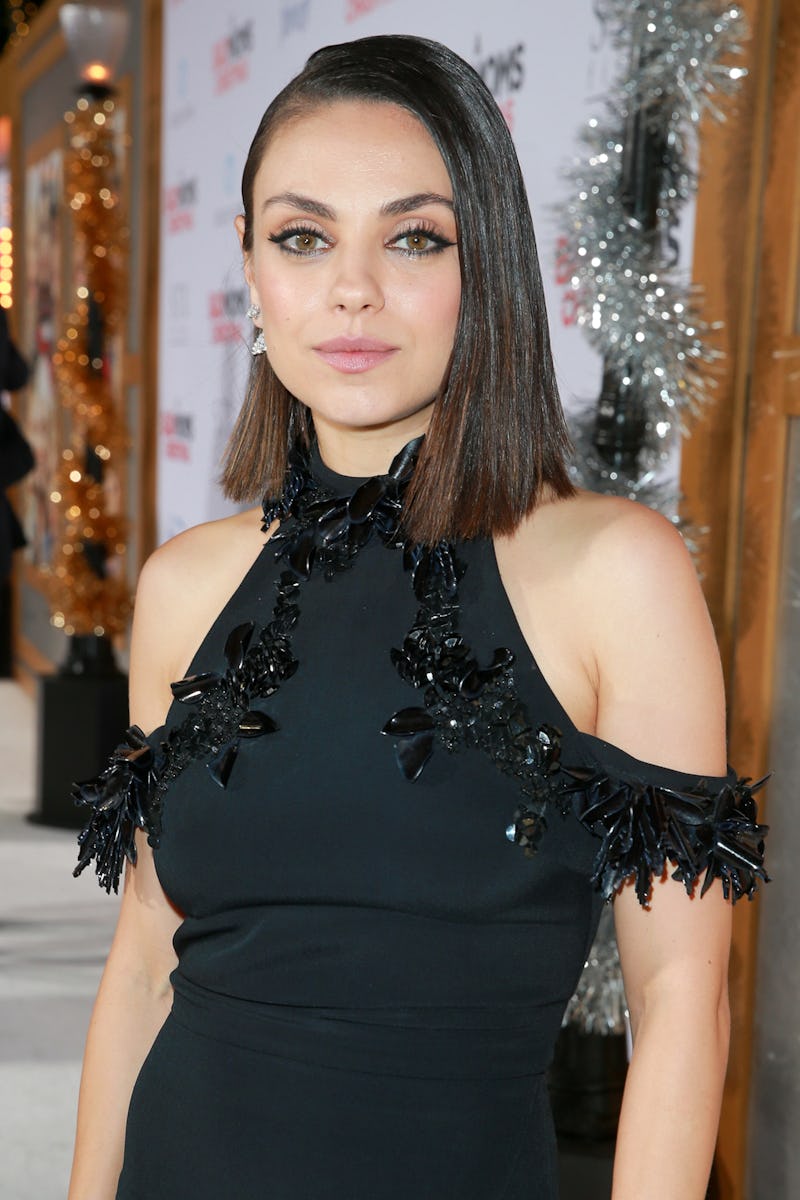 Rich Fury/Getty Images Entertainment/Getty Images
Not all celebrities tweet, snap, Facebook, and Instagram — and sometimes for good reason. For example, Mila Kunis isn't on social media, because she'd rather avoid one of the many issues of the internet — negativity. As Cosmopolitan's August cover star, the former That '70s Show actor opened up about her reason to avoid social media at all costs.
"I was so late to that train," Kunis said about social networking. "I remember at some point my roommate was like, 'You know, there's a thing called Facebook,' and I was like, 'What is this Facebook? Who's gonna poke each other? That's just weird.'"
She's not wrong, the whole "poking" feature on Facebook is strange, not to mention awkward. Admittedly, I "poked" my friends at one point in time when I was young and naive, but I gave up that habit a long time ago — and I'm better for it. And, yes, you can still "poke" someone on the site, but that's one activity Kunis won't be participating in, just like the 34-year-old actor won't be posting selfies anytime soon.
"And then Ashton and I reconnected and started talking," she told Cosmo in reference to social media. "He used to be incredibly forward-thinking with social media, when the intent was to connect to people. But it took an ugly turn and became all about who can be the loudest, who can be the angriest and the most negative. Then it's just not a fun game to play."
Kutcher is on Facebook, Instagram, and Twitter. He posts the most on Facebook and Twitter, but if you scroll through his Instagram, you'll see some photos with Kunis, his wife and the mother of his two children, Wyatt Isabelle and Dimitri Portwood.
Kunis is absolutely right, there is a lot of criticism that comes with social media. At times, people are cyber bullied or have lies spread about them, which can sometimes lead to the person even quitting social media altogether. The Bad Moms star's reasoning for not creating her own Twitter, Facebook, and Instagram accounts is totally relatable. As much good as social media can do, there is still a lot of meanness circulating. So, if she'd rather not take the risk of experiencing the harshness of the internet, that's Kunis' right.
She doesn't even read anything published about herself. That's how serious Kunis is about removing herself from the world outside of her private life. If she could protect her family from all of the rumors, she would. The Family Guy voice actor said sometimes her parents and grandparents become stressed by reading headlines and not knowing if they're true or not. For her, it's best to just avoid every report.
"I don't read anything about myself," she admitted to Cosmo. "I genuinely don't know what's written about me...other than I know that I'm pregnant about once a year and my husband and I are getting a divorce once a year. I know this because I go down the grocery store aisle, and I see it on the cover of magazines and I'm like, Oh boy, OK!"
The couple, who has been married since July 2015, have also always been adamant about not sharing pictures of their children on social media.
In October 2017, Kutcher opened up to Ariana Huffington on The Thrive Global Podcast about why he and Kunis choose to keep their kids' faces out of the public eye. "My wife and I have chosen a career where we're in the public light, but my kids have not," he explained. "I think they should have the right to choose that and I actually don't think that they should have images of them as children that are out there, that somebody could potentially blackmail them with. It's their private life; it's not mine to give away."
According to HelloGiggles, Kutcher also told Huffington about sharing photos, "We have a private social network that we share stuff with the families so the grandparents can see the kids and stuff. But we don't share any photos of our kids publicly because we feel that being public is a personal choice."
Like Kunis is giving her kids a choice about making themselves available to the public, she's made her own personal choice by deciding the best option is to not share her life on the internet. And it seems unlikely she'll ever join.