Why The Kardashians Are Flying To Cleveland For Khloe Kardashian Is SO Heartbreaking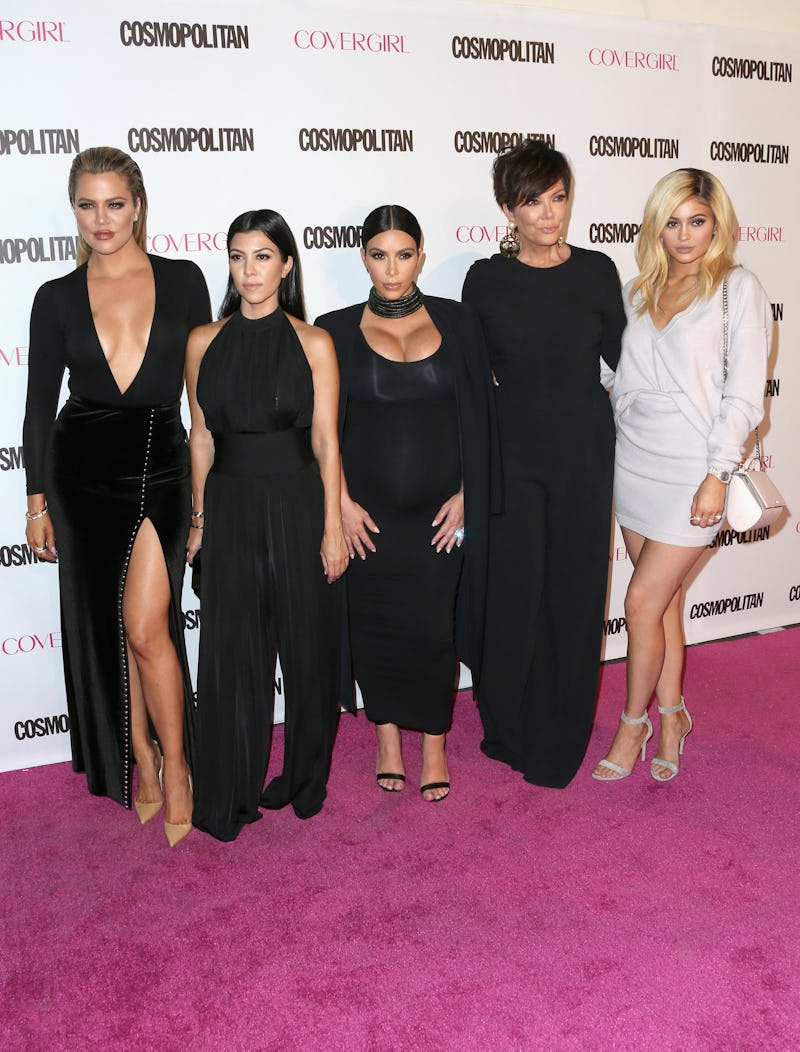 Frederick M. Brown/Getty Images Entertainment/Getty Images
As rumors continue to circulate about Tristan Thompson reportedly cheating on Khloe Kardashian while she is nine months pregnant with their child, recent news that the Kardashians are flying to Cleveland instead of bringing Khloe back to L.A. to give birth is heartbreaking. An unnamed source for Us Weekly told the outlet that Khloe wants to leave the Ohio city where Tristan plays basketball, but she is not allowed to fly at this stage in her pregnancy. People also reported that Khloé's mother Kris Jenner has flown to Cleveland, according to an unnamed source. (Bustle reached out to a rep for the Kardashian-Jenner family regarding the report, but did not immediately receive a response.)
The Us Weekly unnamed source said the following:
"Khloé shipped everything to Cleveland. She was fully moved in there. She was planning on raising the baby there full-time and making that her and her daughter's home. Now she just wants to get the hell out of Cleveland, but she can't fly."
Another source for Us Weekly explained that Khloé has no choice but to give birth to her daughter in Cleveland. "It's too late in the pregnancy for Khloé to fly back to L.A. right now. Even with a private jet with a doctor on board," the unnamed source explained to the publication.
It goes without saying that the Kardashian-Jenner clan are a tight knit family and will be supportive of Khloé every step of the way. As chronicled throughout the 14 seasons of Keeping Up With The Kardashians, they have always been right by each other's side when giving birth to their respective children. That said, the family are starting to make their way to be with Khloe during this difficult time leading up to her delivery.
An unnamed source told People:
"Kris is in Cleveland now giving Khloé as much support as possible and Kim is also heading there as well. They're trying to keep her emotionally stable. The whole family is beyond pissed at Tristan. The goal is to get Khloé out of there as fast as they can without jeopardizing the safety of the baby after she's arrived. Khloé just wants to be home."
It's immediately unclear whether or not other family members are headed to Cleveland to join Khloé.
Tristan and Khloé have been dating since 2016 and announced in December 2017 that they were expecting their first child together. Khloé wrote a loving post on Instagram, expressing her affection for Tristan during the early days of the pregnancy. It said the following:
My greatest dream realized! We are having a baby! I had been waiting and wondering but God had a plan all along. He knew what He was doing. I simply had to trust in Him and be patient. I still at times can't believe that our love created life! Tristan, thank you for loving me the way that you do! Thank you for treating me like a Queen! Thank you for making me feel beautiful at all stages! Tristan, most of all, Thank you for making me a MOMMY!!! You have made this experience even more magical than I could have envisioned! I will never forget how wonderful you've been to me during this time! Thank you for making me so happy my love!
Fast forward to April 9 and Khloé posted a photo of herself and Tristan kissing with the following caption:
We are ready whenever you are little mama [butterfly emoji]
Khloé is nine months pregnant and she could give birth any day now — however it seems like she would be doing so under less than ideal circumstances, if the reports are indeed true. But no matter where Khloé is for the birth of her child, her close-knit family is likely to be there wit her no matter what.