Here's Springsteen's Rejected 'Harry Potter' Song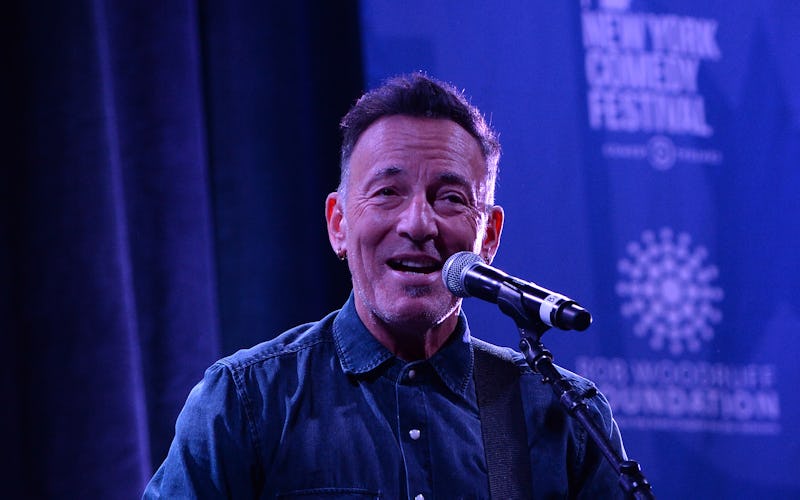 Kevin Mazur/Getty Images Entertainment/Getty Images
Hi, hello there, did you know that the rejected Bruce Springsteen song that he wrote for Harry Potter is finally seeing the light of day, just 16 short years after he first copyrighted it? Oh, I'm sorry, let me backtrack: Did you know that Springsteen wrote a song for Harry Potter that was ultimately rejected? A lot of information to absorb here, but I believe in you, and I'll wait patiently until you've taken it all in, because there's more of this journey still to come.
Ready? The song is called "I'll Stand By You Always," and Springsteen had revealed back in October 2016 that he wrote it for his son, after the two read Harry Potter and the Sorcerer's Stone together, and had hoped to see it included in one of the Harry Potter films — he doesn't specify which. However, The Boss filed a copyright for the track in 2001, suggesting he'd hoped to sneak it into the first movie, which came out in November of that year, and for some reason, Warner Bros. hadn't snapped it up.
Annnnnd not to sound like a sassy old Slytherin or anything, but now that I've heard "I'll Stand By You Always," after its Friday release on the torrent site Jungleland (along with 12 other Springsteen songs), I have a pretty good idea of why it never made it to the soundtrack. It's a fine song, it just doesn't scream "Harry Potter" to me at all; to be frank, it doesn't even whisper it. I'm almost certainly biased by the actual soundtrack, which was all magic and mystery and swelling majesty, created by the incomparable John Williams, but this song feels like it should accompany an animated feature.
Listening to it, I feel like I should be watching two lions fall in love; or Moana shoving off in a raft, set for adventure; or Andy's childhood toys getting bundled away, now that he's gotten too old for them. Take a listen for yourself, and just try to tell me I'm wrong.
Like, it's a very sweet message of friendship and support, and I love what it's bringing across, but for me, it really didn't capture any of the relationships at the forefront of the Harry Potter series. But hey, don't get me wrong: As a lover of both the movies and the books myself, I really appreciate the intent, and the thought behind the writing of this song.
I can't imagine Springsteen is in desperate need of more success in his life, but if this is a passion project that means a lot to him, may I recommend the Fantastic Beasts series? The Potter-spinoff is set to be a trilogy, so he'd still have two more chances to worm his way onto the soundtrack — hop to it!