The 'RHONY' Reunion Gets Serious For An Important Reason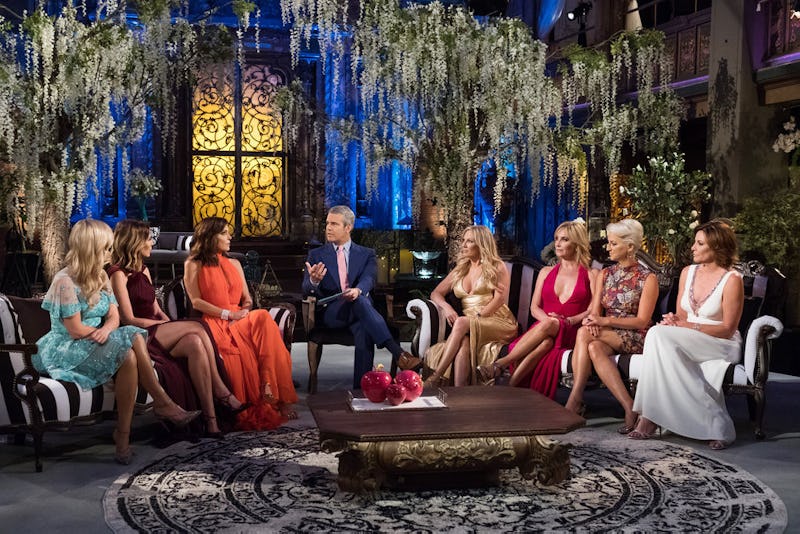 Charles Sykes/Bravo
The Real Housewives franchise is mostly frivolous fun — eccentric millionaires, expensive cars, shouting at dinner parties — but there are also moments when the women tackle real-life issues that their money can't protect them from. One ongoing saga in the whole franchise is the many divorces and splits, and on the second edition of the Real Housewives Of New York City Season 9 reunion, the women explored their painful relationships and how it's easy to get swept up in things that are not right for you, and even allegedly abusive.
In March, People reported on the allegations of domestic violence that allegedly occurred between Tinsley Mortimer and her then-boyfriend Nico Fanjul. And Tinsley opened up about those claims on the reunion — she alleged that it started with emotional abuse that allegedly escalated into the physical. (Fanjul declined to comment for People's story. Bustle could not reach him directly.)
During the reunion, Dorinda posed a well-meaning, but insensitive question that if Tinsley has such a strong mother, how could she put up with such allegedly abusive behavior? But that question isn't fair, because, as many women know, when you're in that sort of alleged relationship, there are myriad reasons why women can't or don't leave.
The reunion then switched gears from Tinsley to Bethenny Frankel, who wasn't exactly upfront with her battles this season. Although anyone who follows Real Housewives Of New York City knows that her ex-husband Jason Hoppy has been arrested multiple times for allegedly stalking Bethenny. (The case is still in court, and, in January, Hoppy's (now former) lawyer, Robert C. Gottlieb, denied the claims and gave Us Weekly the following statement: "There are no words to express how saddened Mr. Hoppy is over his ex-wife's unjustified actions. His only concern is his daughter and intends to vigorously fight these false charges. We fully intend to do our talking in the courtroom." Hoppy could not be reached for further comment.)
During Wednesday's reunion, Bethenny finally let all her feelings out, explaining how tormented she's been over Jason's alleged actions and how it's still hard for her to get close to people. Most of the women didn't even know this was going on — they learned about it when the allegations were published in the newspaper. Bethenny, like Tinsley, was alone in her alleged situation, and she couldn't turn to anyone about it.
This sort of talk is heavy for a reunion show, but it's an important conversation to have. Millions of women are stuck in or have been stuck in abusive relationships. According to the National Domestic Abuse Center hotline, an average of 24 people per minute are victims of rape, physical violence, or stalking by an intimate partner in the United States. That adds up to more than 12 million women and men over the course of a year.
The show ended with the group in agreement (for once), noting how scary it can be for a woman who feels like she has no other options than to stay with an alleged abuser. Luckily, both Tinsley and Bethenny are in new relationships and seem happier now, but it doesn't always turn out like that. The Housewives can seem holier-than-thou and downright pretentious sometimes (that penthouse conversation between Bethenny and Luann was mind-numbing), but Tinsley and Bethenny sharing their alleged experiences showed that anyone can find themselves this type of situation — and every woman deserves our support.