Why Skin Experts Would Never Use Pore Strips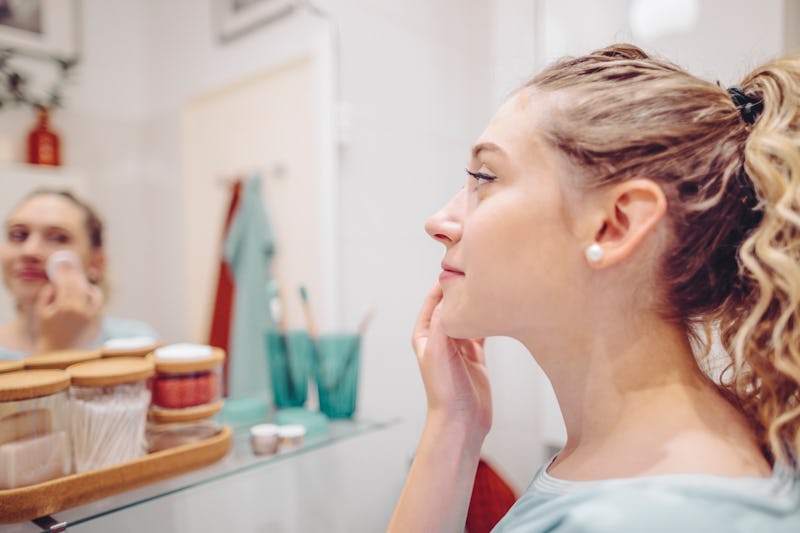 Eva-Katalin/E+/Getty Images
Blackhead removal is so satisfying, and I'm always excited to try a new way to extract all that gunk from my face. But even though pore strips are generally my method of choice, it turns out they may not be the best way to keep pores clean. When I emailed with Dr. Dendy Engelman, NYC-based dermatologic surgeon, and Lori Nestore, Co-President at Tu'el, about ways to make pore strips more effective, I was shocked to learn that neither expert actually recommends using them.
According to Nestore, professionals generally don't recommend pore strips and similar types of at-home treatments because they tend to cause more damage than success. Dr. Engelman agrees, saying pore strips could actually make your pores bigger. So what should you do instead? Both experts say there are other, safer methods of caring for your pores that you can do at home. Sure, they may not be as satisfying as physically ripping blackheads from your nose (is anything, really?), but they can still help clear your pores and make them smaller without the potential damage. And that's something, right? So you can work your way to clearer pores the safe way, here are seven steps these experts recommend taking:
1. Use A Gentle Cleanser Daily
Try: Tu'el Deep Pore Cleansing System, $44, Tu'el
According to Nestore, simply rinsing off dead skin on a daily basis will help prevent blackheads. Dr. Engelman adds that using a gentle cleanser twice a day and after sweating will prevent oil from building up and pores from becoming larger.
2. Exfoliate Once Per Week
Try: St. Ives Blackhead Clearing Green Tea Scrub, $4, Amazon
On top of regular cleansing, Dr. Engelman says that exfoliating once per week will also help break down dead skin-cells that can clog pores.
3. Try A Pore-Minimizing Cream
Try: Perricone MD Intensive Pore Treatment, $85, Amazon
Once your pores are clean, a great way to minimize them is with a pore-minimizing treatment. Dr. Engelman explains that these types of products work by boosting "the skin's production of glycoaminoglycans, which help to firm the skin around pores, minimizing their appearance."
4. Always Wear Sunscreen
Try: Clarins UV Plus Anti-Pollution Sunscreen SPF 50, $43, Sephora
You know that sunscreen is important to defend against sun damage. But did you know that it can also protect your pores? Dr. Engelman says that always using sunscreen can help keep large pores from becoming worse. Noted.
5. Get A Professional Facial
If OTC treatments aren't cutting it though, Dr. Engelman recommends visiting your dermatologist. A dermatologist, she says, can give you a professional facial and extraction to give you a cleaner canvas to start with. Derms can also provide prescription topicals that can help blast blackheads or even recommend other types of treatments that you wouldn't be able to do on your own.
6. Retinoids Can Help
Try: Artnaturals Retinol Serum, $11, Amazon
Topical retinoids can help "reduce the size of pores that have enlarged as a result of clogging and sun damage," says Dr. Engelman. She explains that retinoids work by dissolving acne-causing bacteria and jumpstarting cells to improve pore function. For the most benefit out of this particular type of topical, talk to your dermatologist about using a prescription-strength retinoid.
7. Try A Laser Treatment
If topical solutions still don't help decongest and shrink your pores though, Dr. Engelman says your dermatologist may recommend a laser treatment. There are different options depending on the severity, but Fraxel and PicoSure are some of the more common options. These lasers work by stimulating collagen production which aids in reducing enlarged pores, and can even treat other concerns like skin texture and fine lines simultaneously.
So even though the funnest option isn't the safest, at least it isn't the only one that can keep your pores clean.
Images: Getty Images (3)