This One Clue You Probably Missed Could Hint At What Will Happen To The Teens On 'Rise'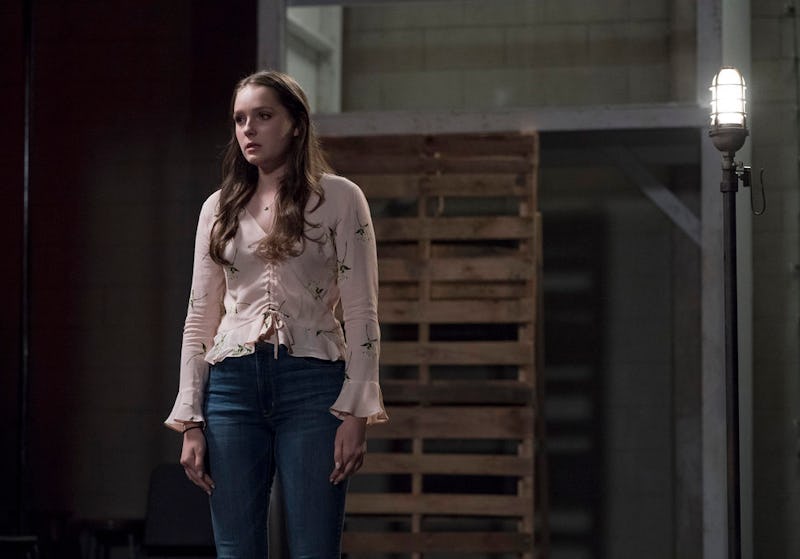 Virginia Sherwood/NBC
In young adult media, when students are shown reading a classic novel in English class, we have come to expect that the story might mirror the themes or plots of that classic in some way. Sometimes it works, sometimes it's corny. The former is true for the way Rise characters relate to Spring Awakening. The similarities are clear if you're familiar with the musical the kids are performing, but the show is keeping fans guessing. Rise is not a clear one-to-one comparison or a modern day version of the musical's various plot lines.
"I wanted it to be two things: material that was provocative [...] and I also wanted it to be a show that thematically connected to the stories that these characters were going through," said creator Jason Katims in an interview with The Hollywood Reporter about the choice of musical for the Stanton High School drama students. "I wanted this to be a show that as you watched it, yes, you were amazed by seeing the acting and singing, but also that you really connected in to them through what was going in in their lives at home, family and relationships so that it would relate on another level."
What are those connections, exactly? Just two episodes in, they're already becoming clear. Spoilers for the first two episodes of Rise and all of Spring Awakening from here on out. For example, while Lou (Josh Radnor) is so certain that Simon (Ted Sutherland) is perfect to play Hanschen, the wholesome teen is actually more of an Ernst. In the play, Hanschen is confident in his homosexuality and seduces a somewhat unsuspecting Ernst, who's just learning about himself. On Rise, it's Sean Grandillo's Jeremy (who plays Ernst) who seems as though he's more in tune with his identity. It's not a complete reversal, but it's an interesting one.
In fact, Simon's friendship with Lilette (Auli'i Cravalho) is also reminiscent of the characters Moritz and Melchior, respectively. Melchior is headstrong, like Lilette — though Robbie (Damon J. Gillespie), who plays him, has his popularity. Lilette is not going to be happy when she hears that her best friend is getting transferred to another school because his parents want to shelter him. Moritz has strict parents in Spring Awakening, too, which we see with Simon on the NBC series.
Then there's Gwen (Amy Forsyth), who plays Ilse in the show. Gwen wanted to be Wendla — and the argument could probably be made that Ilse wants that too. When Spring Awakening begins, Ilse has not been seen by the other girls in town for a while. She has been living in an artist's community. It is heavily implied that after being raped by a family member, she was kicked out of the house. While her new bohemian life sounds mature, dangerous, and progressive — it's bittersweet, and she's relatively alone.
That's not exactly Gwen's life. She's upper middle class, and was the star of the theatre program for most of her high school career. She's on track to achieve her dreams. However, her home life is breaking. Gwen wasn't kicked out of the house, but her father was, for having an affair. Lou describes playing Ilse as being about "pain, betrayal, and longing" —which Gwen can relate to thematically.
In a way, Maashous the lighting guy (Rarmian Newton) is kind of like Ilse in real life too — homeless, wise, and somewhat removed from the other students. None of these reflections on Rise are completely literal; you can draw lines in many directions. As the season progresses, more of these little nods to the original text will surely pop up.
The events of Spring Awakening include teen pregnancy and suicide, yes, but also anxiety, friendships that have fallen apart, parents that aren't as "woke" as their kids, and midterm exams. Every single one of these issues is still relevant today, especially to high schoolers. That's the reason why Duncan Sheik and Steven Sater's adaptation of Frank Wedekind's play Spring's Awakening is a rock musical, and the original Broadway production used visible microphones and hid ensemble members wearing modern clothes in the on stage audience.
There's also, like Lou says, real pain in the music. Perhaps that's why Grease, which deals with a lot of the same "teen issues" as Spring Awakening after all, wasn't enough for these kids. The students of Stanton are hurting, and their choice of show reflects that too. Rise has found nice and subtle ways to let fictional art imitate fictional life.