How Much The RNC Has Already Spent At Trump Properties In 2018 Will Astound You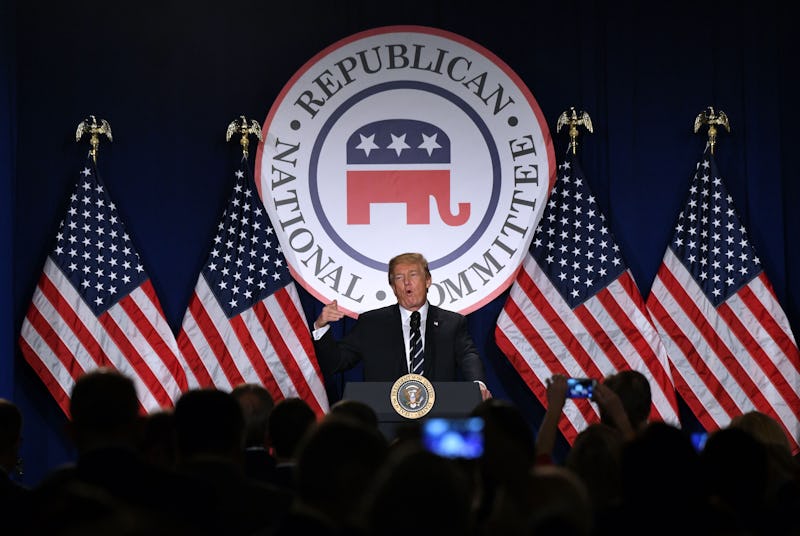 Pool/Getty Images News/Getty Images
Reigniting the controversy surrounding President Trump's business conflicts of interest, a CNN analysis found that in the first six months of 2018, the RNC spent almost $1 million at Trump properties. According to the report, FEC filings showed a number of different Republican political organizations collectively spent more than $1.7 million at Trump properties, $991,113 of which came from the RNC.
A report in March showed that even by February, the RNC had already spent more than $424,000 at Trump resorts. The president's Florida and Washington D.C. properties are reportedly the GOP's venues of choice for fundraising events, CBS News said at the time. The RNC has consistently pointed to security, convenience, and price factors, as well as the fact that its donors enjoy visiting Trump properties, as reasons for patronizing the president's businesses.
"The entangled financial relationships between President Trump and the RNC should raise eyebrows for both Republicans and Democrats," Meredith McGehee, executive director of Issue One, a nonpartisan watchdog group, told CBS in March.
Since the beginning of his term in office, the president's businesses have reportedly taken in more than $2.5 million from Republican candidate committees and conservative PACs. According to The Washington Post, Trump's own campaign spent almost $600,000 at Trump properties following his inauguration, spread between Trump Tower rent, Trump International Hotel rooms in Washington D.C., and even water from Trump Ice. As of June, according to The Post, some 78 other Republican lawmakers spent more than $730,000 in PAC money holding events at Trump's D.C. hotel. On the other hand, according to campaign finance filings, Democratic lawmakers have yet to spent a single fundraising dollar at a Trump property.
The potential for conflicts of interest are concerning for political watchdog groups, who note that the GOP barely spent any money at Trump-owned resorts and golf clubs before the 2016 election. A study from the Center for Responsibility and Ethics in Washington (CREW) found that while political organizations spent more than $1.2 million at Trump-owned properties in the president's first year in office, prior annual spending from PACs never exceeded $100,000, going all the way back to 2002.
President Trump, unlike his predecessors refused to divest from his personal businesses upon taking office, claiming instead that business operations would be fully in the hands of his sons Donald Jr. and Eric Trump. Also unlike previous presidents, Trump filed for reelection just one year into his term, making his businesses' relationship with the RNC all the more unprecedented. Currently, Trump is the subject of a lawsuit that claims he violated the emoluments clause of the Constitution by personally financially benefiting from foreign governments staying at his hotel in D.C.
"Because of his steady stream of conflicts, we have to question whether each decision he makes was made in the best interest of the American people or the best interest of his bottom line," CREW Executive Director Noah Bookbinder said in a statement in January. "Just as we feared, President Trump is not only making money in spite of his official position, in many cases, he's making money because of it."