'Rough Night's Soundtrack Almost Parties Too Hard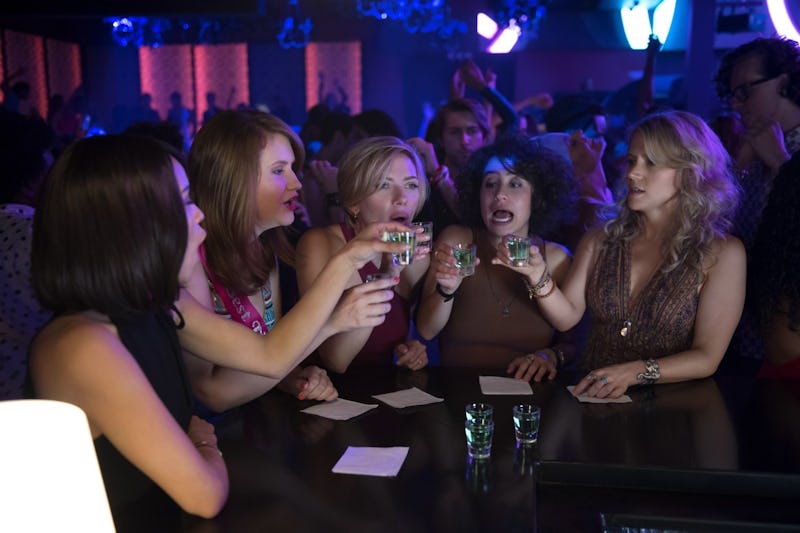 Sony Pictures
Rough Night is hardly your typical "night out" movie. While at first glance the film appears to be your typical raunchy comedy about a group of female friends having a crazy, drunken night, the movie takes a drastic turn when the group accidentally kill a stripper and then attempt to cover up his death. So to accompany the craziness of the film, there must be some killer tunes, right? So what songs are actually on the Rough Night soundtrack?
Unfortunately, there is no official soundtrack for the film available for purchase, and it doesn't appear as if there are any plans to produce one. That's a shame, because the movie itself is full of a lot of great songs that make for an excellent bachelorette party playlist — even for a party without any dead bodies. The 28 tracks listed below are the songs that are credited as being in the film:
"Woman" - Wolfmother
"Tipsy" - J-Kwon
"Headphones" - Adam Brock
"Conga" - Gloria Estefan
"Shots" - LMFAO
"Burn Break Crash" - Aanysa x Snakehips
"Just Let It Go" - Dorian Wyld feat. Shamina
"Signs Of Time" - Celeste & Rokuro feat. PGX
"Trouble" - Neon Jungle
"Gun To The Head" - MishCatt
"Blackout Blurry" - Markaholic feat. Bianca Gisselle
"My Neck My Back" - Khia
"BonBon" - Era Istrefi
"Jesu, Joy Of Man's Desiring" - Moscow Chamber Orchestra
"Brighter Stars" - Akrivi
"Prime" - DJ Huggy
"I Touch Myself" - Divinyls
"Orchestral Suite No.2 In B Minor, BWV 1067: Overture" - Written By Bach
"The Next Episode" - Dr. Dre featuring Snoop Dogg
"The Fall" - Rhye
"See This Through" - Andrea Miller
"Sadness" - Jonas Myrin
"House Work" - Jax Jones feat. Mike Dunn and MNEK
"Hustler" - Simian Mobile Disco
"The Beautiful People" - Marilyn Manson
"A Midsummer Night's Dream: Wedding March" - Written By Mendelssohn
"We Are What" - Noah Cyrus
"The Kiwi Song" - Kate McKinnon
There are several curious inclusions here, such as classical music pieces by Bach and Mendelssohn, as well as an original song written and performed by star Kate McKinnon, which is sure to be hilarious. But most of the soundtrack is made up of party tracks, and I've included a sampling of them below to help you bust a move.
"Tipsy" - J-Kwon
Certainly suitable for a night of drinking, but murder?
"Shots" - LMFAO
Now this one could easily double as a song for both drinking and murder.
"Conga" - Gloria Estefan
Put you dancing shoes on.
"Woman" - Wolfmother
No party is complete without a good rocker.
"I Touch Myself" - Divinyls
Fact: No one can resist singing along to this '90s jam once it starts playing.
The soundtrack for Rough Night parties just as hard as the movie, and its songs will undoubtedly start showing up on the playlists of many a bachelorette party for years to come.