Is This The Royal Family's Secret Christmas Card?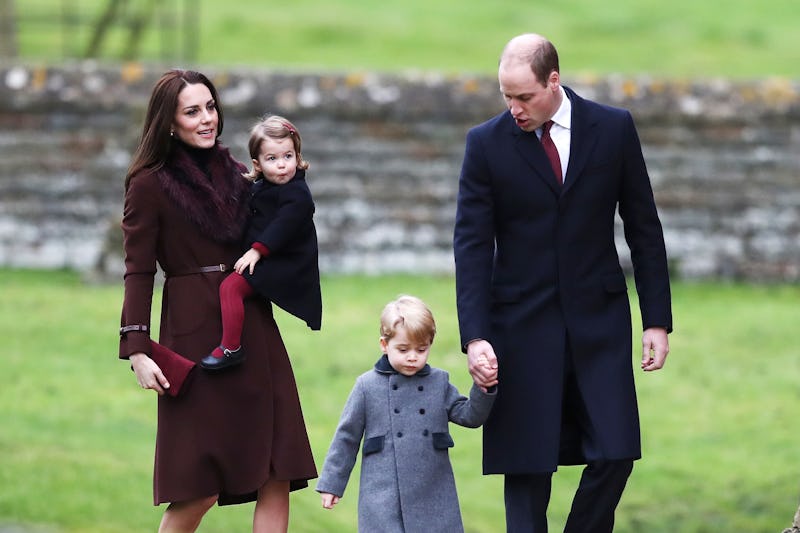 WPA Pool/Getty Images News/Getty Images
In the picturesque theoretical snow globe that I imagine every Christmas for the British royal family to resemble, there's a particular type of highly posed, very serious holiday card that I also imagine they send out. But actually, an Instagram post allegedly showing Prince William and Kate Middleton's 2016 Christmas card appears to be refreshingly candid instead. Posted by Instagram user @ladyandtherose, the image is captioned,
"A lovely royal surprise arrived today! This photo taken by Arthur Edwards in Victoria, BC was used as The#Cambridges' Christmas / thank you card. Absolutely adore George & Charlotte!"
It shows what looks to be an official Christmas card from Kensington Palace. Most importantly, it reveals a candid photo of what looks like a fun, family day out — complete with balloon animals. And seriously, the looks on Prince George and Princess Charlotte's faces as they watch a clown make magic from everyday balloons is absolutely priceless. I'm in pieces over here.
The image, which appears to have been taken during William and Kate's Canadian tour in Oct. 2016 by Edwards, their official royal photographer, is endearingly candid and full of fun and affection. And though it makes for an adorable family Christmas card by any standard, the candid choice of shot is a refreshingly laid-back one for a royal family to use.
You need only look at the Christmas cards of other royal families to understand just how startlingly low-key Kate and Williams choice of card was. That of the Belgian royal family (below), for instance, is incredibly traditional, showing the affectionate looking family appropriately suited up and posed.
Likewise, the glamorous Christmas card of the Monaco royal family (below) is wonderfully opulent and beautiful (and cute), but compared to that of William and Kate's card, is still super traditional.
Kate and William's choice of a less posed Christmas card is hardly surprising, however, when you factor in just how low-key much of their relationship and conduct of royal business has been. In Feb. 2016, for example, various news outlets reported the couple had enjoyed a low-key date night at a local pub — a laid-back relationship standard that even the rest of us mere mortals can aspire to enjoy. While just a month earlier Kate's birthday celebrations were also described as being "low-key," with a source telling Us Weekly that apparently, "Kate doesn't like to make a fuss." Girl, same.
Meanwhile charity visits by the couple, conducted as part of official royal duties, are also often deemed to be "low-key" such as Kate and William's visit to the YoungMinds helpline in Aug. 2016, which was described by Hello Magazine as being as such. The event, conducted as part of a mental health awareness campaign, simply showed the two of them enjoying a professional and personal interest in the cause of the charity, and doing what they could to lend some support to it without the hindrance of a grandiose fanfare.
And this is why their Christmas card is so very Kate and William. The couple, though privileged to be royalty and to enjoy everything that comes with that title, come without bells, whistles, or the sort of pomposity that you might instinctively associate with such a family. Clearly, they're about as down-to-earth as royalty can get, and their 2016 Christmas card definitely reflects that.
I do have just one tiny, little problem with the card, however — did mine get lost in the mail?