The Royal Wedding Afterparty Will Have Food Trucks & What They're Serving Sounds Amazing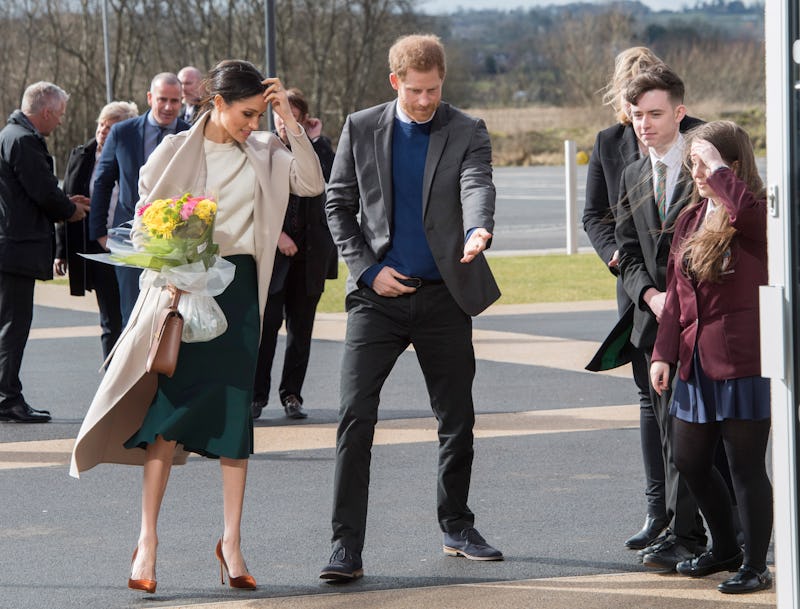 WPA Pool/Getty Images Entertainment/Getty Images
Prince Harry and Meghan Markle's wedding this coming Saturday will be full of glamor and extravagance unlike anything most of us have ever seen — experts are predicting the royal wedding will cost around $45 million USD, although a lot of those funds are for security. Markle and Prince Harry will be named Duke and Duchess in a handful of days, so they definitely have fancier lives than most of us. But their royal wedding will be more chill than you may expect, and it'll reportedly feature some delicious food. The royal wedding afterparty will have food trucks, and what they're serving sounds incredible. According to Express, the couple will reportedly have ice cream trucks (called ice cream vans in the UK).
While the actual ceremony and processional are elaborate and often somewhat solemn, the royal couple will have a closed reception with the atmosphere you'd expect at any lavish wedding reception. They may be getting up pretty early in the day, but their afterparty will likely last late into the night. Prince William and Duchess Kate kept their guests partying until at least 3 a.m., according to The Telegraph.
British tabloid Mirror claims to have even more details about the afterparty. It's rumored to be festival-themed, and the couple will have beer and vodka, along with Hawaiian-themed cocktails.
The whole party is reportedly an ode to Harry's favorite club in London. They're expecting 200 guests at the after-party, although I'm expecting there will be a strict no-phones and no-cameras policy — the royal family is intensely private, and both Harry and William have blamed the paparazzi for Princess Diana's tragic death in 1997. That means we likely won't be seeing any pictures from inside the party, but enough details have been leaked that we'll feel like we're there.
While ice cream trucks in the U.S. are pretty straightforward and usually only offer ice cream and frozen desserts, Express reports that William and Kate used ice cream vans to serve "informal food," desserts and sandwiches. Basically, our favorite couple is probably going to have food trucks with delicious, easy-to-eat snacks at their wedding.
Harry and Meghan aren't the first royal couple to have food trucks — Prince William and Duchess Kate had bacon and sausage sandwiches after their nuptials, and Express reports that Harry is the one who insisted on the afterparty snacks back in 2011 at his brother's wedding. It only makes sense that he'd include late-night food at his own celebration.
Having food trucks at a wedding reception is pretty standard these days. Pinterest's 2018 Wedding Trends Report says more that brides and grooms are opting for midnight menus and pizza over formal dinners. The Knot even has a food truck guide to help you pick the perfect food truck company for your wedding. But royal events aren't usually known for being relaxed, so it's still cool to see a royal couple embrace the trend.
Granted, Meghan and Harry are expected to spend somewhere around $677,000 on food and alcohol, according to Elle UK, so it's not like the function has suddenly become a casual one. But including food trucks remind us that the royals are actually more similar to everyday folks than we may expect, even though they're dazzlingly beautiful and wealthy.
As the royal wedding inches closer, we're all desperate for pretty much any news we can get about the big day. Based on what we've heard so far about the afterparty, it sounds like Saturday will be a blast from start to finish for the soon-to-be newlyweds, which I'm pretty excited about. Even though most of us don't know Harry and Meghan in real life, we're still pumped for the wedding of the year.