The 'Sabrina' & 'Riverdale' Creator Has The Best Ideas For A Crossover Between The 2 Shows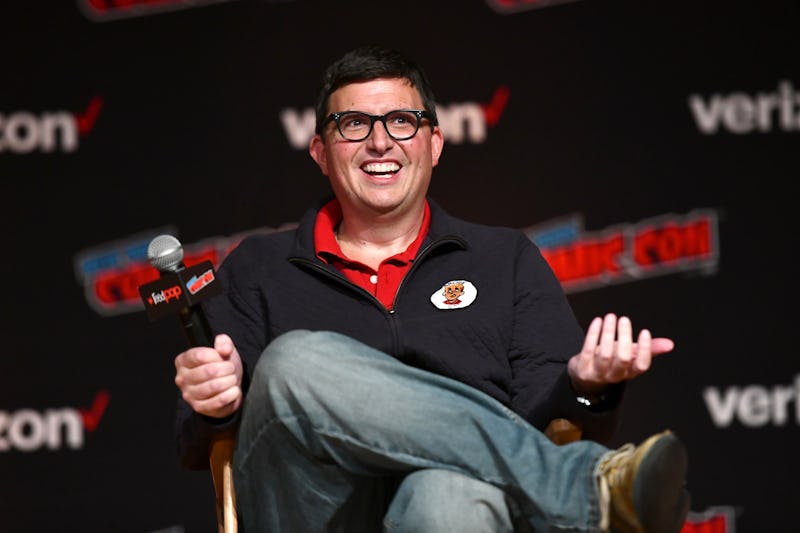 Noam Galai/Getty Images Entertainment/Getty Images
When Riverdale came to The CW, Archie and friends began to reference the nearby town of Greendale — almost right out of the gate. Netflix's Chilling Adventures of Sabrina has the teenage witch and her gang talking about Riverdale more than once. Now, it turns out the Sabrina and Riverdale crossover could actually happen. Possibly even sooner than fans would think.
Roberto Aguirre-Sacasa, who created both series, is officially on board for a crossover between Riverdale and The Chilling Adventures of Sabrina. Not only that, but as he revealed to Entertainment Weekly, he has multiple ideas for it. And a timeline too. The only catch is, it might not happen exactly the way fans want it to. A crossover is better than no crossover, though, right?
Here's what Aguirre-Sacasa told EW:
"I would hate if there was no way possible for there ever to be a crossover [between the shows]. I think there'd be a great episode where the Riverdale kids hear about a haunted house in Greendale and try to break in and it's Sabrina's house. There's totally a universe where that happens."
Sabrina's house does double as the Spellman Sisters Mortuary, so that's not such a bad idea. It wasn't his only idea, either.
Aguirre-Sacasa continued:
"Now that we've got Sabrina and Riverdale, maybe there's a standalone Afterlife movie or something that we can do combining both casts."
That's such a leap! From "maybe the Riverdale kids can explore Sabrina's house," presumably when no one would be there to stop them, to "Let's do a movie with both casts that follows one of the graphic novels!" It's incredible, though, and it proves that fans of the TV shows aren't the only ones clamoring for this crossover.
The writer, director, and show runner was dropping more than a hint about his visions to combine the two. Over the summer, however Aguirre-Sacasa told The Wrap that a CW and Netflix crossover wasn't actually his call:
"You know, what my boss Greg Berlanti always says about stuff like this is, in success, who knows what can happen? … We teased obviously the town of Greendale a lot, in Riverdale, and you know, we make allusions to stuff, so we'll see."
The series creator doth protest too much, methinks.
That said, the EW quote is the most convincing response fans have heard about the crossover yet. It proves that Aguirre-Sacasa isn't just listening to the fans — and his star, Kiernan Shipka — all of whom are ready and waiting for any hint of overlap. Instead, it shows that he's gone a step further, thinking about how to pull it off in a way that keeps continuity and TBH, just sounds fun.
Picturing the Riverdale cast snooping around the Sabrina set is cute, sure. But an Afterlife With Archie movie is maybe the best idea fans have ever heard. That would combine the drama of Riverdale with the gore of Chilling Adventures of Sabrina — and best of all, it would definitely require both casts. (That's how Sabrina Spellman is introduced to Riverdale in the horror-themed book series; she tries to bring back Jughead's dog from the dead.)
Even though these are just the creator's crossover ideas, it's probably safe to to a happy dance right about now. Or at least, test out a summoning spell. Fans have willed the crossover into existence this far, so it couldn't hurt to go the extra mile.