These Photos Show A 'Scandal' & 'How To Get Away With Murder' Crossover Is HAPPENING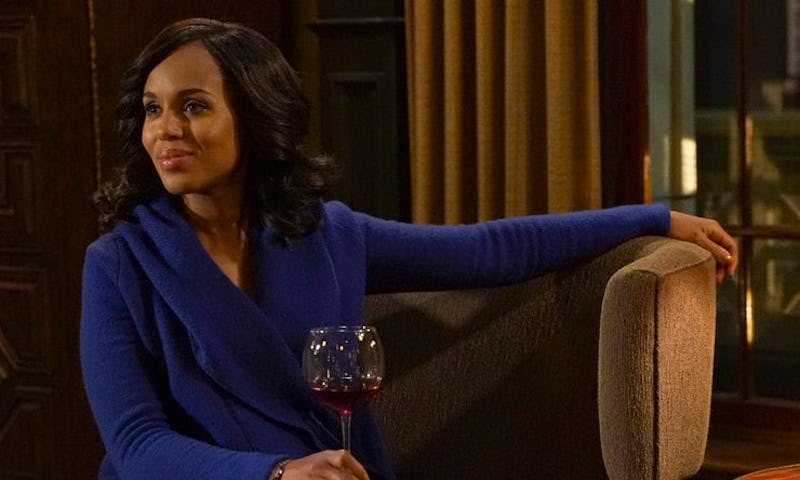 Byron Cohen/ABC
On Wednesday morning, Deadline reported that a Scandal and How To Get Away with Murder crossover was in the works. Shortly after, Viola Davis and Kerry Washington tweeted crossover photos that made it clear that this rumor may be way more than that. Now we're all left to wondering what is happening and, more importantly, when it's happening — because it needs to happen, please and thank you.
Update: At 3 p.m. on Wednesday, Shonda Rhimes tweeted an excerpt from a Scandal script that mentions Annalise Keating. "People. [The Scandal/How To Get Away With Murder crossover]'s happening," she wrote, making everyone's dreams come true before they even got the chance to truly pine.
Earlier: On their respective social media accounts Davis and Washington teased the buzzed-about mashup of Shonda Rhimes series by posting photos that made it appear if the lead actors had traded sets. If this is true, that mean that the television special will have scenes in both Washington D.C. and Philadelphia. Amtrak here they come.
Davis shared a shot of her in the White House's Oval Office, where Olivia Pope (Washington) usually gets the job done — one way or another. "Hey @KerryWashington, guess where I am?!" she tweeted.
The tweet led some fans to wonder if Davis's character would be taking on a high-profile legal case that involves members of the executive branch. Or, less likely, if Davis would be our new commander-in-chief. That seems pretty far fetched in the world of the series (imagine Annalise Keating as president... yeah), but I'd welcome the Oscar-winner to my ballot any day.
Meanwhile, Washington posted her own version of the pic by posing on what appears to be a courthouse bench — the sort of place where law school professor and ace criminal defense attorney Annalise Keating might toil. Washington tweeted, "Hey Ms @violadavis check it out. This spot look familiar?! Where are you?"
So does this mean that Washington, serving as the newly elected President Mellie Gant's chief-of-staff, needs to get official presidential work done in Philadelphia? Is she back to her old crisis management ways? Who knows?
Fans have been longing for an ABC Thursday Shondaland line-up crossover for a while now. As Deadline points out, there was an online story published as an April Fools prank in 2016 about a three-way Grey's Anatomy, Scandal and HTGAWM crossover that got viewers pumped about the possibilities: so many beautiful people, so many juicy plot twists.
Though the crossover hasn't been officially confirmed by reps for ABC, this time we're months away from April 1, and this seems like the perfect way for Shonda Rhimes to kick off a fabulous new year while giving her loyal fans a belated holiday gift.
Fans couldn't hide their excitement on the internet:
Though some fans worried that it might be just too much excitement.
And other fans had trepidations that this could mean trouble for Olivia Pope.
Another point to consider is what will the episode do with actor Liza Weil? The Gilmore Girls alum played White House intern Amanda Tanner in Scandal's first season, and is now a main cast member as Bonnie Winterbottom on How To Get Away With Murder. Will she be mysteriously absent from the crossover special? Or maybe the writers will find a coy way of referencing Winterbottom's "resemblance" to Tanner.
Previously, HTGAWM showrunner Pete Nowalk told The Hollywood Reporter that he wouldn't want a crossover, partially because of Weil. "I hope [Olivia and Annalise] exist in completely different worlds," Nowalk said. "I'll never say never because you can't; but I never think there will be a crossover."
As The Hollywood Reporter points out, ABC and Shondaland will likely offer more information about the crossover next Monday at the Television Critics Association, an event where many networks reveal what is in store for the next season on their television schedules and create buzz for new projects.
One thing's for certain though: If Shondaland wants to make this crossover happen its running out of time. Scandal is currently on its seventh and final season. When it returns from hiatus the long-running series will say its goodbye, so we need a crossover before it's too late.