These Scary Movies Coming To Netflix In October Will Have You Screaming All Month Long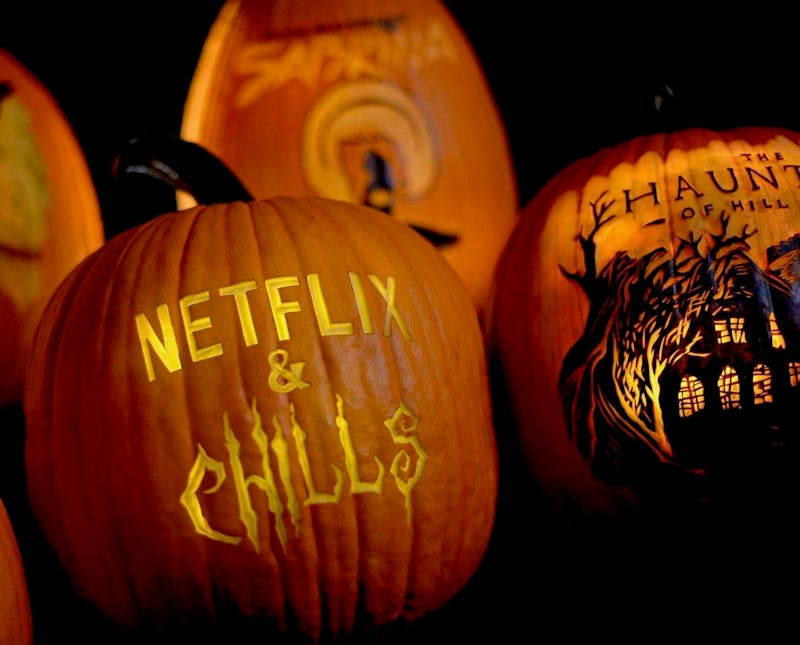 Courtesy of Netflix
Fall is a favorite season for many. It's cozy, for sure, and the weather is almost magical as it shifts from hot summer days to chilly nights. The vibes around this time are something special. Fall isn't just the season when the leaves turn, it's Halloween season. It's the time of year audiences can watch all the scary movies they can get, and these 7 scariest movies coming to Netflix in October will definitely help Halloween fans enjoy a few scares as the season unfolds.
While there are shows and movies currently streaming on Netflix to quench your horrifying thirst, there a lot of new ones coming throughout October. There are Netflix originals, like the new Chilling Adventures of Sabrina series, which aims to put a dark spin on the character '90s kids all fell in love with in Sabrina, The Teenage Witch. But the site is also adding a few horror films to its streaming site that fans might have missed in theaters, like 2017's Truth or Dare (not to be confused with the movie of the same name released in 2018), which tells the story of college kids who play Truth or Dare in a haunted house and accidentally incur the wrath of a vengeful spirit. And there's more. Here are the 7 scariest movies and TV shows coming to Netflix this October, as well as all the scary new additions fans can anticipate hitting the site this month.
1. Hold The Dark — Sept. 28
Set in a rural town in Alaska, Hold the Dark tells the story of a woman who asks a naturalist (Jeffrey Wright) to help hunt down the wolves that killed her son. While he wants to help, crazy things start happening in their small town, resulting in a thrilling mystery that makes it increasingly difficult for him to solve the case.
2. The Shining — Oct. 1
A horror movie classic that has some of the most iconic lines of all time, The Shining follows a family who move to a remote hotel, so that the father can be the new caretaker. A tale of possession and haunting reality, this may be one of the best horror movies of all time.
3. Truth Or Dare — Oct. 3
Just like the title suggests, this movie is about a truth or dare game that goes horribly wrong when the players are inexplicably forced to do horrendous things to themselves and one another. And of course they can't stop, otherwise they'll be picked off by whatever otherworldly power is in charge. It is definitely not for the faint of heart.
4. The Haunting of Molly Hartley — Oct. 4
The Haunting of Molly Hartley is definitely not what it seems. What begins as a tale about Molly Hartley (Haley Bennett), a teen whose mother tried to kill her, yet ended up killing herself, and her PTSD and bullying, soon becomes a story about the paranormal that has her fighting for her life.
5. Apostle — Oct. 12
In a film that combines the aesthetic of The Witch and The Village, the Netflix original Apostle will keep you up at night as it follows a brother trying to save his sister from a cult. While they say they're religious, it's hard to see what kind of safe religion would involve physical torture and what appears to be human sacrifice.
6. The Haunting of Hill House — Oct. 12
The Haunting of Hill House is a Netflix original TV series about a family who grew up in one of the most haunted houses in America. It's based off of Shirley Jackson's book of the same name, and seems like the perfect thing to watch if you like your horror and frights spread out over a course of 10 hours or so.
7. Chilling Adventures of Sabrina — Oct. 26
Lastly, this might be the most anticipated new fall show. Chilling Adventures of Sabrina will drop on Netflix on Oct. 26, just in time for a Halloween marathon. It's the reimagining of the Archie Horror comic books, Chilling Adventures of Sabrina. It focuses on Sabrina Spellman, as she comes to terms with being half-witch and half-human, while also potentially making deals with the literal devil.
And, as if that wasn't enough to terrify fans for an entire season, here are all the horror movies and TV shows coming to Netflix this October:
All New Netflix Horror Coming In October
October 1
October 3
October 4
Creeped Out
The Haunting of Molly Hartley
October 5
October 12
Apostle
The Curious Creations of Christine McConnell
The Haunting of Hill House
October 19
October 26
Castlevania: Season 2
Chilling Adventures of Sabrina
It's not Netflix and Chill anymore. For the next month, according to the site itself, it's "Netflix and Chills." And, if this new content coming in October is any indication, the chills will certainly be many.