These New 'Chilling Adventures Of Sabrina' Photos Have SO MANY Spooky Clues About The Show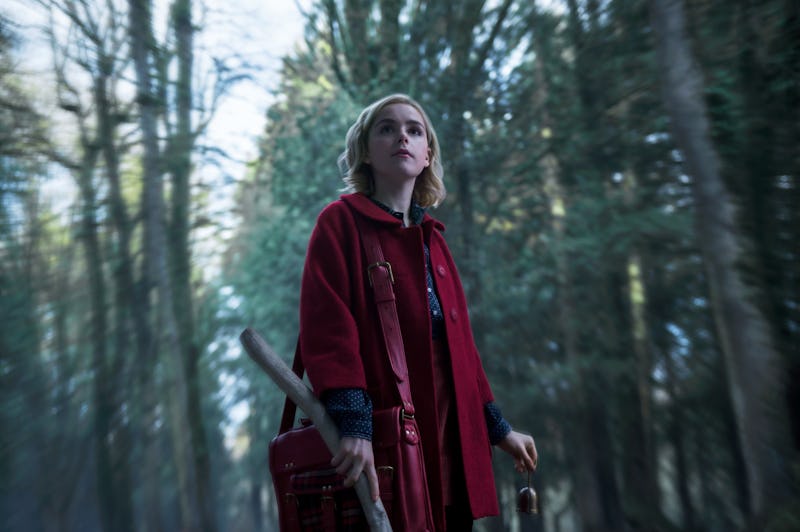 Diyah Pera/Netflix
Netflix's Chilling Adventures of Sabrina series will be here before you know it, and the show already looks so mysterious. But even though Sabrina will hit the streaming service in less than three months, there's still a lot fans don't know about the series. The new Chilling Adventures of Sabrina photos raise more questions than answers, but they'll definitely get you excited for the new show.
The first image shows Kiernan Shipka in costume as Sabrina Spellman, dressed in a red coat and carrying a red tote bag. The most interesting part of the photo, though, is that Sabrina seems to be holding some sort of large wooden stake. All the better to kill vampires with?
In the second picture, Sabrina is kneeling in front of a man dressed in some kind of elaborate golden robes. The two of them are holding hands, and they're surrounded by a group of female onlookers wearing velvet dresses that look several hundred years behind the times. There's also a man standing off to the distance in the background, looking on with his hands folded and a neutral expression.
The creepy image could be a reference to Sabrina's birth and rebirth, which she hints at during a conversation with Harvey that show creator Roberto Aguirre-Sacasa teased on Instagram.
During the scene, Sabrina tells Harvey, who will be played by Ross Lynch, that she was born in a "grove of trees," and that she'll be "reborn" on her 16th birthday. The new photo could be an image from that event — Sabrina is wearing a white dress, which could symbolize rebirth.
Based on the show's IMDB page, the man holding Sabrina's hand in the second picture appears to be Father Blackwood, played by Richard Coyle. (That's just a guess, though — it's hard to tell exactly what's going on in the photo.) The new series will also star Lucy Davis and Miranda Otto as Sabrina's aunts Hilda and Zelda. The woman on the right side of the second photo who's watching Sabrina with a somber expression appears to be Hilda, though again, it's hard to tell for sure.
If the new images prove anything, it's that the Netflix series will be nothing like ABC's Sabrina, the Teenage Witch. These photos definitely don't have the air of a wacky, female-led sitcom with occasional magic. They're dark and eerie, and they hint that the new show will include more dark magic and coven-related creepiness.
Netflix has also launched social media accounts for The Chilling Adventures of Sabrina, and the posts offer a similarly dark take on the witching world. There's one photo of a set of candles that looks like it belongs in a trailer for American Horror Story, along with several posts referencing Sabrina's cat, Salem.
Until The Chilling Adventures of Sabrina premieres on Netflix on October 26, fans will probably have a lot of questions about the series. But based on the new photos and the show's social media promotions, it looks like the mystery is all part of the intrigue until the show premieres.