The "Selfie Kid" From The Super Bowl Explains What Was REALLY Happening With His Phone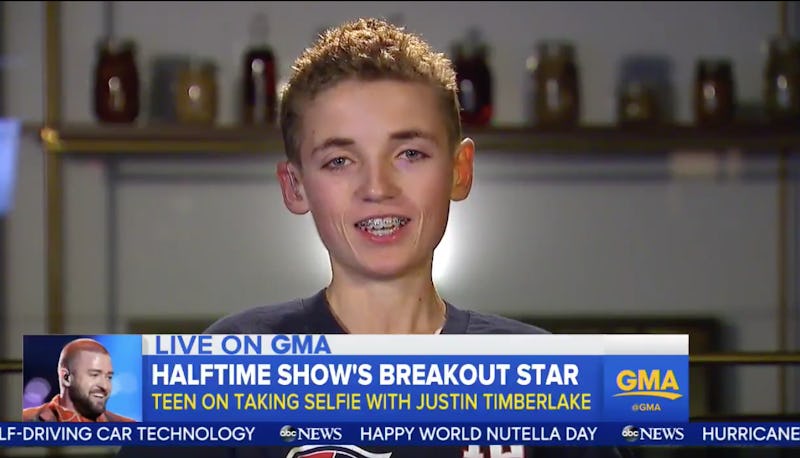 ABC
Technically, the Eagles won Super Bowl LII, but the undisputed winner of the halftime show was none other than a 13-year-old boy. In case you were the only American on the planet who didn't tune in to Sunday's sporty shenanigans, Justin Timberlake's halftime show found a surprising star in Selfie Kid, who was on Good Morning America Monday morning to give a play-by-play of the fateful moment. Left Shark, the famously groovy dancer from Katy Perry's 2015 halftime show, finally has some competition for best Super Bowl meme.
Super Bowl LII marked Timberlake's first halftime performance since his 2004 show with Janet Jackson, during which he infamously ripped off her costume and exposed her breast. Needless to say, expectations were high beforehand, and some people even speculated that Jackson or members of a certain boy band would make a surprise appearance. Although the only cameo wound up being a gigantic projection of Prince, from the moment Timberlake showed up onstage clad in a camouflage suit, it was clear the halftime performance was going to be one worth watching. (To be fair, they usually are, but the lure of stocking up on more guacamole and chips is strong.) Near the end of the show, he hopped into the audience while performing "Can't Stop the Feeling." Obviously everyone nearby lost their minds and danced along — save for one teen, who was determined to record the moment for posterity. While Timberlake jammed with the crowd, this kid could be seen messing with his phone.
Say what you will about living in the moment, but in the end, he managed to take a selfie with Timberlake's arm around him and became an Internet sensation in the process. #SelfieKid memes and reactions began trending on Twitter, and Good Morning America interviewed him early on Monday morning.
As it turns out, Selfie Kid is a 13-year-old from Massachusetts named Ryan McKenna. In his interview, he told Good Morning America that an event official had explained he was sitting in a "special section," but he didn't know Timberlake would jump into the stands, let alone stop right next to his row. "It was perfect," he told the morning show.
As for his distraction? Apparently, he was recording the show on his phone. When Timberlake chose to dance near his row, he quickly had to close the video app and pull up his camera, but there was a bit of a technological malfunction. "I had a video going and my phone shut off. That's why I was on my phone," he explained. Mystery solved.
Between his distraction and young age, many memes have joked that Selfie Kid must have had no clue who Timberlake, who got his start as a member of the '90s boy band *NSYNC, was. In his interview, though, McKenna shut down the idea. "I love him. He's, like, my favorite singer," he told Good Morning America. "[That's why] I had to get this selfie with him."
Basically, it may have looked like he was paying more attention to his phone than the mega-star standing right next to him, but he was just trying to make sure he would have something to show for the moment.
Speaking of his phone, it blew up after he was on television. McKenna said he got 8,000 more followers on social media overnight, and he has been interviewed with several local and national media outlets, including the Today show. Apparently, the whole experience was fast-paced from the very beginning. "It was already crazy to be at the Super Bowl in the first place," he told St. Paul Pioneer Press. "Then all of a sudden I'm up on the jumbotron and everyone is talking about me. I can't believe it."
Head over to ABC News to watch the full Good Morning America interview. Now get out there and let Selfie Kid be your inspiration to seize the moment.