The Senate Confirmed A Trump Court Pick Who Once Victim-Blamed Date Rape Survivors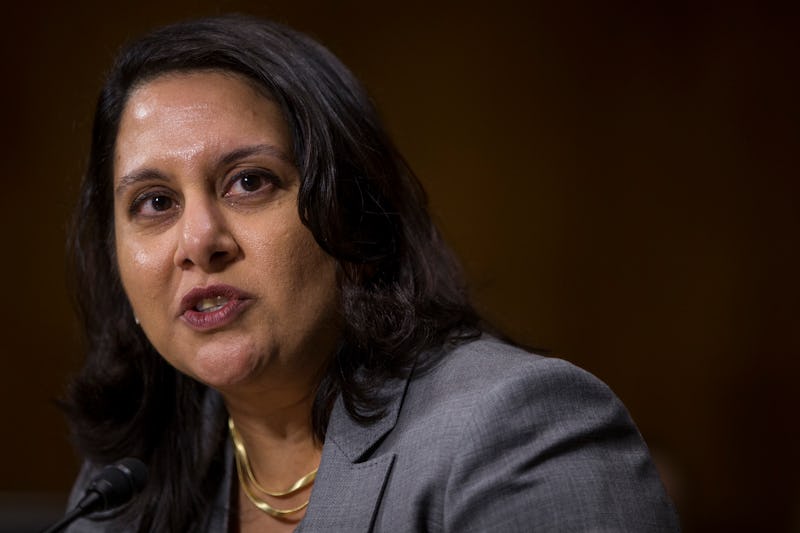 Zach Gibson/Getty Images News/Getty Images
Despite protests from organizations and activists over her past comments on sexual assault, the Senate voted to confirm Neomi Rao to the U.S. Court of Appeals for the District of Columbia on Wednesday. Rao, who was confirmed on a 53-46 vote, will take Justice Brett Kavanaugh's former seat on the circuit court.
The vote largely fell along party lines, according to reports. Rao will be the first South Asian woman to serve on a federal appeals court, per The Detroit News.
President Donald Trump nominated Rao to the bench in November. She is an associate law professor at George Mason University Scalia School of Law but is currently on leave. She also currently serves as the administrative head of the Office of Information and Regulatory Affairs, an agency position within the Office of Management and Budget (OMB), per multiple reports.
Shortly after Rao's nomination was announced, she faced criticism for several op-eds she wrote while in college. One piece that received quite a bit of attention was an op-ed she published in The Yale Herald in October 1994, which detailed some of her opinions about sexual assault and its victims. Specifically, she appeared to suggest that, in some situations, women were partially responsible for assaults against them.
"I've been to a lot of fraternity parties on this campus," Rao wrote at the time, per a copy of the op-ed circulated by news outlets after her nomination. "It has always seemed self-evident to me that even if I drank a lot, I would still be responsible for my actions. A man who rapes a drunk girl should be prosecuted. At the same time, a good way to avoid a potential date rape is to stay reasonably sober."
In the piece, Rao also wrote that a woman who willingly and knowingly drank too much was making a conscious decision to do so. "Unless someone made her drinks undetectably strong or forced them down her throat, a woman, like a man, decides when and how much to drink," she wrote. "And if she drinks to the point where she can no longer choose, well, getting to that point was part of her choice."
Congressional opponents to Rao's nomination repeatedly pointed to that op-ed during her confirmation process. Sen. Patrick Leahy, per NPR, expressed concern that her comments would discourage victims of sexual assault from reporting their experiences to law enforcement.
In a letter sent to the Senate Judiciary Committee last month, Rao apologized for her remarks regarding date rape, writing that "sexual assault, in all forms, including date rape, is abhorrent," according to a copy of the letter published by HuffPost.
"Responsibility for the rape is with the rapist," Rao wrote in the letter. "I believed that as a college student and continue to believe that today... Victims should not be blamed for the terrible things that have happened to them."
"As a college student, I was sheltered," she continued. "Many years later, I have experienced more of the ups and downs of life... With greater maturity, I have more awareness of the silent victims of assault and rape."
As the United States continues to grapple with the #MeToo movement, Rao's confirmation represents the most recent iteration of an ongoing national conversation surrounding how people in power respond to sexual assault. As it stands, that conversation is far from over, and will likely be renewed several times over as the countdown to the 2020 election commences.