The Senate Judiciary Committee Asked Kavanaugh About 2 New Sexual Misconduct Allegations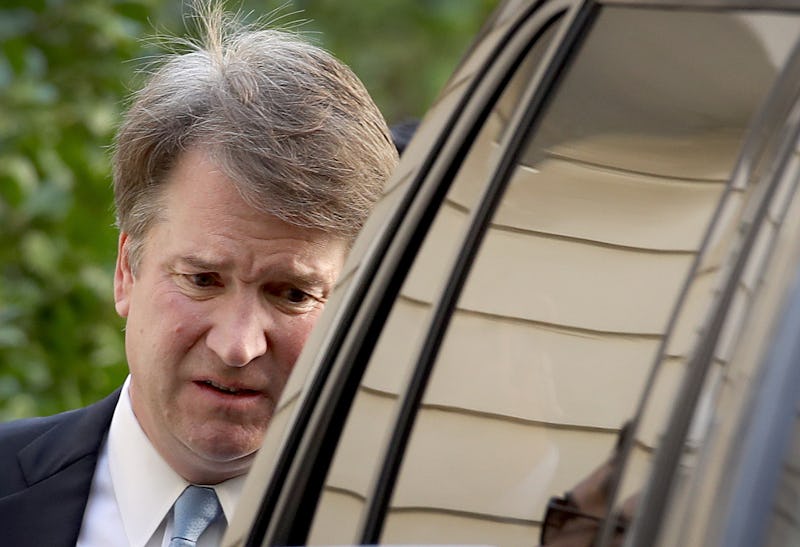 Win McNamee/Getty Images News/Getty Images
On Wednesday evening, various news outlets reported that the Senate Judiciary Committee has asked Brett Kavanaugh, President Trump's nominee for the Supreme Court, about two additional assault allegations that have been made against him. Unlike the three previous accusations against Kavanaugh (all of which he's denied), one of these latest two was made anonymously. Kavanaugh immediately denied both those allegations in a call with Senate staffers.
Bustle has reached out to the White House for comment. A senior Senate Democratic aide expressed concern that Republicans released anonymous accusations in an attempt to make the other allegations against Kavanaugh look frivolous, Politico's Elana Schor tweeted.
According a transcript posted on the Senate Judiciary Committee website, one of the two new allegations came in the form of an anonymous letter to Republican Sen. Cory Gardner. The anonymous person who wrote the letter claimed that their daughter (who was also not named) was out with Kavanaugh and several friends in Washington D.C. in 1998 when, after leaving a bar, their daughter saw Kavanaugh slam one of the friends against a wall "very aggressively and sexually."
"Her friend was dating him, and they left the bar under the influence of alcohol," the person wrote in the letter, according to a transcript of the phone call posted to the committee's website. "They were all shocked when Brett Kavanaugh shoved her friend up against the wall very aggressively and sexually. Her friend, still traumatized, called my daughter yesterday, September 21, 2018, wondering what to do about it. They decide to remain anonymous." On the call, according to the transcript, Kavanaugh denied the allegation, saying, "We're dealing with an anonymous letter about an anonymous person and an anonymous friend. It's ridiculous. Total twilight zone. And no, I've never done anything like that."
In a statement, Gardner said that his office received the letter on Monday, and that it contained no contact information. "Upon receiving the anonymous letter, we immediately notified the Senate Judiciary Committee," Garder said in his statement. The letter, he added, "contained no names, no address, and no contact info."
Separately, in the call, Kavanaugh was asked about an alleged incident from 1985. According to the transcript, one of Sen. Sheldon Whitehouse's Rhode Island constituents called the senator and claimed that a female friend of his was "sexually assaulted by two heavily inebriated men" on a boat in Rhode Island in 1985. The man — who was identified on the call but whose name was redacted in the released transcript — alleged that he and a friend "physically confronted" the two men, and that he later recognized one of them as Kavanaugh on the news. Kavanaugh denied that allegation as well, telling Senate staffers that it was "completely made up."
Previously, three women went on the record accusing Kavanaugh of sexual misconduct. Dr. Christine Blasey Ford claims that he pinned her to a bed, groped her, tried to take off her clothes and pressed his hand against her mouth when she tried to scream when the two were at a party as teenagers; Deborah Ramirez alleges that Kavanaugh exposed himself and shoved his penis in her face when the two were at a different party in college; and Julie Swetnick accused the judge of facilitating the gang rape of several women, including himself, and groping other women without their consent. Kavanaugh has vehemently denied all of these accusations as well, and Trump has said that he thinks all of them are false. Ford is set to testify in front of the Senate Judiciary Committee on Thursday.
The allegations against Kavanaugh have dominated news cycles for the past few weeks. If you've found the near-constant flood of news about sexual assault triggering, here are some tips that may help make it easier to handle.