These Girls Are Single-Handedly Lifting Their Families Out Of Poverty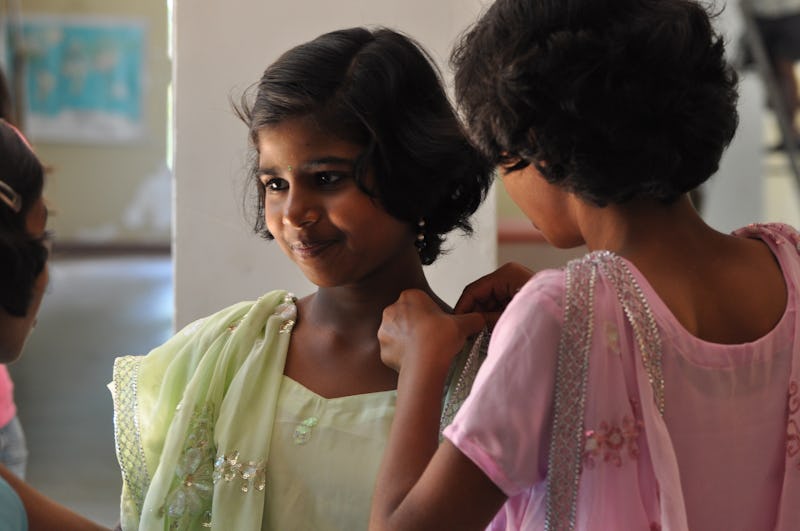 Vanessa Roth/Netflix
Being part of India's Dalit caste — also known as the "untouchable" caste — negatively impacts your prospects, no matter your gender. Yet, as Netflix's documentary Daughters Of Destiny shows, many Dalit women pursuing education have much more at stake than their male counterparts. The four-part docuseries from Academy Award-winner Vanessa Roth premiered July 28 and follows five girls who attend the Shanti Bhavan school in India. Founded by Indian-American Dr. Abraham George, Shanti Bhavan is a school dedicated to raising children of the Dalit caste out of poverty through education. And while these children face hardships — and will continue to even after graduation — Daughters Of Destiny also highlights how profoundly important educating girls is to breaking the poverty cycle. Spoilers for the entire docuseries follow.
First Lady Michelle Obama proclaimed the importance of educating girls throughout the world through her Let Girls Learn initiative. And, as the Huffington Post reported, the Bill and Melinda Gates Foundation provided statistics in 2015 to back up the fact that empowering and educating girls globally could end poverty for all — not just women. So focusing on education for girls not only directly benefits the young women who are given opportunities to learn, but it also aids the nations that these girls live in.
And while this is true throughout the globe, this topic is particularly important for India, as can be seen in the fourth part of Daughters Of Destiny when director of operations for Shanti Bhavan (and Abraham's son) Ajit George goes over the shocking statistics of gender inequality in India with the male students.
According to the United Nations Statistical Commission's Minimum Set of Gender Indicators, in 2006, 47.4 percent of Indian women who were 20 to 24 years old were married or in a union before they were 18. And while the gap between males and females enrolled in secondary education has shrunk in the last 20 years, the labor participation rate for Indian males 15 years old and older was 74.4 percent in 2014, while for females it was only 25.8 percent. Shanti Bhavan is trying to change this by keeping girls in school, which will help stop child marriages, and creating educated women who will land good paying jobs in the workforce.
"From a very young age, Dr. George would talk about our future," Shilpa, a student of Shanti Bhavan says in the first episode. "He would tell us, 'It's really important that you guys study well and you get into a good college, especially the girls.' He always emphasizes on the fact that we have to stand on our own feet. All of us should dream of getting a good job and when you're earning, you can truly become the master of your life and stop having somebody else control it." This is what education gives girls: the opportunity to earn a decent salary that pulls them out of poverty, along with control over their own lives.
As the documentary follows the students through the years, Shilpa's story extends beyond her time at Shanti Bhavan to her pursuing a career in journalism. Now, she's a published author, thanks to her memoir The Elephant Chaser's Daughter. What's particularly remarkable about this accomplishment, as her own website states, is that, "No young woman from a very poor untouchable family has ever written a memoir or autobiography or given a first-hand perspective of what it is to be a part of the social underclass in modern-day India." Thanks to Shanti Bhavan, Shilpa is using art to educate others about the struggles of her caste while also earning money from it.
As BBC News notes, discrimination based on caste is no longer legal in India. Yet, Daughters Of Destiny shows how prejudices and significant disadvantages still exist for the untouchable caste. So the five girls featured have had to overcome inequality based on gender to succeed, but also inequality based on their caste since many people in India believe that being born into the lowest caste is their destiny.
If that wasn't bad enough, within the Dalit caste itself discrimination toward women is rampant. For centuries, the Dalit caste has been forced to do only menial labor — working tirelessly, but still living in abject poverty. Yet, the women are often not given the opportunity to earn money for their families, being required to have children and stay at home, which takes away their power. The International Dalit Solidarity Network wrote that a 2014 report from UNICEF and UNESCO found that Dalit girls have the highest primary school exclusion rate in India. And in 2016, CNN reported that four Dalit women are raped, usually by men in other classes, in India every day. Domestic abuse is also an issue with some students speaking in the documentary about their fathers being physically violent with their mothers. With this combination of abuse and lack of education, it's no wonder that Manjula, another featured student in Daughters Of Destiny, says, "Girls are constant bad luck at home."
As Shanti Bhavan only accepts one student from each family in order to benefit the most people, Manjula's sister has led a very different life from her. While Manjula became a nurse, her sister married and had a child at a relatively young age. Manjula's sister notes, "The only difference between us is education." Another Daughters Of Destiny student, Karthika, attended law school after Shanti Bhavan to become a human rights lawyer and has dreams of being the Indian prime minister. She also attests to how her path in life has diverged from her sister's path. Thanks to the opportunities Shanti Bhavan afforded her, she knows she is much more independent than her sister will ever be. Even the youngest student featured in the documentary, Thenmozhi, can see how different her life will be from her older sister's, who dropped out of school in 10th grade.
But perhaps the independence that education provides girls is most apparent in Shilpa's story. While she was attending Shanti Bhavan as a teenager, her grandmother wanted her to marry her son — meaning Shilpa would be married to her uncle. Shilpa credits Dr. George for keeping her in school. On the other hand, her younger sister wasn't able to go to Shanti Bhavan because of the one-child-per-family rule. Her sister resented Shilpa and eventually ran away from home. Their father refused to let her return home and at age 14, Shilpa's sister was found dead.
While Shilpa's tragic story may seem like an extreme case, the children of Shanti Bhavan's home lives are often marred with such tragedy — a symptom of dealing with the caste system and the continual stress of poverty. The students of Shanti Bhavan are sheltered from this at the boarding school, which they attend from pre-K to 12th grade and which provides all their food and clothing, but they are also taught that they must give back to their families and communities.
It's tremendous pressure for these young people to feel solely responsible to improve their families' circumstances. However, Daughters Of Destiny shows that with the right tools, dedicated and hardworking girls are more than capable of ending the poverty their families have been subjected to for generations. And, as Karthika's story shows, this education can help women gain respect in their traditional communities.
Dr. George explains to the children of Shanti Bhavan that caste is not destiny, but a man-made creation to keep others down. And in his last featured speech in the documentary, he talks about how every human being has the right to be free. For all Dalits, but particularly the women, freedom doesn't seem like an attainable concept. And while the Shanti Bhavan pupils will always feel compelled to contribute to their families and society in meaningful ways because of the charity they were shown, their education also gives them freedom — freedom to make choices and freedom to do more than just survive.
Although Daughters Of Destiny does not end with every girl figuring out her path in life and providing for her family, the Shanti Bhavan school gives them each a chance that they would've never experienced otherwise. With that chance comes responsibility, but also the opportunity to better their lives and the lives of those around them. Because while focusing on education for children may seem counterintuitive to families who want their girls at home and helping them run the household, these very same girls may be the very individuals to lift their families up.