'The Simpsons' Creator Has Upset Fans, Again, With His Comments About Apu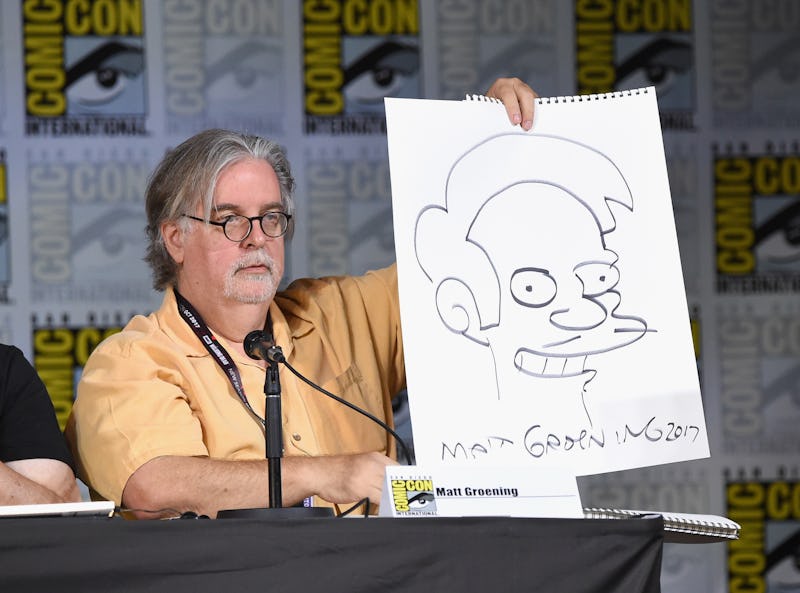 Mike Coppola/Getty Images Entertainment/Getty Images
Despite the growing critique of one of his show's most beloved characters and the backlash to his initial response, The Simpsons creator Matt Groening's response to the Apu controversy in a recent interview proves that he still doesn't seem to get the point. A few months ago, Groenig received backlash for his initial reaction to the issue, telling USA Today, "I'm proud of what we do on the show. And I think it's a time in our culture where people love to pretend they're offended." And speaking with the New York Times in an article published on July 18, Groenig doubled down on his initial response, calling the entire discussion about Apu "tainted." He also shared his feeling that, "people feel so aggrieved and crazed and powerless that they're picking the wrong battles."
When questioned about his initial response to the Apu question in April, Groening clarified that his previous thoughts weren't "specifically about Apu," but more "about our culture in general." He told the newspaper, "And that's something I've noticed for the last 25 years. There is the outrage of the week and it comes and goes." It's unclear what, exactly, this means, but he seems to be saying that he thinks that frequent "outrage" has "tainted" the conversation about Apu, giving him the perfect excuse not to have it.
The Simpsons' depiction of Apu Nahasapeemapetilon has long been criticized as popularizing a stereotype of Indian people. And the critiques were re-invigorated earlier this year by the recent documentary The Problem With Apu by Hari Kondabolu. And yet, Groening has apparently remained completely tone deaf about the offensive nature of the character.
During a November 2017 interview with BBC, Kondabolu shared his feeling about Apu and what the character represents. He explained,
"The Simpsons is an important work of art that has influenced so many, including myself. Apu was the only Indian we had on TV at all so I was happy for any representation as a kid. And of course he's funny, but that doesn't mean this representation is accurate or right or righteous. It gets to the insidiousness of racism, though, because you don't even notice it when it's right in front of you."
While speaking with the New York Times, Groening said that while he thinks he probably agrees with Kondabolu's politics, he is not in any way ready to see the character go. He explained:
"I agree, politically, with 99 percent of the things that Hari Kondabolu believes. We just disagree on Apu. I love the character and I would hate for him to go away. I am sorry that The Simpsons would be criticized for having an Indian character that, because of our extraordinary popularity — I expected other people to do it. I go, maybe he's a problem, but who's better? Who's a better Indian animated character in the last 30 years? I've been to India twice and talked about The Simpsons in front of audiences. That's why this took me by surprise. I know Indians are not the same as Indian-Americans."
Many fans on Twitter took offense to Groening's statements. Some, like reporter Dave Colon, noted that it seemed like the Simpsons creator hadn't even bothered to listen to the critique offered in The Problem with Apu.
Others took aim at his odd defense that Apu was the best "Indian animated character in the last 30 years."
Journalist Sadiya Ansari dismissed the idea, noting that Apu is a powerful white man's imagination of an Indian character — it was inherently created form a position of privilege. "Comedy should be used to poke fun at the powerful, not the powerless," she wrote.
Kondabolu also responded on Twitter, taking issue with Groening's assertion that they agree on "99 percent" of things, sharing a critical tweet from journalist Andy Lewis, noting, "It's less than 99%."
And user @polotek tweeted that the interview showed "exactly how white men who think they're progressive perpetuate marginalization."
This past April, The Simpsons made an effort address the controversy in an episode called "No Good Read Goes Unpunished," which turned out to be even more of a disappointment to many fans of the show — including Kondabolu.
The episode, which featured Marge coming to the realization that one of her favorite childhood books was racist. "It's not exactly what I remembered," she tells Lisa of the book that speaks of a young white girl reprimanding her non-white staff and "baptizing savages without their permission." The issue is seemingly dismissed by Lisa who refers to the issue as a cry for "political correctness." Following the episodes airing back in April, Kondabolu responded on Twitter, writing, in part, "The Simpsons response tonight is not a jab at me, but at what many of us consider progress."
In light of the failed attempt, Groening explained to NYT that he's not sure what direction he'll take with Apu going forward. Amidst the comments, he also clarified that his original intent was to pay homage to the culture that he had personally grown fond of. He continued:
"We're not sure exactly how it's going to play out. Back in the day, I named the character after the Apu Trilogy by Satyajit Ray. I love Indian culture and Indian film and Indian music. I thought that the name was a signal that we had, at least, a scholarly intention. I thought maybe a kid was going to grow up and find out what the name came from and go watch the Apu Trilogy, which are the greatest films, basically, in the history of cinema."
The comment, though seemingly sincere in its basis, sounds like a bit of an excuse to continue to exploit a culture that he has no roots in. As writer James Poniewozik added on Twitter, a creator's intentions and how their work is received are two separate thing. "One problem here is that the critics of Apu are talking about the character's *effects,* and Groening keeps wanting to make it about his *intentions,* which ends up being a way of sidestepping the issues," he wrote.
While it's seems that Groening had no ill intentions in the character's original development, the animator's lack of awareness about the impact which Apu has had on those directly affected continues to remain deeply concerning.