This Singer Steals '50 Shades Darker'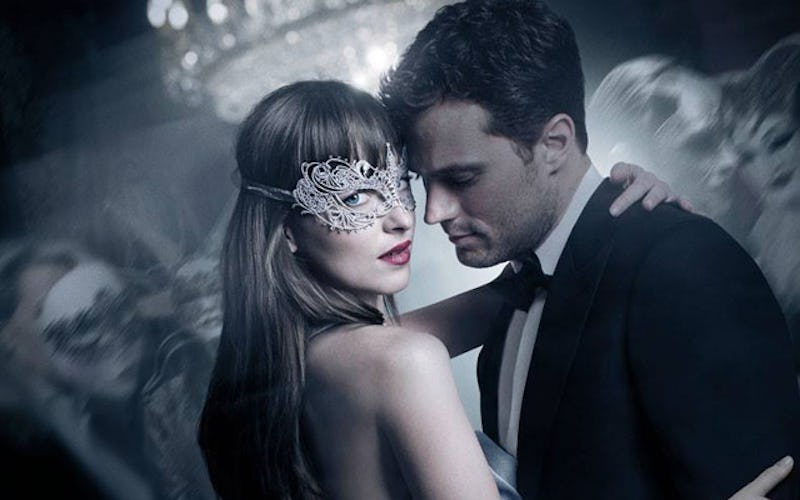 Universal Pictures
Where would the Fifty Shades film series be without its music? There'd definitely be a lot of stiff glares and expensive real estate and, of course, the sex. But thanks to its soundtracks, the films are sweeping and dramatic and so very emotional. Just take the jazz singer at the Fifty Shades Darker ball, who nearly steals the show, crooning Fred Astaire's "They Can't Take That Away From Me" with such effortless confidence that you could be forgiven for wondering why you can't remember the name of this clearly famous celebrity.
While the man with the smooth voice seems like he could be a big star on the level of Michael Bublé or John Legend, you may not recognize his name — yet. That would be New York-based, Minneapolis native José James. James is a jazz, hip hop, and R&B artist who has been making music for decades — he even attended the New School for Jazz and Contemporary Music — and has released six albums since his 2008 debut, The Dreamer.
In the Fifty Shades Darker scene where James performs, Christian and Ana are attending a charity ball and James' singer is the entertainment for the evening. The musician shines at setting the sweeping romantic tone of the scene, recalling a similarly notable guest appearance by the beloved Norah Jones during the gala scene of Two Weeks Notice, where she sings 'The Way You Look Tonight." Jones was far more of a nationally recognized name at that point in her career than James currently is, but that could be changing fast, as Fifty Shades Darker's soundtrack skyrockets up the chart with James' version of "They Can't Take That Away From Me" nestled right beside hits from the likes of John Legend and Taylor Swift.
The timing of Fifty Shades couldn't be better for James, either. He's got a new album of original songs coming out on Feb. 24 called Love In A Time of Madness. And in the wake of his Fifty Shades success, the album has already seen the video for "Always There" reach 77,000 views and the video for the song "To Be With You," land premieres on Billboard. In a press release covered by Star Tribune, James talked about taking a more electronic, pop approach to his newest record, saying that he likes "Jamie xx as much as I like Miles Davis."
But if James' scene in Fifty Shades had you hoping for more gorgeous renditions of classic songs, fear not. His last album, Yesterday I Had the Blues: The Music of Billie Holiday, sees James putting his sultry spin on several of Billie Holiday's most iconic songs. So keep this singer's name in the back of your mind, because, with the help of Fifty Shades Darker, he may be on his way to becoming a big star.