This Sock Subscription Box Has A Great Cause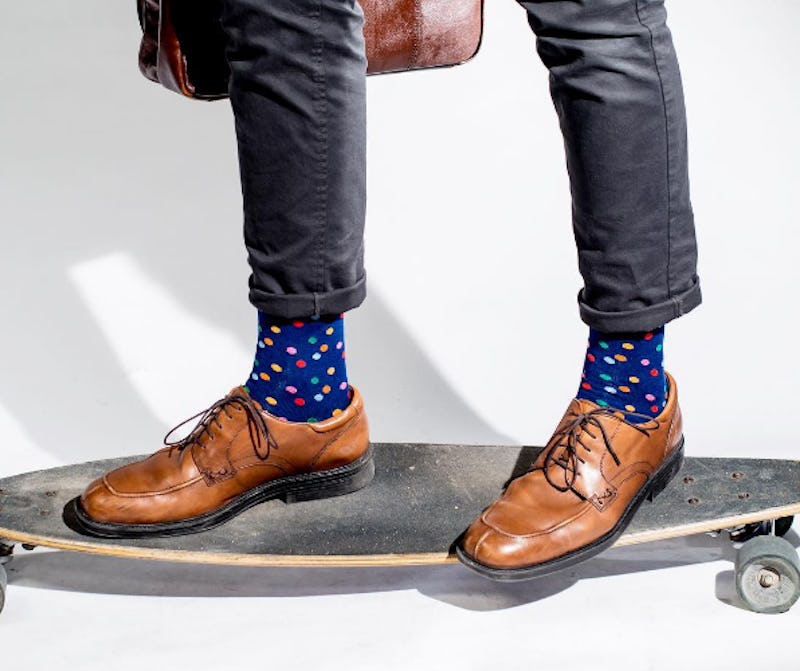 If you want to move beyond the world of black, white, or neutral socks, then you'll love this new subscription box — especially because it supports a great cause. Canadian-based Society Socks subscription box sends you colorful, playful designs each month, and for every sock you receive, they donate a pair to a homeless shelter in the Toronto area.
Society Socks is the brainchild of Filip Pejic and Sergey Sapelnyk, two Toronto-based college students who landed on the idea during an internship.
"We noticed that a lot of our colleagues wore bold dress socks," Pejic tells Bustle. "After becoming interested in funky socks ourselves, we quickly realized that buying them could take up a lot of time, and it was difficult to find a company that consistently made bold ones that could fit a casual and work environment."
The philanthropy tied itself into the company's ethos after Pejic and Sapelnyk read an interesting article on homelessness.
"We learned that socks were one of the least donated, but most needed, clothing items. Homeless shelters generally do not accept used socks as donations. We learned this around the same time we were getting more interested in the funky socks trend, so we decided to put the two ideas together to create a business with a social impact!" Pejic shares.
While it might seem like a small gesture, donating socks to shelters is extremely important. Since shelters only accept new pairs, they don't get dropped off as much as, say, an old winter coats or accessories like gloves and hats.
If that has your interest piqued, you might want to know the logistics of the box. The monthly subscription will definitely be a treat to look forward to in your mailbox — for the price of $21 CAD you get two brightly patterned socks, exclusively chosen for that month. The service also delivers to the US, and with absolutely no shipping costs. And for each pair you receive, a pair will be donated to a local youth shelter. "This means that customers participating in the monthly subscription are effectively donating two pairs of socks to charity every month," Pejic explains.
This would be a super fun gift for any friend, family member, or partner, but if you'd like to test drive the socks first before committing to a subscription, they also offer an online store where you can scroll through the pages of eye-poppingly bright prints, playful polka dots, and checkers.
Whether you get it for yourself as a little present or decide to get a three-month subscription for your dad on his birthday, this is definitely a treat that will give back. Who knew socks could be so awesome?
Image: Society Socks (4)