The Cast Of 'Southern Charm Savannah' Can't Stop Talking About THAT Proposal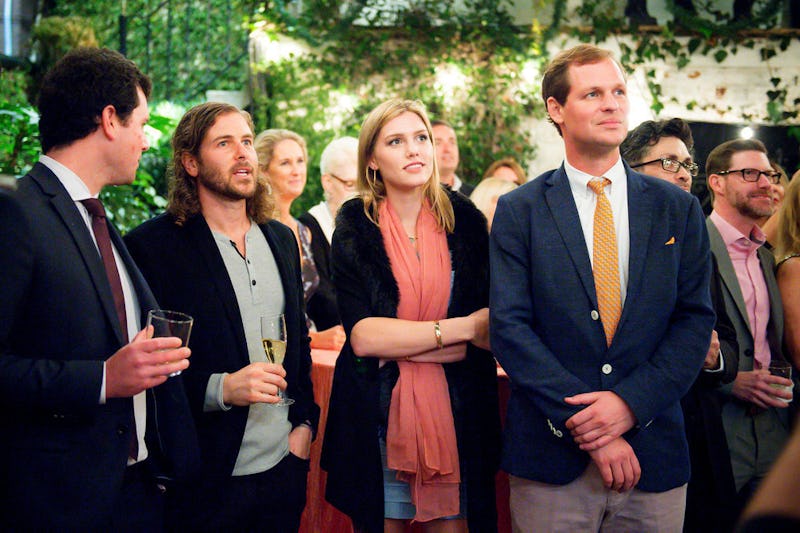 Marcus Ingram/Bravo
The first season of Southern Charm Savannah was a little bit of a snoozer, if I'm being honest. Debuts are always hard, because viewers need some time to get invested in the characters and the settings and the like. But while the beginning of Southern Charm Savannah came in like a lamb, the finale was most definitely a lion, with Lyle proposing to Catherine and her shutting it all down. Hard. Now, on the Season 2 premiere, things on Southern Charm Savannah aren't necessarily better for Lyle and Catherine. In fact, it seems like all the established couples on Southern Charm Savannah are breaking up.
But first, some other news! There are two new additions to Season . Hagood Coxe, whose boyfriend is friends with Lyle and Catherine, has joined the show. She is a tomboy, and her family has a rice plantation, and she's starting her own sake business. She's never done it before, and I admire her hutzpah. The second addition is Brandon Branch, whom we met last season. He's friends with Catherine's parents, and he owns his own design firm, which Catherine sort of kind of worked at in Season 1. Brandon knows how to throw a party, as seen in Season 1, and in Season 2, it seems like he'll be ripe with commentary for all the drama that's going to go down.
Brandon and Hagood, though, are happy in their respective relationships. Brandon has been with his husband, Jim, for over a decade, and Hagood and her boyfriend, Alex, are happy as can be. The other two main couples on Southern Charm Savannah, though, aren't faring as well. Let's see why and if there's any chance at reconciliation.
Catherine & Lyle
Catherine and Lyle are "The Couple" of Southern Charm Savannah, which makes the fact that they're in a sort of relationship purgatory so difficult. They're friends with everyone and it can get a little awkward. Lyle and Catherine have been together for 16 years on and off, but they've never lived in the same city until Lyle moved back to Savannah in Season 1. Lyle took living in the same town as a green light to propose marriage to Catherine, but Catherine was all, "Oh my gosh, no, you've only been back six months, please stop." It was ugly to watch, and, as of the premiere of Season, they're still not back together.
Catherine and Lyle are doing this weird purgatorical dance in their relationship, and everyone in the premiere is over it. Be together or don't be together — but make the decision and stick with it. Today, Catherine and Lyle still aren't together, but they also still haven't made a decision to split for good. In a recent interview, friend Brandon told Bustle, "I think they're trying to navigate their relationship. I feel like we're all trying to navigate their relationship because we all get put in the middle of it. It's definitely a rollercoaster ride with them this season." Hagood echoed Brandon's sentiments, telling Bustle, "I don't want to encourage them to see other people, but this train ain't got no wheels… I still let her talk to me about it, but they're together, they're not. They're together, they're not. I'm gonna leave them up to them." Yep, sounds like the rest of the cast is over it.
Hannah & Louis
Hannah and Louis are the surprising breakup of the season. In Season 1, these two seemed at least to be going in the right direction — they were both starting new businesses and trying to figure out what they wanted in life. In the Season 2 premiere, though, all of that goodwill seems to be over, as Louis says Hannah dumped him. Hannah says that she didn't and that they just need a break. "We're just taking some time," she tells Catherine. "I never said, like, 'this is over.' We just both sort of let our relationship fall by the wayside, and it was like, hold up. Stop." According to what she said in the premiere, Hannah thinks their relationship, after five years, should be further along, and Louis is clearly not ready for marriage or fatherhood.
Hannah and Louis have an awkward conversation about it later in the episode and it's not pretty. This split is definitely going to cause drama later in the season, because in the Season 2 preview video, Louis tells Hannah not to be asexual and to "reciprocate," whatever that means. There's also this whole scene of Louis leaving their house in the Turks and Caicos and Hannah crying and everyone looking for him in the promo, too. However, from the looks of their Instagram profiles, Louis and Hannah seem to have mended their relationship. How that happens has yet to be determined, but it will probably be revealed over the course of Season 2.
Given the fact that we're, oh, one episode into Southern Charm Savannah Season 2 and the couples are already dropping like flies, I'd advise the currently happy couples to circle the wagons — it could be a bumpy ride pretty soon.